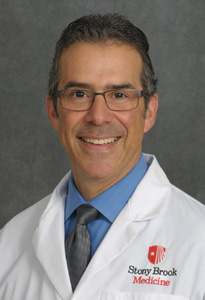 Renaissance School of Medicine at Stony Brook University is Long Island's premier medical school and teaching site for Stony Brook Medicine, Long Island's leading academic medical center.
The top-ranked public medical school in New York State, Renaissance School of Medicine trains the next generation of committed, curious and highly capable physicians, advances our understanding of the origins and the treatment of human health and disease, and delivers world-class, compassionate healthcare.
Renaissance School of Medicine is part of Stony Brook University, one of 62 members of the Association of American Universities (AAU), the invitation-only organization of the best research universities in North America. We conduct research that brings over $90 million dollars annually in extramural funding, bringing the best ideas in medicine from the research laboratory to the bedside to benefit patients at Stony Brook Medicine and across the globe.
Renaissance provides 77 accredited residency and fellowship programs with 766 residents (682 medical, 71 dental, nine podiatry, and four pharmacy residents). Our residents and fellows train in various specialties across six main care sites:
Stony Brook University Hospital
Stony Brook Children's Hospital
Stony Brook Southampton Hospital
Stony Brook Eastern Long Island Hospital
Northport VA Medical Center
Nassau University Medical Center
In 2016, we entered a strategic partnership with Mount Sinai Health System and the Icahn School of Medicine in Manhattan for collaborative education, research and clinical care programs.
Renaissance is the home of major healthcare innovations by Stony Brook researchers, including:
Development of the Nobel Prize-winning technology that led to the MRI
Assisting in development of the technology for PET scans
Development of the technology for 3D virtual colonoscopy
Discovery of the cause of Lyme disease
Our researchers have developed groundbreaking new medications, including:
ReoPro® (a drug used for cardiac angioplasty)
Periostat® (a drug used for periodontal disease)
Xiaflex® (a drug used to treat Dupuytren's disease)
The new name of our medical school commemorates a transformative relationship with more than 100 families of Renaissance Technologies, who have propelled academic and professional excellence and innovation across Stony Brook University's campus and beyond for more than 35 years.
Starting with a gift made 35 years ago by Jim Simons, former Stony Brook Math Department Chair – who incubated the company on the Stony Brook University campus – this relationship has resulted in more than $500 million donated by 111 Renaissance families, creating a vital catalyst for our trajectory of innovation and excellence to benefit Stony Brook's students, faculty, patients and community.
We invite you to learn more here about Long Island's premier medical school and teaching hospital, and our innovative medical education, leading-edge clinical research and groundbreaking medical care.
William A. Wertheim, MD, MBA
Interim Dean
Renaissance School of Medicine
Stony Brook University