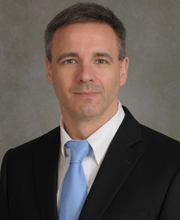 David Fiorella, MD, PhD
STEERING THE COURSE OF A FAST-MOVING FIELD
As the range of available treatments for endovascular disease has broadened in the past 15 years, neurointerventionalist David Fiorella, MD, PhD, has been at the forefront. As Co-Director of the Stony Brook University Cerebrovascular and Stroke Center, Dr. Fiorella has played a pivotal role in the development, testing and introduction of numerous technologies and treatments for cerebrovascular diseases. At the same time, he has helped build a world-class cerebrovascular diagnostic and treatment center that is unique in Suffolk County. Dr. Fiorella is among only a handful of leaders nationally in terms of the range of interventions and volume of procedures he performs. Patients from many areas of the country and around the world speak with tremendous gratitude and enthusiasm about their successful outcomes under the care of Dr. Fiorella.
Dr. Fiorella, joined Stony Brook in 2009. At the time, Dr. Fiorella was on the faculty of the prestigious Barrow Neurological Institute in Phoenix. Dr. Fiorella completed both his fellowships, in neuroradiology and interventional neuroradiology/endovascular neurosurgery, at Barrow. His residency was at Duke University Medical Center. He received both his MD and PhD (in neuropharmacology) from SUNY at Buffalo School of Medicine.
Why did you select your field?
I've been interested in medicine ever since I was a kid. It was the science aspect that drew me in. Although I'm the only doctor in the family, I never had a doubt that that's what I wanted to do. In medical school, I chose my specialty after a conference where I heard a talk on minimally invasive approaches to treat cerebrovascular disease. To me, it sounded like the future.
Why did you choose to work at Stony Brook? What is the opportunity here?
When Dr. Woo launched the Cerebrovascular Center at Stony Brook, he got very busy rather quickly and needed a partner. We'd had a great relationship at the Cleveland Clinic and the prospect of working together again and building a new program was an opportunity I couldn't resist.
And it's been a phenomenal experience. I can't say enough about how thankful I am for everything Stony Brook has done to enable us to be as successful as we can be. The Department of Neurosurgery; our Administrator; the Dean of the School of Medicine; all of our team — they've all been incredibly supportive. I'm convinced that we have the best set-up of anyone in the country and that our patients get the best possible care.
What is the most rewarding aspect of your job?
For one thing, it's incredibly gratifying to be able to help patients whose prognosis would otherwise be poor. And the research end also is tremendously rewarding– being on the cutting edge of new treatments and technologies makes things interesting, all the time. I appreciate the chance to work with great people. We also have a large team of physician assistants and nurse practitioners who are excellent at what they do and work so hard. It's unreal. They totally make my life possible.
In all honesty, I love my job. So much so that I can't wait to go to work each morning. I look forward to getting in my car and driving here.
What breakthrough would you most like to make?
Innovation in this field is a constant, which means our goals are continuously evolving. Right now I am one of two national principal investigators (PIs) for what I consider to be one of the most interesting developments in the field -- a new aneurysm embolization system called the WEB ™. Basically, it's a mesh ball you drive via a small catheter into a brain aneurysm and deploy. It's technically very straightforward and makes for a potentially easier and better approach that could really advance the field of brain aneurysm treatment. As a Co-PI of the study, not only do I get to offer this development to our patients first, I've also had the opportunity to be involved in the trial's design. So it's a very rewarding experience for me as a researcher, and it's also great to be one of the only centers in the United States with the capability to offer the option of this new technology to our patients.
At Stony Brook we are also pioneering a new procedure for the minimally invasive evacuation of intracranial hemorrhage. It used to be that patients with bleeding within the brain had no good surgical options to improve their odds of having a good outcome. But now there's a new procedure where a small tube can be placed through a tiny burr hole in the skull allowing removal of the hemorrhage with very little trauma to the surrounding brain. Our preliminary experience with the device has been very encouraging to date.
What might your field look like in the year 2020?
We can accomplish things now that six months ago would have been unimaginable. Six months from now, the same will hold true. Over the next five years we will continue to convert to minimally invasive, image-guided procedures, for complex diseases of the blood vessels of the brain and spine. So we'll be able to offer more help with fewer complications and achieve a faster, easier recovery for patients with cerebrovascular conditions of all kinds.
If you could send one message to the community about your field, what would it be?
If you have a stroke in Suffolk County, go to Stony Brook. We're the only hospital in the area that can offer comprehensive stroke care. When people go to other hospitals, they're often transferred here because of our expertise and the level of care we offer, but it also means some time is lost. With stroke, lost time is lost brain function. So the best scenario is to get here as quickly as possible. Our team spends a great deal of time talking to the local EMS and emergency medicine practitioners to get the word out.
What are your interests outside of work?
I spend my off time with my wife and family. The kids are between ages 8 and 14, so we're constantly shuttling them around to sports practices or music lessons and making sure they're doing their homework. I also enjoy exercising, particularly cross-training and yoga.
Pioneer in development and evaluation of novel technologies to treat cerebrovascular disease
One of world's first physicians to use Pipeline™ Embolization Device to treat inoperable brain aneurysms
Trains and proctors physicians worldwide on use of new endovascular devices
Professor of Neurological Surgery and Radiology at Stony Brook Medicine