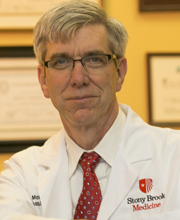 Mark A. Talamini, MD
MAGNIFYING EXCELLENCE THROUGH COLLABORATION
Mark A. Talamini, MD, Chair of the Department of Surgery at Stony Brook University School of Medicine, is the Founding Director of the Stony Brook Medical Innovation Institute/Idea Factory—charged with developing and testing new techniques and devices to solve challenges in procedurally based surgical, medical and radiological specialties. Dr. Talamini's academic training occurred at Johns Hopkins, where he attended college, medical school, was a resident, and served as faculty. Before coming to Stony Brook, Dr. Talamini served as Chair of the Department of Surgery at the University of California, San Diego, School of Medicine. Dr. Talamini specializes in gastrointestinal surgery, with an emphasis on the treatment of inflammatory bowel ailments such as Crohn's disease and ulcerative colitis. He is considered a pioneer in minimally invasive abdominal surgery, and recognized as one of the leading authorities on laparoscopic and robotic-assisted surgery. He also has an interest in telemedicine—delivering health care from a distance—which he has used to guide military doctors performing procedures aboard a ship in remote waters.
Why did you select your field?
I wanted to pursue medicine at an early age. My father was an electronics engineer, and my mother always had a keen interest in medicine. My mother had me reading books about how the body works in elementary school. My father instilled in me a love of science and technology. In high school, I had begun to think about other careers. An English teacher challenged me to use my love of science to do some good in the world and told me I should become a doctor. She brought back the early thoughts my parents had imparted, and so I decided to pursue medicine.
Why choose to work at Stony Brook? What is the opportunity here?
Stony Brook is a relatively young medical school and academic medical center. To me, Stony Brook right now represents huge potential, certainly more than most other medical schools in this challenging time. Why? Great leadership, great community support, and a profitable medical center.
What is the most rewarding aspect of your job?
By far, the most rewarding aspect of my job is working with the amazing surgery faculty here at Stony Brook. In the department, we have people who are breaking new ground, both locally and nationally, in excellence and innovation.
What breakthrough would you most like to make?
My personal breakthroughs do not mean nearly as much as the breakthroughs that the Stony Brook surgery faculty can effect. I view my task as doing what I can to see them be successful in their careers, particularly in the arenas of innovation and excellence. I would love to see success—and, yes, breakthroughs—in collaborations between our creative surgeons and other parts of Stony Brook University. The most powerful partnerships are likely to be with engineering, public health, and basic scientists, particularly with the Stony Brook University Cancer Center and the Tissue Bank.
What might your field look like in the year 2020?
The thing that makes surgery so incredibly exciting is the fact that no one really knows exactly what surgery will look like in 2020. The only thing I can tell you is that it will look very different than it does now. What is energizing is that Stony Brook can be a leader in creating and defining just what surgery will look like in 2020. Of course, technological advances are now happening at what seems like warp speed, and redefining not only surgery but also the entire field of medicine.
If you could send one message to the community about your field, what would it be?
We have summarized our mission and vision as a department in three words: Excellence, Discovery, Inspiration. You want your surgeon to be excellent, and you want your surgeon to be making discoveries at the cutting edge of the latest developments in surgery. Our surgeons also inspire the learners in our community, and we aim to inspire and motivate our patients to health.
Do you have a trait you are willing to share, as a window into your personality?
Most people who know me well, and know the typical personality profile of surgeons, say they do not see me as the stereotype, which is domineering, impersonal, and egocentric. I am not sure if that is good or bad, but I think it helps our students and residents realize that the field of surgery, including the personality of surgeons themselves, is different than it used to be.
DR. TALAMINI...
Is a pioneer in minimally invasive abdominal surgery
Is a leading authority on laparoscopic and robotic-assisted surgery
Has more than 200 scholarly publications to his credit
Serves on the editorial boards of 10 surgical journals
Is the Editor of Advanced Therapy in Minimally Invasive Surgery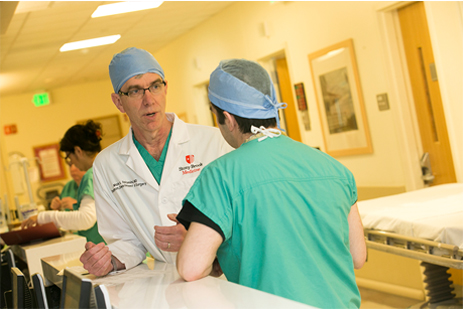 Dr. Talamini oversees 10 Surgery divisions at Stony Brook