Find recent GME news and initiatives and learn about upcoming events. Newsletters are archived here too, so you can catch up on previous issues.

July 2020
These past six months have been unprecedented, as we saw a variety of events and challenges no one could have predicted a year ago. Stony Brook Medicine did extremely well, and all the residents were critically important to getting us through this period of time.
COVID-19: How We Fared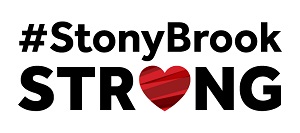 From the time the first patient with COVID-19 crossed our doors in early March until now, we took care of well over 5,000 people with documented or suspected COVID-19 infections, and over 1,600 of them were inpatients. Fully one-fourth of them required ICU care, and to accommodate all those critically ill patients, at Stony Brook University Hospital we created 130 new ICU beds and re-purposed an additional 52 in nine separate units to accommodate those patients. We also created 142 new floor and ICR beds, and re-purposed an additional 160 beds. We added a tent extension outside the Emergency Room, all to provide care for these patients. Stony Brook Southampton Hospital and Stony Brook Eastern Long Island Hospital had similar expansions they needed to undertake to provide care for the influx of patients. And of course, the residents and fellows were all involved one way or another in the care of patients with COVID-19: either through being deployed onto a COVID service, caring for patients in their own service with COVID or helping in some other fashion to the COVID-19 response — over 600 of you participated. You were joined by the newly graduated medical students (more than 50 of them), and we got through the most challenging episode any of us have ever seen at Stony Brook. Together, we were Stony Brook Strong!
Some things to keep in mind:
Clinically, we had a lot of success taking care of people with COVID-19 infections. We had a much lower mortality for our admitted patients than most of the published reports currently available, even in the ICUs.
We put guidelines together (and revised them a number of times), many of which proved prescient, such as use of steroids and use of anticoagulation.
Our employee infection rate has remained very low — the same as the overall Suffolk County COVID-19 positive rate. We always had enough PPE, thanks to the incredible efforts of the administration, the creativity of the University and our collaborators, and all of our responsible stewardship, to protect us from contracting this infection while working.
One of the more remarkable things I heard over and over again from residents and fellows, is the impact the pandemic had on how people view themselves and their usual work life. For many, the opportunity to provide care in such a crisis was hard, but immensely fulfilling to know they had participated in serving people at a time of critical need. For many, the experience allowed people to work across disciplines and get to know other residents and fellows from other programs like never before. It clearly has changed the way we practice and think about being a doctor, from the superficial omnipresent face masks and eye protection, to the deeper purpose in knowing that when our services were most needed, we were there to provide them. This is not over, unfortunately, but we all feel better prepared if there is (and most of us think there will be!) another wave.
Medical and Research Translation (MART) Building and Hospital Pavilion
It seems hard to remember, but just last November, we opened our brand-new, glittering 10-story Hospital Pavilion and eight-story MART building. Housing Stony Brook Children's Hospital and much of the surgical services, the Hospital Pavilion is a state-of-the-art setting for our patients, making them both comfortable and at home (as much as possible) while offering the cutting-edge technology to allow for the most advanced care. The MART, which itself is 240,000 square feet, encompasses four floors of research space, outpatient cancer treatment and beautiful, technology-rich education space that greatly enhances our capacity to teach, learn, study and provide care. The move day itself was exciting, and remarkably uneventful, again underscoring all of our ability to do what's needed together.
And of course Panera has become the newest place to nourish oneself and see familiar faces.
Well-Being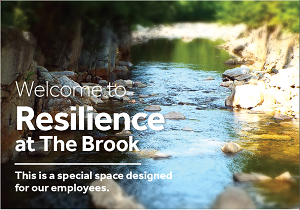 A few words about Wellness and Well-Being. Throughout the pandemic, the Department of Psychiatry held weekly sessions for residents to discuss issues and how they were coping: with the clinical work, with the travel restrictions, with the general anxiety we all felt. Importantly, Psychiatry also opened and maintained a Respite Room on 12N, where anyone could go and find a bit of solace, or rest, or distraction, or someone to talk to, away from the stresses of the clinical arena. Now that we are getting back to normal clinical activity, 12N is going to be re-opened as a Child Psychiatry Unit, and the respite area is moving to the fifth floor along The Brook, where it will be called "Resilience at The Brook." Come visit to relax, rejuvenate and refresh.
New Programs
Our newest program, Neurosurgery, started on July 1 with its very first resident. We are delighted to have this program, one which we had hoped to establish for a long time. The program takes advantage of the outstanding clinical care and educational skills of the Neurosurgery faculty, and the research program within the department and in Neurosciences in general. I think it will also benefit both Neurology and Neurosurgery to have residents in both areas, as they can learn from each other as well.
That makes 28 core residency programs we sponsor, along with our 37 fellowships (the newest fellowships being Hospice and Palliative Care, offered at both Stony Brook Southampton Hospital and Stony Brook University Hospital, and Clinical Informatics, and Cytopathology).
Our program directors, coordinators and many residents are working hard to get ready for our upcoming recruitment season. With the process now online, websites and videos about programs are more important than ever to show prospects what's so special about Stony Brook.
I'm excited to share our GME video. Thank you to the many people featured in the video. It makes me proud to be the Vice Dean for GME.
What makes Stony Brook great for residents and fellows? Watch.
---