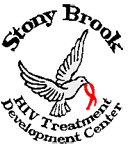 The SUNY at Stony Brook HIV treatment Development Center is located at Stony Brook University Medical Center and is associated with the Hospital AIDS Treatment Center.
The HIV Treatment Development Center studies new therapies and combinations of therapies to treat HIV infection. We have been heavily involved in such studies since 1985.
We have several on-going trials. Participants receive free evaluations, including laboratory tests, and medications.
To learn more about on-going trials, call:
(631) 444-1659