November 21st, 2018
By Department of Medicine
Dr. Berhane Ghebrehiwet, has been selected by Bethany Chen to receive a Stanford University Teacher Tribute.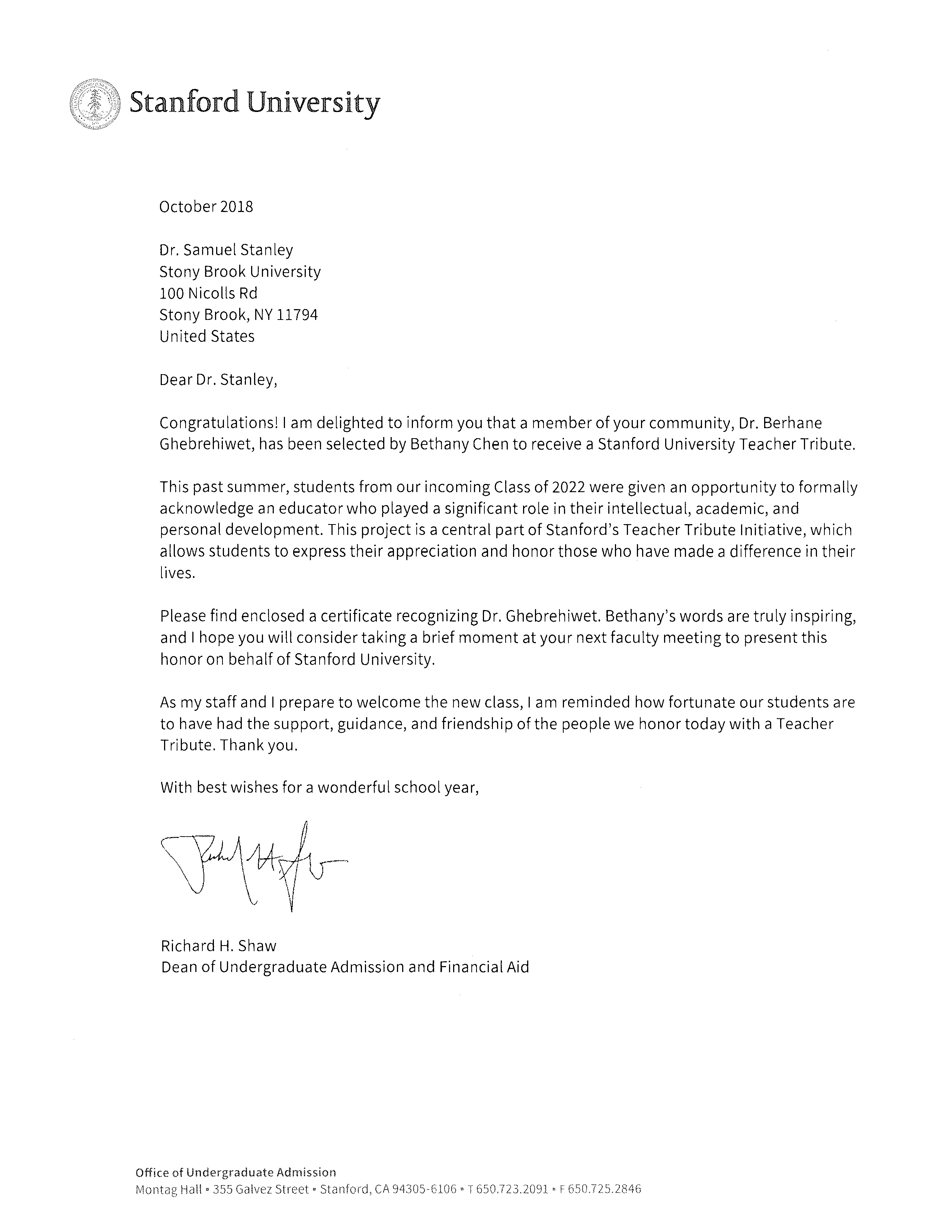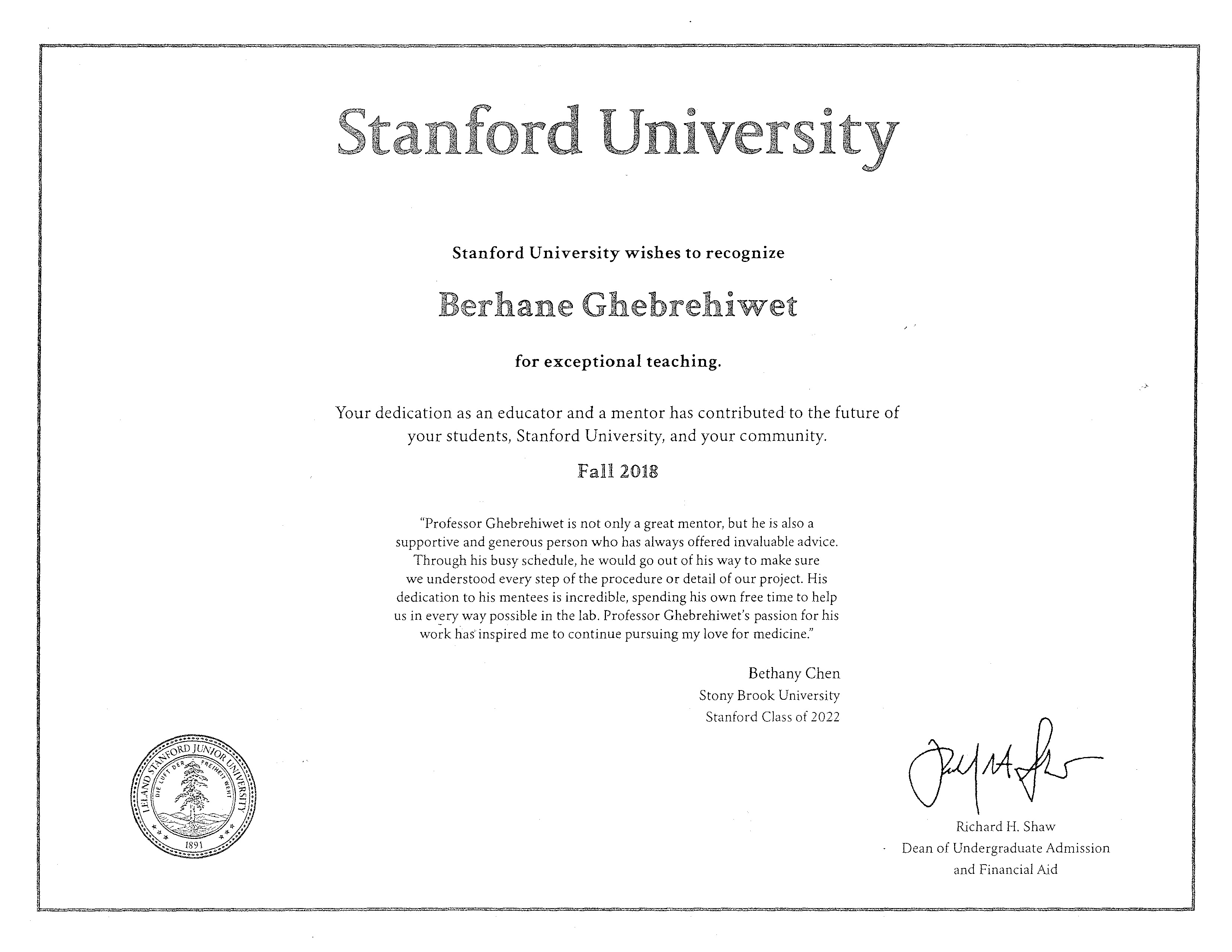 Septmber,10th 2018
By Department of Medicine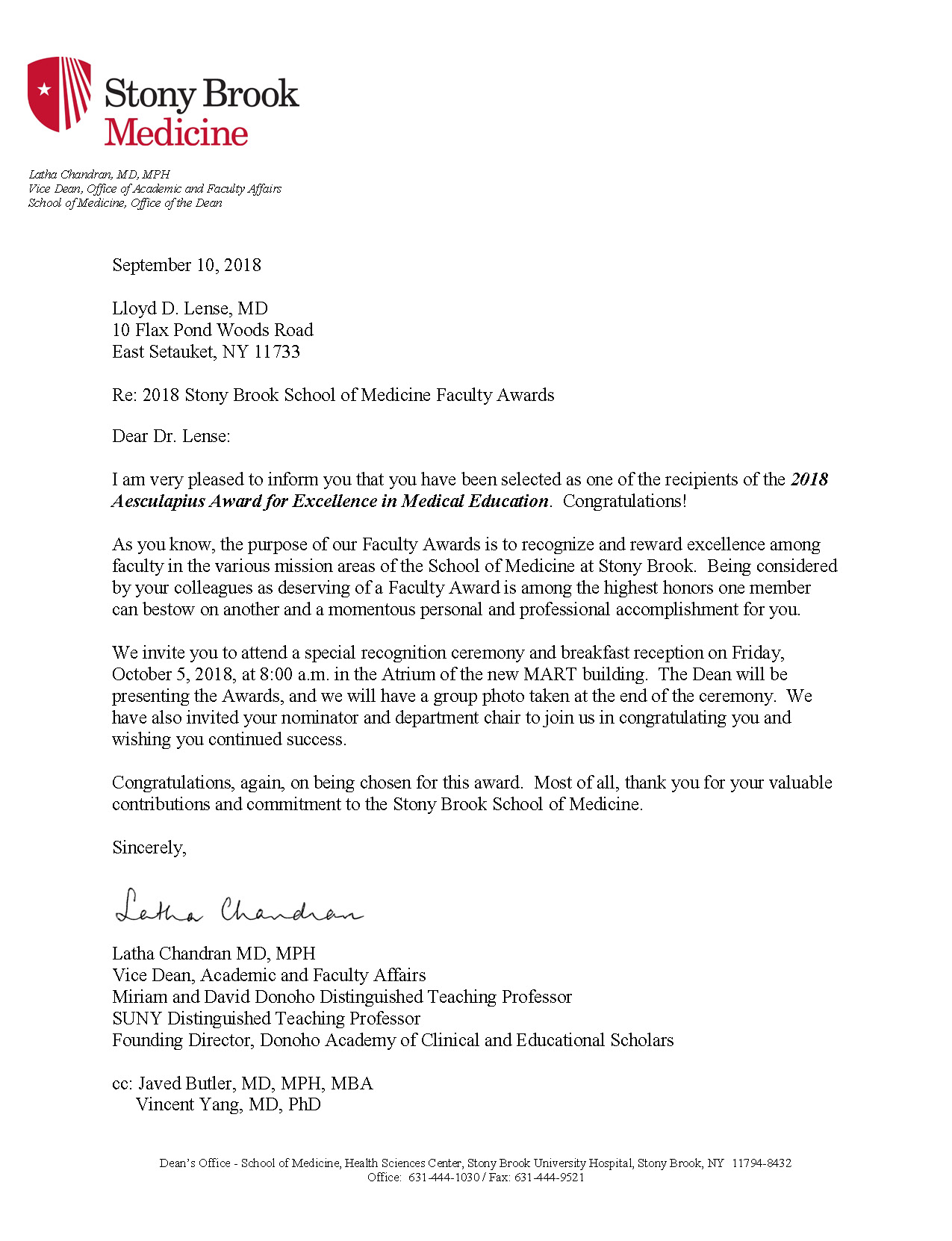 March 27, 2018
By Department of Medicine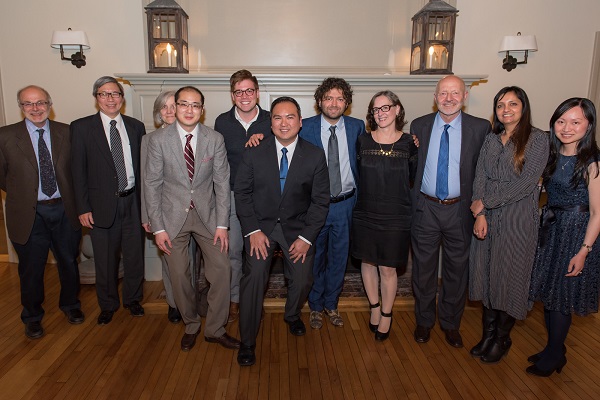 Department of Medicine faculty and resident inducted into the Alpha Omega Alpha (AOA) Honor Medical Society.

Four of our faculty and a chief resident were recognized for their contribution to medical school education by medical students and inducted into the AOA in a ceremony that took place on March 27, 2018.
The inductees are Drs. Imran Baig (VA), Roger Fan (Cardiology), Kaveh Sadigh (Cardiology), Edward Sun (Gastroenterology), and Lorenzo Ottaviano (Chief).

From left: Drs. Smaldone, Yang, Fields, Fan, Ottaviano, Sun, Sadigh, Lane, Fuhrer, Ahmad, and Hwu.

March 7, 2018
By Department of Medicine
Joshua D. Miller, MD, Named as President of the American Diabetes Association Long Island Community Leadership Board Uniondale, NY
The American Diabetes Association, the nation's largest voluntary health organization leading the fight to Stop Diabetes®, is pleased to announce that Joshua D. Miller, MD, of Setauket, NY, has been named as President of The American Diabetes Association Long Island Community Leadership Board. Dr. Joshua D. Miller is the Medical Director of Diabetes Care for Stony Brook Medicine and an Assistant Professor of Endocrinology & Metabolism in the Department of Medicine. He is dual board-certified in Internal Medicine and Endocrinology, Diabetes & Metabolism.
Dr. Miller has vast experience helping people with diabetes to conquer the challenges of living with the disease; he has been living with type 1 diabetes for more than 20 years. "There are tremendous resources available at Stony Brook Medicine to help patients with diabetes and those at risk," said Dr. Miller. "We are committed to improving the lives of all those affected by diabetes and are proud to collaborate with the American Diabetes Association to serve the people of Long Island." Dr. Miller has a strong interest in population health and chronic disease. He serves as the Project Lead for the Suffolk Care Collaborative's Diabetes Wellness and Self-Management initiative. This effort, through the New York State Medicaid Redesign Program (DSRIP), aims to enhance care and improve access to education for thousands of Long Island residents with diabetes and those at risk. As President of The American Diabetes Association Long Island Community Leadership Board, Dr. Miller is responsible for assisting with oversight of the Association's patient and clinical support programs in Nassau and Suffolk counties. Additionally, he will work closely with the Association's Long Island volunteers and staff on activities and initiatives to raise greater awareness of the diabetes epidemic and with primary care community to raise greater understanding of the seriousness and management of diabetes at the clinical level. A Long Island native, Dr. Miller studied at the University of Rochester where he received his undergraduate, graduate and medical education. He completed his training at Mount Sinai Medical Center and Columbia University/New York Presbyterian Hospital.
About Diabetes: Diabetes is a serious disease that affects the body's ability to produce or respond properly to insulin, a hormone that allows blood glucose to enter the cells of the body and be used for energy. The following data from the most recent Centers for Disease Control diabetes report underscores the burden of diabetes on America:
Prevalence: In 2015, 30.3 million Americans, or 9.4% of the population, had diabetes.

Approximately 1.25 million American children and adults have type 1 diabetes.

Undiagnosed: Of the 30.3 million adults with diabetes, 23.1 million were diagnosed, and 7.2 million were undiagnosed.
Prevalence in Seniors: The percentage of Americans age 65 and older remains high, at 25.2%, or 12.0 million seniors (diagnosed and undiagnosed).
New Cases: 1.5 million Americans are diagnosed with diabetes every year.
Prediabetes: In 2015, 84.1 million Americans age 18 and older had prediabetes.
Deaths: Diabetes remains the 7th leading cause of death in the United States in 2015, with 79,535 death certificates listing it as the underlying cause of death, and a total of 252,806 death certificates listing diabetes as an underlying or contributing cause of death.
About the American Diabetes Association: The American Diabetes Association is leading the fight to Stop Diabetes® and its deadly consequences and fighting for those affected by diabetes. The Association funds research to prevent, cure and manage diabetes; delivers services to hundreds of communities; provides objective and credible information; and gives voice to those denied their rights because of diabetes. Founded in 1940, our mission is to prevent and cure diabetes and to improve the lives of all people affected by diabetes. For more information please call the American Diabetes Association at 1-800-DIABETES (1-800-342-2383) or visitwww.diabetes.org. Information from both these sources is available in English and Spanish.
About Stony Brook Medicine: Stony Brook Medicine elevates all of Stony Brook University's health-related initiatives: education, research and patient care. It includes six Health Sciences schools — Dental Medicine, Health Technology and Management, Medicine, Nursing, Social Welfare and Pharmacy & Pharmaceutical Sciences — as well as Stony Brook University Hospital, Stony Brook Children's Hospital and more than 90 community-based healthcare settings throughout Suffolk County. To learn more, visit stonybrookmedicine.edu.