Stony Brook University Hospital has certainly been impacted by coronavirus as has our country and our world. Our peak occurred with the first surge in April 2020. Since that time there was a smaller surge in January 2021, and some rising cases beginning in late summer 2021, tracking with the experience across NY state.  Because of successful vaccination efforts, NY has one of the lowest positivity rates in the country.  All of the measures that NY state instituted have significantly helped to flatten the curve and have enabled health care workers to work at all times with proper PPE and equipment, humane schedules, and excellent support throughout. I want to let you know how proud I am to be at Stony Brook Medicine and to share some of the amazing things that we've accomplished during this unprecedented time.
Almost all resident and fellows at Stony Brook Medicine were deployed to cover COVID units in late Spring of 2020, when the pandemic peaked in NY – we had residents and fellows from many different subspecialties and specialties working together with PAs, NPs, nurses, recently graduated medical students, and many attendings from different specialties.  I am exceedingly proud of how well everyone worked together to take the best care possible of our patients.  Our hospital's rate of successful extubation and discharge is twice that of the NYS average. Stony Brook Medicine is a well-oiled machine for this significant public health challenge, and I am confident that we will continue to provide outstanding care to our Suffolk County community.   The outpouring of support and love from our community has been heartwarming and sustaining. 
Early on our hospital raised significant funds from philanthropic donations to build an "oxygen tank farm" (massive O2 tanks), our hospital was one of the very first hospitals in the country to start using the Battelle system for N95 decontamination, and we launched an impressive telehealth program using MS Teams – we are one of the largest health systems (along with the NHS in England) in the world using MS Teams telehealth platform at this time.  
As we are a research-intense academic hospital, we are leading and participating in an impressive number of COVID clinical trials including therapeutics, testing, convalescent sera, and antibody assays.  To quote Dr. Kenneth Kaushansky, "Since the first verified patient was admitted on March 8, our faculty and staff have geared up to accommodate a huge influx of very sick patients, cared for them incredibly well, and have now seen the census peak and begin to decline. This was done under the leadership of a unified, cohesive hospital incident command team and an incredibly dedicated workforce which, all the while, has been delivering cutting edge, evidence-based medicine and studying the causes and treatments of the disease in a rigorous way. The citizenship has been remarkable, with every element of Stony Brook Medicine, and some colleagues from Upstate University Hospital, responding in a most wonderful way. And while the conditions under which we have all been functioning over the past two months has been intense, let me close with a comment from one of our patients: "Thank you for saving my life and giving me such incredible care. I will never forget the nurses and doctors. My family is so thankful. You are true heroes."
Here's a great picture of some of our IM residents with residents and fellows from different specialties: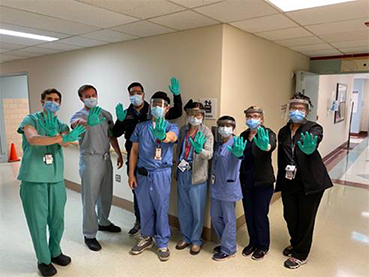 While we hope that the high vaccination rate, social distancing measures and strict adherence to hand hygiene and masks will continue to curtail COVID in New York, I am confident that Stony Brook Medicine has the commitment, expertise, and compassion to lead through this unprecedented time. 
As we continue to care for patients with COVID-19, our program's top priority remains the health and safety of our patients and our residents. To this end, the following measures are in place: 
All residents have access to appropriate PPE at all times
All residents wear both masks and face shields during all patient encounters
All residents are vaccinated for COVID
All health care workers and staff at Stony Brook University Hospital and the Northport VAMC wear masks at all times in accordance with NY State Executive Orders
All patients are screened for COVID-19 upon admission
Bed allocation is adjusted to cohort COVID-19 patients on designated units
Signage and EHR alerts enable rapid recognition of Persons Under Investigation (PUI) and COVID-19 patients
All health care workers and staff at Stony Brook University Hospital and the Northport VA are screened for temperature and fever upon entry to the facility
We provide in the moment guidance for any residents who have exposure or symptoms of COVID-19
We have adapted extremely well to a hybrid in-person/virtual education curriculum with emphasis on interactive small group activities and breakout sessions