News:
Professor Arianna Maffei is featured along with other inspiring women in today's SBU News article, "Stony Brook Women Faculty: Inspiring the Next Generation" at bit.ly/30eUWNZ ; View full article at bit.ly/3kP0TdH (3/5/2021)
Congratulations to Liang Chen, Postdoc in the Xiong Lab, who has been offered an Assistant Professor position in the School of Basic Medical Sciences at Fudan University in Shanghai, China (2/26/2021)
Congratulations to Postdoc Olivia Swanson (Maffei lab) who got 2nd place in the SBU Postdoc Spotlight event with her 5-minute talk "The Science of Feeling Full." More info on the event at https://www.stonybrook.edu/commcms/postdoc/spotlight/ (2/25/2021)
Welcome to our new Assistant Professor Prerana Shrestha! (1/4/2021)
Congratulations to alumnus Ke Chen, PhD student Josh Kogan, and Professor Alfredo Fontanini (Fontanini lab) on their publication in Current Biology, "Spatially Distributed Representation of Taste Quality in the Gustatory Insular Cortex of Behaving Mice." And read the SBU News summary of the research. (11/12/2020)
Congratulations to Postdoc Mel Haley, undergraduate student Stephen Bruno, Professor Alfredo Fontanini, and Professor and senior author Arianna Maffei (Maffei lab) on their publication in eLife, "LTD at amygdalocortical synapses as a novel mechanism for hedonic learning," as highlighted in SBU News. (11/10/2020)
Congratulations to Postdoc Eric Prager, PhD student Zachary Hobel, PhD student Jeffrey Malgady, and PI Joshua Plotkin (Plotkin lab) on their publication in Neuron, "Dopamine Oppositely Modulates State Transitions in Striosome and Matrix Direct Pathway Striatal Spiny Neurons." (10/19/2020)
Postdoc Christina Joselevitch highlighted in article in local Times Beacon Record article, "SBU's Christina Joselevitch contributes 'invaluable' work to neuroscience studies" (10/11/2020)
October 8, 2020 is Stony Brook Giving Day, a 24-hr crowdfunding initiative. Consider giving to our Fund for Excellence at bit.ly/NeurobioGivingDay
Congratulations to Postdoc Christina Joselevitch (Wollmuth Lab) on her publication in The Journal of Neuroscience, "Direct Observation of Vesicle Transport on the Synaptic Ribbon Provides Evidence That Vesicles Are Mobilized and Prepared Rapidly for Release." (9/23/2020)
Congratulations to Graduate Student Meagan Conner & Undergraduate Student Doyeon Jang (Kritzer Lab) on their publication "Biological Sex and Sex Hormone Impacts on Deficits in Episodic-Like Memory in a Rat Model of Early, Pre-motor Stages of Parkinson's Disease," in Frontiers in Neurology. (9/17/2020)
Welcome to our new Assistant Professor Markus Reissland! (9/1/2020)
Congratulations to PhD graduate Jinelle Wint (Advisor, Howard Sirotkin) for her publication in the Journal of Neuroscience Research, "Lrrk2 modulation of Wnt signaling during zebrafish development." (7/5/2020)
Welcome to our incoming class of Master of Science in Neuroscience students! (7/6/2020)
Congratulations to PhD student Mohanlall Narine (Advisor, Holly Colognato) for winning a Center for Inclusive Education Turner Dissertation Fellowship Award for 2020. (7/3/2020)
Congratulations to the Center for Neural Circuit Dynamics on its receipt a $3.6 million U01 grant from the NIH BRAIN Initiative to study how large ensembles of neurons organize to form coherent patterns of neural activity. Center members include Neurobiology and Behavior Professor and Chair Alfredo Fontanini, Associate Professor and Center Director Arianna Maffei, Associate Professor Giancarlo La Camera, Assistant Professors Braden Brinkman and Memming Park, and Department of Chemistry Professor Jin Wang. Read the SBU News article. (5/28/2020)
Congratulations to our Spring 2020 Graduates! (5/21/2020)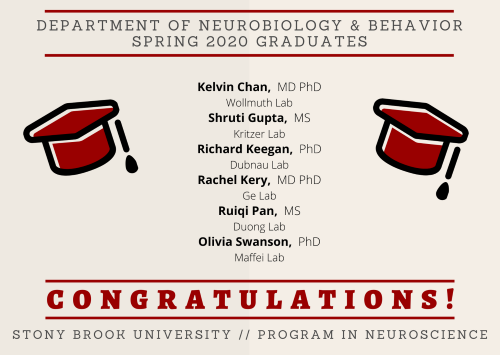 Congratulations to the Sirotkin & Wollmuth labs on their paper on NMDARs in early development in the Journal of Neuroscience, "A Model to Study NMDA Receptors in Early Nervous System Development" (5/1/2020)
Congratulations to Postdoc Joanna Szczurkowska and Graduate Student Alan Guo (Shelly lab) on their publication in Cell Reports, "A Localized Scaffold for cGMP Increase Is Required for Apical Dendrite Development" (4/24/2020)
Congratulations to MD/PhD students Greg Kirschen, Raja Pillai, and Nick Schwartz for receiving awards as part of the annual Renaissance School of Medicine Class Awards Celebration (4/6/2020)
 


 

Congratulations to PhD Student Priscilla Yevoo (Maffei lab) for receiving an Honorable Mention in the NSF Graduate Research Fellowship Program competition! (3/31/2020)
Congratulations to graduate student Afrinash Ahamad (Ge lab) on her recent publication in Frontiers in Neuroscience, "Early Dendritic Morphogenesis of Adult-Born Dentate Granule Cells Is Regulated by FHL2" (3/24/2020)
Congratulations to Meagan Conner, PhD candidate in the Kritzer lab, on her paper accepted in European Journal of Neuroscience: "Domain-Specific Contributions of Biological Sex and Sex Hormones to What, Where, and When Components of Episodic-Like Memory in Adult Rats." doi.org/10.1111/ejn.14676 (1/16/20)
Congratulations to Postdoctoral Associate Hillary Schiff (Maffei lab) on receiving an NIH Postdoctoral National Research Service Award for her research on "Maturation of inhibitory circuits in the gustatory cortex and expression of taste preferences." (12/12/2019)
Congratulations to Postdoctoral Associate Hillary Schiff (Maffei lab) who tied for 2nd place for her talk,

"You Are What You Ate" 

at the Postdoc Spotlight event on Nov. 14, hosted by the Stony Brook University Office of Postdoctoral Affairs. (11/15/2019)
Congratulations to Kelvin Chan (Wollmuth/Hsieh Lab), MSTP, Graduate Program in Neuroscience for receiving a Student Achievement Award from the Rheumatology Research Foundation. "Lupus auto-antibodies act as positive allosteric modulators at GluN2A-containing NMDA receptors to induce excitotoxicity and spatial memory deficits" will be presented at American College of Rheumatology Annual Meeting in November, 2019. (9/30/2019)
Congratulations to Assistant Professor Memming Park for securing a 

Faculty Early Career Development Program (CAREER) award from the National Science Foundation. (8/23/2019)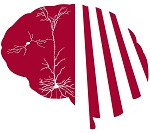 Follow us on Twitter @SBUNeurobiology for our current events.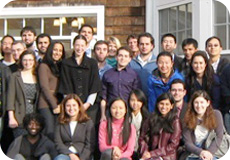 Our Graduate Program
The Department of Neurobiology and Behavior at Stony Brook University offers a university-wide PhD training program designed to provide broad training opportunities for students interested in careers in the neurosciences. Students can enter from their undergraduate training or through the MD/PhD program.
Learn More >