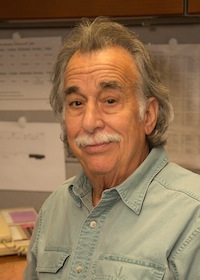 Professor
Ph.D. Washington University
Director, Multiple Sclerosis Collaborative Research Center
Member, Stony Brook Glial Network
Phone: (631) 632-8642
Fax: (631) 632-6661
Email: Joel.Levine@stonybrook.edu
Life Sciences Building
Office: Room 514
Lab: Room 521
Training
Joel Levine attended the University of Pennsylvania and received a B.A. degree in English in 1966. He attended Washington University and received a Ph.D. in Neural Sciences in 1980. He was a Postdoctoral Fellow at The Salk Institute from 1980 to 1983 and a Research Associate in the Molecular Neurobiology Laboratory from 1983 to 1984. He joined the Department of Neurobiology and Behavior at Stony Brook in 1984 as Assistant Professor. He was promoted to the rank of Associate Professor with tenure in 1990 and to Full Professor in 1998. He is currently a member of the graduate programs in Cell and Developmental Biology and Pharmacology. From 2001 to 2007 he served as Associate Editor for the Journal of Neuroscience. He has been a member of the Society for Neuroscience since 1984.
Research Interests/Expertise
Glial cells are the most numerous and most poorly understood component of the central nervous system. Traditionally, they have been thought of as a "glue-like" substance providing nutritive and metabolic support to neurons. We know that glia are a highly diverse and dynamic population of cells actively involved in all aspects of neuronal function ranging from guiding axons to their targets during development to regulating synaptic transmission and plasticity in the adult. Glia also play important roles in many diseases. Our current projects are aimed at understanding 1) the functions of OPCs in spinal cord injury and repair, 2) how the molecules secreted by OPCs act to inhibit or prevent axon growth, 3) mechanisms that regulate the differentiation of OPCs into myelin-forming cells in animal models of multiple sclerosis, and 4) the epigenetic regulation of cell fate and plasticity in developing and adult OPCs.
Recent Publications
Honors, Awards
& Leadership
Laboratory Personnel
Lee S, Zhang W, Ravi M, Weschenfelder M, Bastmeyer M, Levine JM (2013) Atypical protein kinase C and par3 are required for proteoglycan-induced axon growth inhibition. J. Neurosci., 33: 2541-2554.

Petrosyan HA, Hunanyan AS, Alessi V, Schnell L, Levine J, Arvanian VL (2013) Neutralization of inhibitory molecule NG2 improves synaptic transmission, retrograde transport and locomotor function after spinal cord injury in adults rats. J, Neurosci., 33: 4032-4043.

Kumamoto N, Gu Y, Wang J, Janoschka S, Takemaru KI, Levine J, Ge S (2012) A role for primary cilia in glutamatergic synaptic integration of adult-born neurons. Nat. Neurosci., 15:399-405.

Boyce VS, Levine, JM, Mendell LM (2011) Neurotrophin repair of spinal cord damage in Textbook of Neural Repair and Rehabilitation, 2nd edition, Selzer,Clarke,Cohen, Duncan and gage, eds.Cambridge University Press, Cambridge UK

DeWald L, Rodriquez J, Levine JM (2011) The RE1-binding protein REST regulates oligodendrocyte development. J. Neurosci., 31: 3470-3483.

Hunanyan A, Garcia-Alias G, Levine JM, Fawcett JW, Mendell LM, Arvanian V (2010) Role of chondroitin sulfate proteoglycan in axonal conduction in mammalian spinal cord. J. Neurosci., 30:7761-7769.
Director, Multiple Sclerosis Collaborative Research Center, Stony Brook University
Associate Dean, The Graduate School
Sharee Sandler - Research technician