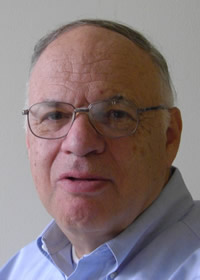 Distinguished Professor
Ph.D. Massachusetts Institute of Technology

Lorne.mendell@stonybrook.edu
Phone: (631) 632-8632
Fax: (631) 632-6661
Life Sciences Building
Office: Room 532

DR. MENDELL'S LAB IS NO LONGER ACCEPTING STUDENTS. THANK YOU FOR YOUR INTEREST.
Biosketch
Lorne Mendell was awarded a B.Sc. degree in Mathematics and Physics from McGill University in 1961. In 1965, he received a Ph.D. in Neurophysiology from M.I.T. He was on the faculty of Duke University Medical Center from 1968 to 1980, and joined Stony Brook University in 1980. He served as chair of the Department of Neurobiology and Behavior from 1986 to 2006 and is currently Distinguished Professor of Neurobiology and Behavior. From 1983-89 he was Editor-in-Chief of the Journal of Neurophysiology, and he currently serves on its Editorial Board. He was on the Editorial Board of the Journal of Neuroscience from 1984 to 1989. In 1991-1992 he was President of the Association of Neuroscience Departments and Programs. In 1996 to 1997 he was Treasurer of the Society for Neuroscience and from 1997 to 1998 served as its President. He is presently Chair of the Spinal Cord Injury Research Board of the State of New York as well as a Director of the Craig H. Neilsen Foundation. His research interests focus on neuroplasticity of the mammalian spinal cord.
Research Interests/Expertise
My laboratory has long been interested in functional effects of neurotrophins in neonatal and adult mammals. For many years this interest was focused on the role of neurotrophins, particularly nerve growth factor (NGF), in inflammatory pain. Another aspect of this research was concerned with the sensitizing effect of Brain Derived Neurotrophic Factor (BDNF) on synaptic transmission from nociceptors onto their synaptic target in the superficial dorsal horn. BDNF is upregulated in nociceptors during inflammation and its release into the dorsal horn sensitizes transmission in nociceptive pathways.
More recently we have been studying the role of a third neurotrophin (NT-3) in modifying the synapse involved in transmission between stretch receptors and motoneurons.
Our experiments in spinal cord injury are in collaboration with the International Research Consortium on Spinal Cord Injury established and funded by the Christopher and Dana Reeve Foundation.
Publications
Honors, Awards & Leadership
Laboratory Personnel
Mendell LM, Constructing and deconstructing the gate theory of pain. Pain. 2014 55(2): 210-6.

Petruska, JC, Kitay, B, Boyce, VS, Kaspar, B, Pearse, D, Gage, FH, Mendell, LM (In Press) Intramuscular AAV delivery of NT-3 alters synaptic transmission to motoneurons in adult rats. Eur. J. Neurosci.
Hunanyan A, Garcia-Alias G, Levine JM, Fawcett J, Mendell LM and Arvanian VL (2010) Role of chondroitin sulfate proteoglycans (CSPGs) in axonal conduction in mammalian spinal cord. J. Neurosci. 30: 7761-7769. (pdf)
Shanthanelson, M. and Mendell, LM (2010) Differential NR2B- subunit expression at dorsal root and ventrolateral funiculus synapses on lumbar motoneurons of neonatal rat. Neuroscience 166: 730–737. (pdf)
Shanthanelson M, Arvanian VL, Mendell LM. (2009) Input-specific plasticity of N-methyl-d-aspartate receptor-mediated synaptic responses in neonatal rat motoneurons. Eur J Neurosci. 29: 2125-36. (pdf)
Arvanian VL, Schnell L, Lou L, Golshani R, Hunanyan A, Ghosh A, Pearse DD, Robinson JK, Schwab ME, Fawcett JW, Mendell LM. (2009) Chronic spinal hemisection in rats induces a progressive decline in transmission in uninjured fibers to motoneurons. Exp Neurol. 216(2):471-80. (pdf)
Petruska JC and Mendell LM (2008) Nerve Growth Factor. In: LR Squire, Ed. Encyclopedia of Neuroscience. Vol. 6 P. 71-78, Elsevier. (pdf)
Petruska JC, Ichiyama RM, Crown ED, Tansey KE, Roy RR Edgerton VR and Mendell LM (2007) Changes in motoneuron properties and synaptic inputs related to step training following spinal cord transection in rats. J. Neuroscience 27: 4460- 4471 (pdf)
Arvanian VL, Bowers WJ, Anderson AJ, Horner PJ, Federoff HJ and Mendell LM (2006) Combined delivery of neurotrophin-3 and NMDA receptors 2D subunit strengthens synaptic transmission in contused and staggered double hemisected spinal cord of neonatal rat Exp. Neurol. 197: 347- 352.
(pdf)
Levine JM and Mendell LM (2005) Trophic factors and their influence on regeneration. In: Textbook of Neural Repair and Regeneration. Ed: M. Selzer, S. Clarke, L.G. Cohen, P.W. Duncan and F.H. Gage. Cambridge University Press.
Arvanian VL, Bowers WJ, Petruska JC, Manuzon H, Narrow WC, Motin V, Federoff HJ and Mendell LM (2004) Viral delivery of NR2D subunits reduces Mg2+ block of NMDA receptor and restores NT-3-induced potentiation of AMPA/kainate responses in maturing rat motoneurons J. Neurophysiol. 92: 2394- 2404. (pdf)
Arvanian VL, Horner PJ, Gage FH and Mendell LM (2003) Chronic Neurotrophin-3 Strengthens Synaptic Connections to Motoneurons in the Neonatal Rat. J. Neurosci. 23: 8706-8712. (pdf)
1983-89 Editor-in-Chief, Journal of Neurophysiology
1986-90 Council, Society for Neuroscience
1991-92 President, Association of Neuroscience Departments and Programs
1996-7 Treasurer, Society for Neuroscience
1997-8 President, Society for Neuroscience
2007- Chairman, New York State Spinal Cord Injury Research Board
2007- Board of Directors, Craig Neilsen Foundation
Li Liang, Research Scientist

---

RESENT LAB MEMBERS
Victor Arvanian, Research Physiologist, Research Associate Professor, Northport Veterans Affairs Medical Center
Monicca Shanthanelson, Scientific Writer, InVentiv Communications
Jeff Petruska, Assistant Professor, Dept of Anatomy and Neurobiology, University of Louisville
Sandra Garraway, Research Associate, Weill/ Cornell Medical College