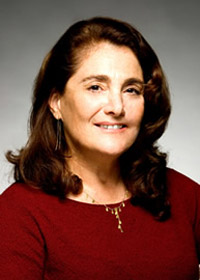 SUNY Distinguished Professor
Ph.D., Harvard
Phone: (631) 632-4801
Fax: (631) 632-6661
Lorna.Role@stonybrook.edu
Training
Lorna Role earned a B.A. degree in Applied Mathematics in 1975 and a PhD in Physiology in 1981, both from Harvard University . After three years of postdoctoral study with Dr Gerald Fischbach she was appointed an Assistant Professor in the Department of Anatomy and Cell Biology in the Center for Neurobiology and Behavior at Columbia University. She was promoted to Associate Professor with tenure in 1992, and in 1996 was promoted full Professor. From 1996 to 2008, she also held the position of Research Scientist at the New York State Psychiatric Institute. In 2001 she was elected a member of The American College of Neuropsychopharmacology (ACNP). In 2006 she was awarded the Sidney R. Baer, Jr. Prize for Innovative Research related to Schizophrenia (NARSAD) and in 2007- 2008 received a second NARSAD Distinguished Investigator Award. In 2008, she joined the State University of New York at Stony Brook as Professor and Chair of the Department of Neurobiology and Behavior. In 2009 she was advanced to Fellow of the ACNP and in 2010 was the recipient of an NIH Directors Pioneer award. In 2011 she has become a member of the American Association for the Advancement of Science and in 2016 she has been named a SUNY Distinguished Professor.
Research Interests/Expertise
Cholinergic signaling in circuits underlying emotionally salient memory
Central cholinergic circuits, which provide important modulatory control of synaptic excitability, have been strongly implicated in cognitive impairments associated with neuropsychiatric diseases including schizophrenia, depression, and Alzheimer's dementia. The Role laboratory studies the generation, plasticity, and maintenance of cholinergic and cholinoceptive synapses in the mammalian brain. Current work focuses on dissecting the role of cholinergic signalling in circuits and behaviors related to emotional salience in learning and memory. In collaboration with the laboratory of Dr David Talmage (through the CNS Disorders group of the Centers for Molecular Medicine) , the Role lab is testing the hypothesis that products of the neuregulin-1 gene - a novel class of signaling molecules - are essential to the maintenance of central cholinergic circuits. As the neuregulin-1 gene has been strongly implicated as a susceptibility locus for schizophrenia, current work could provide important insight into the role of Nrg1 at synapses and circuits whose function and dysfunction may underlie this and other neuropsychiatric disorders.
Publications
Honors, Awards & Leadership
Laboratory Personnel
Ballinger EC, Ananth M, Talmage DA,

Role LW (2016), Basal Forebrain Cholinergic Circuits and Signaling in Cognition and Cognitive Decline,

Neuron

21;91(6):1199-218.

Jiang L, Kundu S, Lederman JD, López-Hernández GY, Ballinger EC, Wang S, Talmage DA,

Role LW (2016), Cholinergic Signaling Controls Conditioned Fear Behaviors and Enhances Plasticity of Cortical-Amygdala Circuits,

Neuron

1;90(5):1057-70.

Zhong C, Talmage DA,

Role LW (2015), Live Imaging of Nicotine Induced Calcium Signaling and Neurotransmitter Release Along Ventral Hippocampal Axons,

J Vis Exp

. 24;(100):e52730.

Luchicchi A, Bloem B, Viaña JN, Mansvelder HD,

Role LW (2014), Illuminating the role of cholinergic signaling in circuits of attention and emotionally salient behaviors,

Front Synaptic Neurosci

. 27;6:24.

Jiang L, López-Hernández GY, Lederman J, Talmage DA,

Role LW (2014), Optogenetic studies of nicotinic contributions to cholinergic signaling in the central nervous system,

Rev Neurosci

. 25(6):755-71,

Zhong C, Talmage DA,

Role LW (2013), Nicotine elicits prolonged calcium signaling along ventral hippocampal axons,

PLoS One

5;8(12):e82719.

Jiang L, Emmetsberger J, Talmage DA, Role LW (2013), Type III neuregulin 1 is required for multiple forms of excitatory synaptic plasticity of mouse cortico-amygdala circuits. J Neurosci

. 5; 33(23):9655-66.

Hancock ML, Nowakowski DW, Role LW, Talmage DA, Flanagan JG. (2011), Type III neuregulin 1 regulates pathfinding of sensory axons in the developing spinal cord and periphery. Development. 138(22):4887-98.

Nason MW Jr

,

Adhikari A

,

Bozinoski M

,

Gordon JA

,

Role LW

. (2011), Disrupted activity in the

Hippocampal-accumbens circuit of type III neuregulin 1 mutant mice.

Neuropsychopharmacology

36(2):488-96.

Chen, Y., Hancock, M.L., Role, L.W. and Talmage, D.A. (2010), Intramembranous valine linked to schizophrenia is required for Type III neuregulin 1 signaling in the morphological development of cortical neurons. J. Neuroscience 30:9199-9208.
2016: Named SUNY Distinguished Professor
2014: N

amed a Reviewing Editor of

eNEURO
2013: Invited to serve on the

Steering Committee of the

Simons Foundation Autism Emerging Concepts Lecture Series

2010: Recipient of an NIH Director's Pioneer Award (more)
2009: Grass Lecturer for the Vermont Chapter of the Society for Neuroscience
2009: Named a NARSAD Distinguished Investigator (2nd time)
2009: Received the Baer Prize for Innovative research related to Schizophrenia
2009: Named the Bauer Visiting Professor at Brandeis University in Spring
2009: Speaker at tje Signalling Symposium in Korea
2009: P

romoted to Fellow status in the American College of Neuropsychopharmacology

2009: Elected to serve on the Editorial Board of

Frontiers in Neuroscience

2009: E

lected to serve on the Editorial Board of

The Journal of Neuroscience

(2009-2014)

2008: Plenary Speaker at the Cholinergic Circuits Symposium in Brazil
Mala Ananth - Graduate Student
Elizabeth Ballinger, MSTP Student
Yachi Chen, PhD - Research Assistant Professor
Li Jiang, PhD

- Research Scientist

Alice Jones - Graduate Student
Shannon Loncar - Graduate Student
Ashleigh Lussenden - Graduate Student
Prithviraj Rajebhosale (Raj) - Graduate Student
Shaohua Wang - Graduate Student
Chongbo Zhong, PhD

- Research Scientist

Sarah Canetta - Postdoctoral Fellow, Columbia University
Jasmine Chen - Postdoctoral Fellow, UCSF

Melissa Hancock - Postdoctoral Fellow, Harvard Medical School
Madeline Johnson - NYU School of Journalism
Dianne Lee - Senior Research Fellow, National Institutes of Health
Michael Lieberman - Medical Director, AgencyRX (NY, NY)
Gretchen Lopez - Assistant Professor
Edlira Luca - Postdoctoral Fellow, University Hospital, Zurich