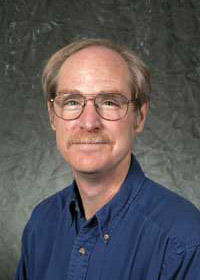 Professor
PhD, University of Washington

Leslie.evinger@stonybrook.edu
Laboratory: (631) 632-8728
Fax: (631) 632-6661

Life Sciences Bldg
Lab: Room 521
Office: Rooom 538
Training
Craig Evinger attended New College and received a B.A. in Psychology in 1973. He received a Ph.D. in 1978 in Physiology & Biophysics from the University of Washington working with Dr. Albert F. Fuchs. His dissertation was awarded the first Donald B. Lindsley Prize in Behavioral Neuroscience by the Society of Neuroscience. Craig Evinger was a Postdoctoral Fellow from 1978-1982 in the Department of Physiology & Biophysics, New York University Medical Center working with Dr. Robert Baker. Craig Evinger joined the faculty of the Department of Neurobiology & Behavior at the State University of New York at Stony Brook as Assistant Professor in 1982. He was an Alfred P. Sloan Fellow during this period. In 1987 he was promoted to the rank of Associate Professor with tenure and in 1993 was promoted to full professor. He holds the rank of Associate Professor in the Department of Ophthalmology since 1991 and is an adjunct professor of Neurology since 2006. He is a member of the Benign Essential Blepharospasm Research Foundation Medical Advisory Board (2003 – present) and of the Scientific Advisory Board of National Spasmodic Dysphonia Association (2007 – present). He was a member of the IFCN-7 study section (1999-2002) and of the Scientific Advisory Board of Dystonia Medical Research Foundation (2003 to 2006). Craig Evinger is a member of the Society for Neuroscience and the Movement Disorder Society.
Research Interests/Expertise
I believe that the nervous system evolved to enable movement. Plants are living proof that you don't need a nervous system if you live rooted to the ground. I also think that viewing the neural mechanisms creating movement and sensation as independent is inaccurate. Sensory and motor systems must continuously interact to allow movement. The sensory system provides goals for and regulates the generation of each movement. Thus, an exciting aspect of investigating the neural basis of movement is that our studies involve all facets of brain function.
The goal of my laboratory's research is to determine how the nervous system creates movement and to identify nervous system modifications that disrupt movement, e.g., cause movement disorders. We use blinking as a simple model system for our investigations. Blinks arise from relatively simple neural circuits that control an uncomplicated movement. Despite this simple neural basis, the blink reflex manifests complex behaviors, such as adaptive motor learning, and movement disorders, such as benign essential blepharospasm.
To find out about our laboratory, publications, and current projects, please go to our website http://MySBfiles.stonybrook.edu/~levinger
Representative Publications
Laboratory Personnel
Kaminer J, Thakur P,

Evinger C. Frequency matters: beta-band subthalamic nucleus deep-brain stimulation induces Parkinsonian-like blink abnormalities in normal rats.

Eur J Neurosci.

40(8):3237-42, 2014

Ryan M, Kaminer J, Enmore P,

Evinger C. Trigeminal high-frequency stimulation produces short- and long-term modification of reflex blink gain.

J Neurophysiol

. 111(4):888-95, 2014
Evinger, C. Animal models for investigating benign essential blepharospasm. Curr Neuropharmacol. 11:53-58, 2013

Powers AS, Basso MA,

Evinger C. Blinks slow memory-guided saccades.

J Neurophysiol

. 109(3):734-41, 2013
Kaminer J, Powers AS, Horn KG, Hui C, Evinger C. Characterizing the spontaneous blink generator: An animal model. J Neurosci. 31:11256-11267, 2011
Dolgonos S, Ayyala H, Evinger C. Light-induced trigeminal sensitization without central visual pathways: Another mechanism for photophobia. Inves Ophthalmol Vis Sci. 52:7852-7858, 2011

Powers AS, Coburn-Litvak PS, Evinger C. Conditioned eyelid movement is not a blink.

J Neurophysiol.

103:641-647, 2010

Lepora NF, Porrill J, Yeo CH, Evinger C, Dean P. Recruitment in retractor bulbi muscle during eyeblink conditioning: EMG analysis and common drive model. J Neurophysiol. 102:2498-2513, 2009
Hallett M, Evinger C, Jankovic J, Stacey M. Update on blepharospasm: Report from the BEBRF International Workshop. Neurology 71:1275-1282, 2008
Dauvergne CD, Evinger C., Experiential modification of the trigeminal reflex blink circuit. J Neurosci. 27:10414-10422, 2007
Chen F-P, Evinger, C. Cerebellar modulation of trigeminal reflex blinks: Interpositus neurons. J Neurosci. 26:10569-76, 2006
Korošec M, Zidar I, Reits D, Evinger C, VanderWerf F., Eyelid and eye movements during blinking in patients with mild to moderate Parkinson's disease. Movement Disorders 21:1248-1251, 2006
Mao, JB and Evinger, C. Long-term potentiation of the human blink reflex. J Neurosci. 21RC:151, 2001
Schicatano, EJ, Basso, MA and Evinger, C. Animal model explains the origins of the cranial dystonia benign essential blepharospasm. J Neurophysiol. 77:2842-2846, 1997