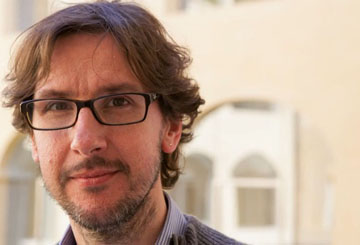 Alfredo Fontanini, MD, PhD, Brescia University
Professor and Chair
Department of Neurobiology and Behavior
Life Sciences Bldg
Phone: (631) 632-4100
Fax: (631) 632-6661
Lab Website: https://www.fontaninilab.org
Training
Alfredo Fontanini attended the University of Brescia Medical School, Italy and received a PhD in Neuroscience in 2003. After postdoctoral fellowships at Brandeis University from 2002-2008 under the supervision of Drs. Sacha Nelson and Don Katz, he joined the faculty of Stony Brook University, where he is currently Professor of Neurobiology & Behavior. From 2003-2005 he was a Sloan-Swartz Fellow for Theoretical Neurobiology at Brandeis. He serves as a Reviewer and Review Editor for the Journal of Neurophysiology, Neuroscience and Frontiers in Cellular Neuroscience and is a member of the Society for Neuroscience and the Association for Chemoreception Sciences.
Research
In our everyday life sensory perception has a very rich phenomenology: no stimulus evokes the same sensation twice.
Our lab is interested in understanding the neural basis of this perceptual richness. Specifically, we are studying how different internal/cognitive states modulate neural responses to sensory stimuli in awake behaving rats and mice. Our work focuses on the chemical senses. Taste and olfaction, two sensory modalities with a strong ecological bond, are particularly amenable to cognitive modulation in virtue of their natural relationship with emotional, motivational and homeostatic processes. We study the neural responses to odors and tastes, as well as systems dynamics related to different cognitive states, using multisite multielectrode techniques and in vivo intracellular electrophysiology.
Publications
Laboratory Personnel
T.C. Griffen, M.S. Haley, A. Fontanini and A. Maffei (2017) Rapid plasticity of visually evoked responses in rat monocular visual cortex. PLoS One. 12(9):e0184618.
C. Samuelsen

and

A. Fontanini (2017) Processing of intraoral olfactory and gustatory signals in the gustatory cortex of awake rats.

J Neurosci

. 37(2):244-257

R. Vincis and

A. Fontanini (2016) A gustocentric perspective to understanding primary sensory corticles. Curr Opin Neurobiol 40:118-124
R. Vincis and A. Fontanini (2016) Associative learning changes cross-modal representations in the gustatory cortex. eLife Aug 30;5. pii e16420
L. Mazzucato, A. Fontanini and G. LaCamera (2016) Strimuli reduce the dimensionality of cortical activity. Front Syst Neurosci 2016 Feb 17; 10:11
M. Haley, A. Fontanini* and A. Maffei* (2016) Laminar-and cell type-specific amygdalar inputs in rat primary cortex.

J Neurosci

36(9):2623-37 (*

Corresponding and equally contributing authors)

H. Lui and A. Fontanini (2015) State Department of Chemosensory Coding in the Gustatory Thalamus (VPMpcz) of Alert Rats. J Neurosci 35(47):15479-15491
L.Mazzucato, A. Fontanini* and G. LaCamera* (2015) Dynamics of multistable states during on-going and evoked cortical activity.

J Neurosci

35(21):8214-8231 (*Corresponding and equally contributing authors)
Kusumoto-Yoshida, H. Liu, B.T. Chen, A. Fontanini* and A. Bonci* (2015) A central role for the insular cortex in mediating conditioned responses to anticipatory cues. PNAS 112(4): 1190-1195 (*Corresponding authors)
M.P.H.Gardner and A. Fontanini (2014) Encoding and tracking of outcome-specific expectancy in the gustatory cortex of alert rats.

J. Neurosci

34(39):13000-13017
C. Samuelson, M.P.H.Gardner and A. Fontanini (2013)Thalamic contribution to cortical processing of taste and expectation.

J Neurosci

33(5):1815-1822
A. Jezzini*, L. Mazzucato*, G. La Camera and A. Fontanini (2013) Processing of hedonic and chemoscensory features of taste in medical prefrontal and insular networks. J Neurosci 33(48):18966-18978 (*Equally contributing authors)
C. Samuelson*, M.P.H Gardner* and A. Fontanini (2012) Effects of cue-triggered expectation on cortical processing of taste.

Neuron

74(2):410-422 (*

Equally contributing authors)

A Maffei and A. Fontanini (2009) Network homeostasis: a matter of coordination.

Curr Opin Neurbiol

19: 1-6
Roberto Vincis - Postdoctorate Associate
Lindsey Czarnecki - Postdoctorate Associate
Martha Stone - Research Specialist in collaboration with Dr. A. Maffei
Ke Chen - PhD Student
Liam Lang - PhD Student