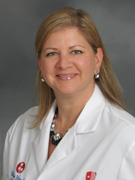 Christy Beneri, D.O., Fellowship Program Director,
Associate Professor of Pediatric Infectious
Director's Welcome
Infectious Diseases is an exciting, every changing field. Human interactions with the microbial world are fascinating. With increasing issues of antibiotic resistance, and new infectious diseases emerging and old ones re-emerging, it is critical to invest in this subspecialty. At Stony Brook we provide an educational opportunity in which the trainee is afforded a thorough background in the field of Pediatric Infectious Diseases. We provide a comprehensive, competency-based training in Pediatric ID leading to excellent clinical and research skills and subspecialty board eligibility. It is designed to provide hands-on experience in the management of critically ill patients and patients with congenital and acquired immunodeficiencies. We are an NICHD clinical trials site and have developed a Lyme and Tick-Borne Disease Center. With research spanning all around the world, we also offer global health opportunities. Some of the areas of ongoing clinical research in the division include HIV clinical trials (evaluation of new therapies, opportunistic infection prophylaxis and therapy), clinical trials regarding pharmacokinetic evaluation of new antibiotics, new vaccines for pediatrics, neglected tropical pathogens and TB, as well as studies on the epidemiology of Lyme disease and other tick borne infections, and quality improvement projects regarding antibiotics prophylaxis and protocol driven care. We also have many opportunities for translational research as part of a large university with a Center for Infectious Diseases. Our graduating fellows' have done translational research in the areas of EBV and Leishmaniasis. There are outpatient clinics twice a week and a newly added Pediatric ID Transplant clinic for our renal transplant patients. There are also regular clinical conferences and research lectures as well as interesting journal clubs. At Stony Brook we offer a challenging fellowship program that will enable you to be successful along your career path. Our learning environment provides a unique training experience.
---
An upbeat, caring, experienced administrative staff
that emphasizes service. I invite you to visit and explore what we have to offer!
---