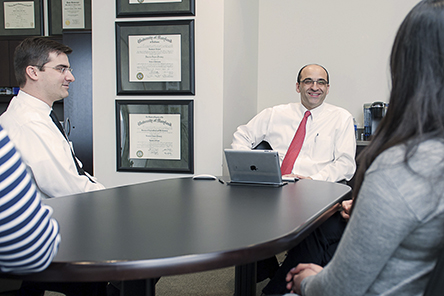 We take great pride in our residency program at Stony Brook. We select our residents carefully — accepting only highly motivated physicians interested in making a difference in the lives of their patients.

Our Department of Psychiatry is part of a world-class research university headed by President Samuel Stanley, MD, an expert on infectious diseases. Renaissance School of Medicine at Stony Brook University, led by Dean Kenneth Kaushansky, MD is devoted to transforming medicine by translating the latest research findings into practice.

I hope that you will choose to be part of the grand adventure our department is undertaking as we explore the neurobiology of psychiatric disorders, develop new diagnostic techniques and join with community partners to create a new healthcare system.

We are adding new faculty, building new facilities and forging new relationships to make Stony Brook Medicine a national leader in the use of brain imaging technologies to explore the pathology of psychiatric diseases and to bring the latest scientific discoveries to clinical practice. These initiatives provide our residents with exciting new opportunities for intellectual development.

But for all our interest in the underlying causes of psychiatric disorders, we never lose sight of the primary goal of our residency program — to provide residents with a mentored clinical experience focused on the progress and recovery of patients.



Ramin Parsey, MD, PhD
Professor and Chair
Department of Psychiatry
Stony Brook University

---
top ten reasons to join our residency program
---
stony brook medicine is on the rise
During the past three years, the medical center has recruited nationally recognized leaders, invested in cutting edge technologies, and broken ground for a new center for translational research.
an outstanding research program
Our research program ranges from basic neuroscience to innovative clinical interventions, with strengths in neuroimaging, epidemiology and behavioral medicine. Residents with an interest in research can choose a research track that allows them to devote their third year to mentored scientific research.
integrative clinical programs
Our residents participate in integrative clinical approaches that incorporate psychiatry into medical care in both inpatient and outpatient medical and surgical settings.
a strong, supportive faculty
The department's faculty take a active interest in the personal and professional development of our trainees. They take a highly personal approach to both didactics and clinical mentoring.
excellent peers
Psychiatry residents study and work with a diverse cadre of well trained and highly motivated peers.
location, location, location
Stony Brook offers residents an opportunity to enjoy Long Island's beautiful beaches, parks and night life while having easy access to New York City.
balanced work life
Our faculty sensitive to the competing demands of study, work, family and friends. We structure our academic and clinical programs to afford our residents the opportunity to lead active social lives while developing professionally.
comprehensive clinical training
Our training program prepares physicians for careers in any aspect of psychiatry they choose. Always evidence based, our program strikes a balance between biological and psychodynamic approaches.
fellowship opportunities
Many of our graduates take advantage of our advanced fellowships in child and adolescent psychiatry, geriatric psychiatry or psychosomatic medicine.
you will make a difference
Our residents have a significant positive impact on the lives of their patients both in brief encounters and in extended therapeutic relationships.