Posted by Stony Brook Surgery on June 4, 2018
Our Residency Programs Train Physician-Scientists to Both Practice and Advance Surgery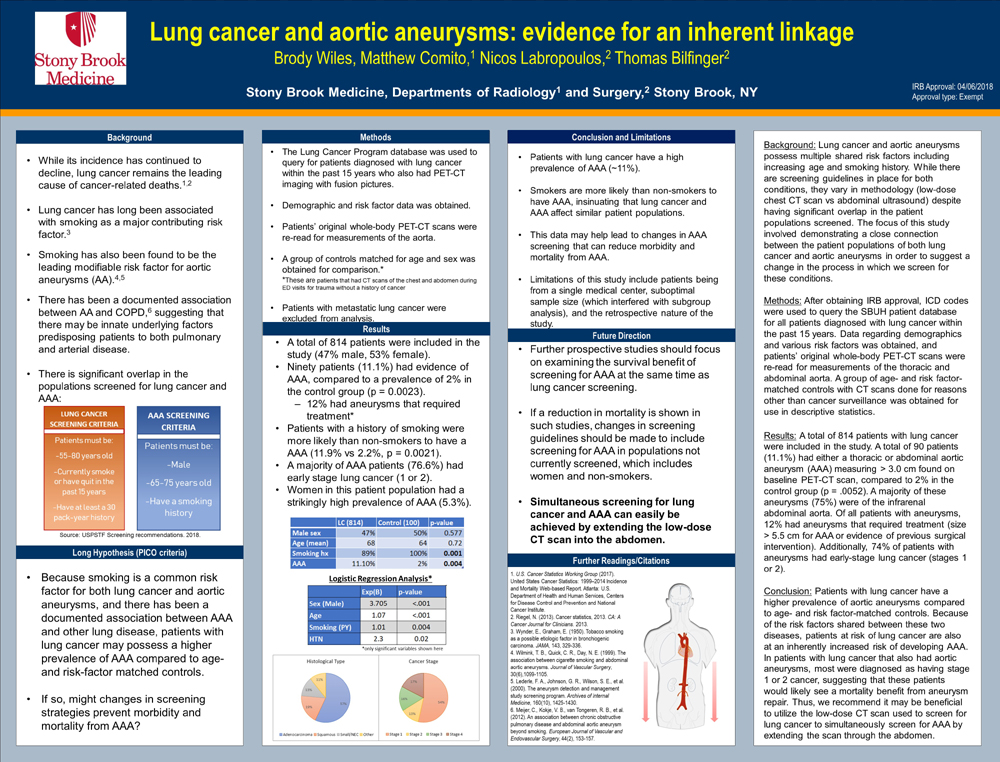 This year's Research Day program took place last Thursday at Stony Brook University's Charles B. Wang Center, and was another great success, as the event continues to grow, with more research presentations and increased attendance.
The morning forum showcased ongoing and completed research projects by way of oral platform presentations, as well as a poster competition by our residents, medical students, and faculty.
Opening the program, Kenneth Kaushansky, MD, dean of the School of Medicine and senior vice president of health sciences, said:
"I have attended virtually every Research Day since its inception, and I am very pleased to see the quality of research grow and the amount of research grow, together with the new horizons of research on display here today."
Stony Brook Medicine is committed to making research happen, says Mark A. Talamini, MD, professor and chairman of surgery and chief of surgical services at Stony Brook Medicine.
Our Research Day celebrates our discoveries, and also demonstrates that as academic surgeons our faculty not only has the job to take care of patients, but to make surgery better. This is what sets us apart from private-practice surgeons, Dr. Talamini is quick to point out.
Research Day demonstrates how we're making surgery better and what sets us apart.
The program included 50 posters presenting study abstracts, plus five oral presentations moderated by faculty discussants, and it attracted over a hundred attendees from Stony Brook Medicine and the University community.
The keynote speaker was Jeffrey B. Matthews, MD, Dallas B. Phemister professor of surgery and chairman of the Department of Surgery at the University of Chicago.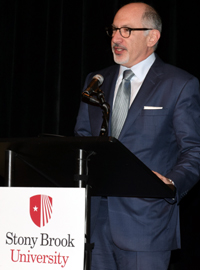 Dr. Matthews's address, titled "Truth and Truthiness in Surgery," was a thought-provoking examination of the validity of scientific evidence applied to clinical practice.
Early in his talk, Dr. Matthews made the compelling statement that "the current practice of surgery is an accumulated wisdom, mixing fact, opinion, and magical thinking in unknown proportions."
He showed that truth and truthiness — the preference for concepts or facts one wishes to be true rather than concepts or facts known to be true — coexist in the world of medicine.
He argued that it's okay to learn to trust one's gut; evidence is elusive and fluid; and knowledge is inseparable from experience.
Ultimately, Dr. Matthews stressed to the audience that evidence-based medicine inadequately accounts for the complexity of individual clinical decisions and the omnipresence of uncertainty. Experience and gut truthiness, not science alone, are essential for successful patient care.
Commenting on the purpose of Research Day, A. Laurie W. Shroyer, PhD, MSHA, professor of surgery and vice chair for research, who oversees the event, says: "Research Day shows the commitment of our department to advancing scientific knowledge in order to improve patient care and population health.
"Residents and fellows, as well as junior faculty, utilize their research projects to address important clinical questions that they face each day, fostering their curiosity and building their excitement and enthusiasm for current and future biomedical research.
"By networking at events such as Research Day, they gain new opportunities for collaborative multidisciplinary team projects. Most important, our Research Day lights the pathway for trainees to envision a future career in academics."
Research Day lights the pathway for trainees to envision a future career in academics.
All categorical residents in our general surgery residency program are required to conduct at least one research project each year, and to present their studies at the Research Day program.
All of our residency programs are committed to training physician-scientists who can both practice and advance surgery in their careers after they graduate from Stony Brook.
Established in 2010, Research Day is an opportunity for our residents as well as our faculty and medical students to present their surgical research. The focus of the program is moving the science of surgery forward.
The Research Day program offers continuing medical education (CME) credit; this activity is designated for a maximum of 3.0 AMA PRA Category 1 Credits™.
2018 Research Day Posters
Here are the titles/authors of the posters exhibited at this year's Research Day. Together, they demonstrate the broad range of research activity within the Department of Surgery, and the impressive productivity of our residents and students:
Abdominal wall reconstruction utilizing biologic meshes: comparison of outcomes and risk for readmission between three different meshes | Cary E, Jou C, Marquez J, Shih J, Klein G, Khan S.
ABO blood group and prevalence of pulmonary embolism | Kim P, Tassiopoulos A, Probeck K, Elitharp D, Labropoulos N.
Acellular dermal matrix sterility: does it affect microbial and clinical outcomes following implantation for breast reconstruction | Klein G, Singh G, Gebre M, Barry R, Trostler M, Marquez J, Huston T, Ganz J, Khan S, Dagum A, Bui D. Oral Presentation.
α-Gal: antibody-stimulated, macrophage-directed wound healing | Kaymakcalan O, Dong X, Jin J, Akintayo R, Galili U, Spector J.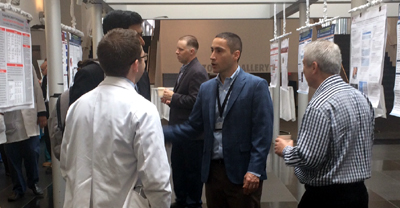 Analysis on postoperative ileus after colectomy in patient with inflammatory bowel disease under ERAS protocol: retrospective study | Choi H, Denoya P.
Antithrombotic agent use in older adult blunt trauma patients: prevalent and deadly | Chantachote C, Garry J, Singh G, Sikalas N, Labropoulos N. Finalist in Outstanding Poster Competition.
Assessment of vascularized constructs within hard and soft tissues | Singh G, Kaymakcalan O, Uddin S, Wiles B, Cordero J, Rafailovich M, Simon M, Bui D. Finalist in Outstanding Poster Competition.
Bedside ultrasounds in conjunction with spirometry in the assessment of diaphragm function following blunt traumatic rib fractures: a feasibility study | O'Hara D, Ahmad S, Pasternak D, Huang E, Jawa R.
Comparing superior versus inferior pedicle reduction mammoplasty: evaluation of clinical outcome — a single surgeon's experience over 10 years | Bader A, Tembelis M, Marquez J, Klein G, Zhu C, Bui D.
Current technology and devices for port closure: review | Basishvili G.
Does bilateral reduction mammoplasty facilitate subsequent weight loss? | Groves D, Marquez J, Trostler M, Pamen L, Medrano C, Kapadia K, Huston T.
Does substance abuse increase risk for post-surgical complications in bariatric patients? | Bates A, Yang J, Altieri M, Karim S, Talamini M, Pryor A.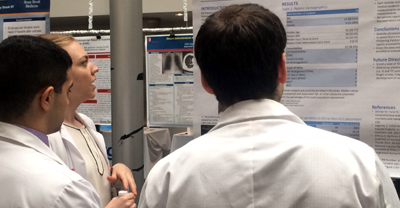 Early ambulation after surgery in the age of fitness tracking | Weller R.
Early predictive factors affecting risk of pneumonia, SICU length of stay and hospital length of stay in trauma patients with isolated rib fractures | Fleury M, Masson R.
Endovascular thoracic aortic repair for catheter associated aortic injury during thoracentesis | Skripochnik E, Tak V, Bilfinger T, Tassiopoulos A, Bannazedeh M.
Estimating the incidence of stray energy burns during laparoscopic surgery based on two statewide databases and retrospective rates: an opportunity to improve patient safety | Guzman C, Forrester J, Fuchshuber P, Eakin J.
Examining gender disparities in surgical case volumes in the state of New York | Altieri M, Yang J, Bevilacqua L, Zhu C, Talamini M, Pryor A.
Impact of ongoing CPR on VA-ECMO outcomes | Rabenstein A, Fujita KJ, Chiu K, Chiu R, Seifert F, McLarty A. Oral Presentation.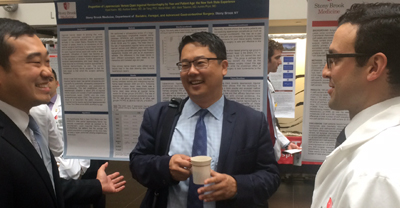 Incidence, outcomes and recidivism of elderly patients admitted for isolated hip fractures | Cabalatungan S, Divaris N, McCormack J, Huang E, Kamadoli R, Abdullah R, Vosswinkel J, Jawa R.
Increased incidence of surgical site infection with a body mass index of >35 following abdominal wall reconstruction with open component separation | Svestka, M, Docimo S, Spaniolas K, Bates A, Sbayi S, Schnur J, Talamini M, Pryor A.
Increased parathyroid hormone assay use not improved surgical outcomes | Ferrara A, Frenkel C, Yang J, Park J, Samara G.
Initial single-center experience with gallium-68 DOTATATE scans for neuroendocrine cancers | Hirai K, Lin M, Georgakis G, Chimpiri R, Matthews R, Franceschi D, Sasson A, Kim J. Finalist in Outstanding Poster Competition.
Investigation of the role of the etiology of deep venous thrombosis in the degree of recanalization and reflux development in the deep venous system in order to define the optimal duration of anti-coagulation after an episode of acute deep venous thrombosis | Volteas P.
Laparoscopic paraesophageal hiatal hernia repair in a 13-month-old infant | Sosulski A, Burjonrappa S, Coren C, Brathwaite C.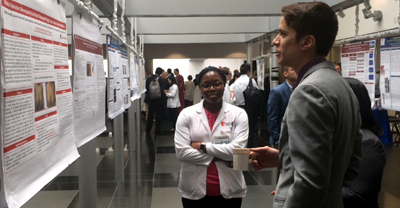 Late proximal neck failure after EVAR | Ribner A, Labropoulos N, Tassiopoulos A.
Location, location, location! Stepping up to reach seniors for fall prevention | Ladowski K, Fantal S, Vosswinkel J, Jawa R.
Lung cancer and aortic aneurysms: evidence for an inherent linkage | Wiles B, Comito M, Labropoulos N, Bilfinger T. Winner of Outstanding Poster Competition.
Machine learning to reduce errors and time in patient admissions/consults | Connolly R.
Marginal ulcer continues to be a major source of morbidity over the time following gastric bypass | Pyke O, Spaniolas K. Docimo S, Talamini M, Bates A, Pryor A.
Outcomes of anti-reflux procedures in adolescents | Hesketh A, Yang J, Zhu C, Talamini M, Pryor A.
Patterns of clinical manifestations and management of intestinal aspergillosis | Yelika S, Lung B, Crean A, Denoya P.
Personalized medicine applications for endoscopic derived gastric cancer organoids | Lin M, Kirai K, Buscaglia J, Davis J, Powers S, Rao M, Georgakis G, Sasson A. Oral Presentation.
Presentation, diagnosis, and treatment modalities for cecal bascule | Lung B, Yelika S, Denoya P.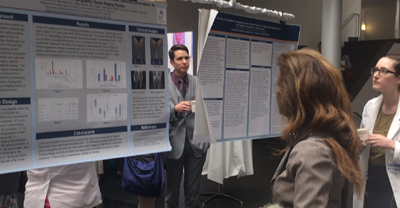 Proportion of laparoscopic versus open inguinal herniorrhaphy by year and patient age: the New York state experience | Bates A, Tembelis M, Marquez J, Klein G, Zhu C, Bui D.
Regional patters of fluid accumulation and fat hypertrophy in patients with lower extremity lymphedema: an MRA (magnetic resonance angiography)-based staging system | Dayan J, Verma R, Shen J, Talati N, Goldman D, Mehrara B, Smith M, Kagan A.
Secondary intention healing after Mohs surgery: evaluation of wound characteristics and cosmetic outcomes | Liu K, Silvestri B, Huston T.
Sleeve gastrectomy — the first three years: evaluation of re-operating, emergency department visits and readmissions for 14,080 patients in New York state | Altieri M, Gulamhusein T, Yang J, Obeid N, Park J, Talamini M, Pryor A.
Spatial characterization of fibrin with an evolving venous thrombus | Chandrashekar A, Garry J, Gurtej S, Sikalas N, Labropoulos N. Oral Presentation.
Spontaneous celiac artery dissection complicated by gallbladder wall necrosis. A case report and literature review | Drakos P, Monastiriotis S, Skripochnik E, Esarko P, Tassiopoulos A.
Surgical boot camp for fourth year medical students: Impact on objective skills and subjective confidence | Bevilacqua L, Simon J, Rutigliano D, Sorrento J, Docimo S Jr., Verma R, Wackett A, Chandran L, Talamini M.
Surgical boot camp for fourth-year medical students: impact on surgical skills and confidence | Simon J, Bevilacqua L, Docimo S, Rutigliano D, Chandran L, Wackett A.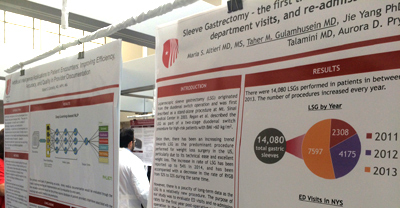 Surgical trainee impact on bariatric surgery safety | Goldberg I, Talamini M, Pryor A, Docimo S, Bates A, Park J, Yang J, Spaniolas K. Oral Presentation.
The novel treatment of traumatic submandibular gland fracture with placement of sialo endoscopic stent | Svestka M, Laskowski R, Samara G.
The rush to pre-hospital cervical spine clearance: are we at breakneck speed? | Laskowski R, Jawa R, Mc Cormack J, Huang E, Vosswinkel J, Chaudhary N.
Treatment of high-risk patients with carotid artery stenosis using transcarotid artery revascularization in a single academic center | Jasinski P, Panagiotis D, Tzavellas G, Tassiopoulos A, Loh S, Koullias G, Kokkosis A.
Trends in diagnosis and management of cecal diverticulitis | Crean A, Lung B, Yelika S, Lung K, Denoya P.
The use of computed tomography versus clinical acumen in diagnosing appendicitis in the pediatric population — interim report | Lacy R, El-Gohary Y, Gulamhussein T, Scriven R, Shapiro M.
Use of flow-diverting stents in the treatment of complex visceral arterial aneurysms | Monastiriotis S, Jasinski P, Koullias G, Landau D, Fiorella D, Tassiopoulos A.
The use of indocyanine green angiography in post-mastectomy reconstruction: do outcomes improve over time? | Diep G, Schelomo M, Kizy S, Huang JL, Jensen EH, Portschy P, Cunningham B, Choudry U, Tuttle TM, Hui JC.
The use of radiofrequency ablation in treatment of anal fistula | Dickler C, Lee K.