Posted by Stony Brook Surgery on September 22, 2015
We Are Committed to Doing Surgical Volunteer Work Here and around the World
Since the mission described here, our faculty and residents have participated in several similar missions in Latin America sponsored by Blanca's House. Pictures of our Ecuador mission in January 2018.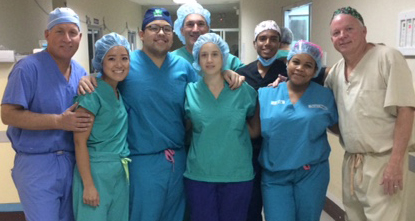 Our "special ops" team of faculty and residents just returned from Ecuador after successfully completing their four-day mission of providing free surgical care to needy patients in the Pacific port city of Guayaquil. They operated in the Hospital Militar there.
The faculty who went on this mission, one of several we've done in Ecuador, were Alexander B. Dagum, MD, and Richard J. Scriven, MD — both veterans of previous missions.
The residents on the mission were Kelly Detoy, MD, a second-year resident; Patrick Hartendorp, MD, a fifth-year resident; and Jocellie Marquez, MD, a first-year resident. Our team also included Jani Lee, a medical student at Stony Brook. They all learned the importance of surgical volunteering.
We have changed lives for the better: some no longer in pain from their gallbladder or hernia; some can use a finger again after a contracture is released; babies and toddlers can now eat, talk, and suck for the first time.
Our surgeons worked long days to do their jobs on this mission. Here are the numbers of procedures they performed:
Hernia repairs: 24
Laparoscopic gallbladder removal surgery: 19
Plastic surgery (incl. repairs of cleft lips/palates, burn scars, congenital anomalies): 35
Our physicians and members of Stony Brook's operating room staff went to Guayaquil as part of the team sent by
Blanca's House
, a Long Island-based organization of volunteer healthcare professionals who provide free medical treatment to people without access to good healthcare.
Drs. Dagum and Scriven serve on the board of directors of Blanca's House.
"Most of the children we cared for and their families would not normally have access to high-quality 21st-century medicine, and it is thrilling to be able to help them and change their lives forever," Dr. Dagum has said about his missions in Ecuador.
Dr. Dagum points out, "Thousands of children in developing nations each year never receive the proper treatment or corrective surgery for conditions such as burns and congenital deformities. Such missions give them the chance to be treated by state-of-the-art medical practices in their homeland."