Posted by Stony Brook Surgery on November 8, 2012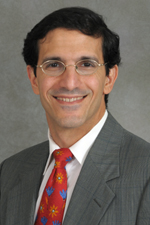 The Stony Brook Cancer Center is the only center on Long Island, the second in New York and one of fewer than 100 in the world, to offer robot-assisted surgery using the da Vinci® robotic surgical system for treatment of cancers of the head, neck, and tongue.
"This is a tremendous breakthrough for patients," says Ghassan J. Samara, MD, associate professor of surgery and a member of our Otolaryngology-Head and Neck Surgery Division. Dr. Samara is team leader of the Cancer Center's Head and Neck, Thyroid Oncology Team.
"In the past, we would have to cut through the jawbone and muscles to reach the tumor, which entailed much more pain for the patient after surgery, as well as a long recovery period.
"Instead, our da Vinci® surgical system lets us operate through the mouth. We can insert a 3D camera and slim instrumentation transorally (through the mouth), which gives us dramatically better access to areas that the hand cannot reach. I can also operate with better precision and accuracy because I can see so much more and do so much more."
The benefits to the patients include less time under anesthesia, an earlier return to eating and
swallowing, less trauma, no scarring, and a much faster return to their lives.
"For comparison, with the last two surgeries I performed conventionally, the patients, both men in their forties, remained in the hospital three to four weeks postoperatively. The last one of my patients I recently operated on with robotics was a woman, 84 years of age, who remained in the hospital only three to four days."
Because these surgeries often involve reconstruction, Dr. Samara works with a multidisciplinary team that may include oral surgeons; plastic surgeons; ear, nose, and throat doctors; and general surgeons.
"Here at Stony Brook, we are able to provide the services the patient needs for every step in their treatment and recovery — from prosthetics to follow-up chemotherapy or radiation to physical and occupational therapies, as well as speech and swallowing services."
Joseph's Story: "I Always Knew I Was in Good Hands"
In July 2011, 36-year-old Patchogue resident Joseph Grillo had what his doctor thought was strep throat. When it didn't respond to antibiotics, the doctor ordered a battery of tests. A positron emission tomography (PET) scan showed cancer, and a biopsy confirmed it as tonsil cancer. This is when Dr. Samara entered the picture.
"I always equate Stony Brook with high-tech procedures. I immediately felt comfortable with the approach Dr. Samara wanted to take," Joseph explains.
Dr. Samara performed a robotic-assisted minimally invasive radical tonsillectomy on August 17 followed by a radical neck dissection on August 25. Joseph's total hospital stays for the two procedures? One night.
"I'm an active guy," says Joseph. "It was important for me to get back to my life as quickly as possible." This included his job at a recycling plant in which he routinely lifts loads up to 400 pounds, his Jujitsu practice, and, of course, his family, which includes three children under the age of three.
Between Dr. Samara's skill and the increased accuracy afforded by the robotic platform, the surgery resulted in clean margins. Joseph required no follow-up radiation or chemotherapy. He continues to have monthly checkups and periodic PET scans but is considered cancer free.
"I've had no side effects, no loss of strength. I have to hand it to Dr. Samara — he's got a God-given talent and a great bedside manner. I always knew I was in good hands."
Read more about robot-assisted ENT–head and neck surgery at Stony Brook.