Posted by Stony Brook Surgery on August 13, 2015
Our Department Continues to Do Its Part to Change the Face of Surgery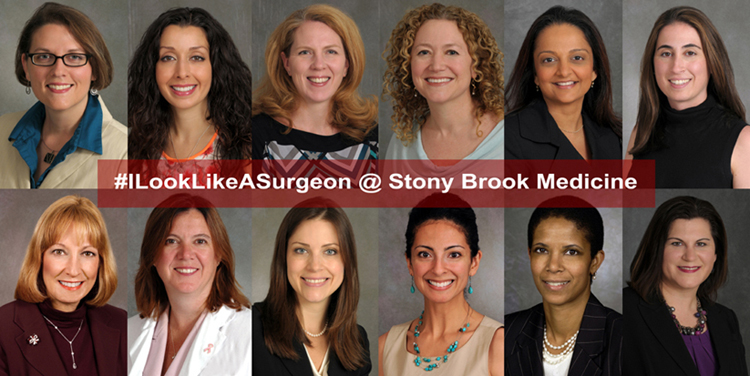 The #ILookLikeASurgeon hashtag buzz, now trending on Twitter and elsewhere, is a wonderful celebration of women surgeons. And we're very pleased about it!
The #ILookLikeASurgeon hashtag is the inspiration of UNC-Chapel Hill surgery resident Heather Logghe, MD, who says it best: "As women surgeons, whether we are in our first year of training or an emeritus professor, it's most important that we ourselves believe we 'look' like surgeons. Because we do."
The social media movement Dr. Logghe started last week took off fast. It's quite a phenomenon and certainly a hopeful sign of the times. Women surgeons from around the world are sharing photos — pictures of themselves with their babies and families, in the operating room, mugging with coworkers, doing competitive sports, and marking life milestones.
Our Department of Surgery continues to do its part to change the face of surgery by recruiting women surgeons, as well as by encouraging female medical students to pursue careers in surgery.
Currently, women surgeons form 29% of the full-time faculty of the department, and almost a third of our general surgery residents are women.
"We will continue to seek venues and ways to attract women to our field, and to our department," says Mark A. Talamini, MD, professor and chairman of surgery. "Fortunately, we have a nucleus of absolutely outstanding women surgeons and scientists on our faculty who are naturally attractive as role models to our learners here at Stony Brook."
Our female faculty are active participants in the mentoring program sponsored by the Stony Brook Medicine Student Branch of the American Medical Women's Association to provide female medical students with special guidance and support (read more). Their participation has already motivated many students to become surgeons.
While the gender gap remained particularly large among surgeons throughout the past century, the new century has seen the number of women attending US medical schools reach that of men, and the gap is apparently closing among graduates entering general surgery training programs, according to a recent study published in the Journal of the American College of Surgeons.