Posted by Stony Brook Surgery on January 22, 2013
Deadly Aneurysms Remain Underdiagnosed; We Strive to Save Lives, Educate Community through Free Screenings
An estimated one million Americans live with an undiagnosed abdominal aortic aneurysm (AAA) — including 20,000 in Suffolk County alone. And until the free vascular screening program provided by the Vascular Surgery Division, Robert Rouge, of Riverhead, NY, was among them.
"I was looking forward to my daughter's wedding in two weeks," says the 65-year-old graphic designer. "I did not expect the screening to turn up any problems. In fact, the reason I agreed to go was because my fiancée, Bernice Reuss, told me I had some of the risk factors for vascular disease."
So when the screening ultrasound revealed a dangerously large aneurysm requiring surgery, Rouge was shocked. "I had had no symptoms whatsoever."
"That's not unusual," says Apostolos K. Tassiopoulos, MD, associate professor of surgery and chief of vascular surgery, who initiated the community screening program in 2011. "AAAs seldom give warning signs. The condition occurs when a weak spot on the wall of the abdominal aorta balloons out — something like a bulge on an overinflated tire," he explains.
Most people don't know they have an aneurysm until it ruptures, and the result most often is sudden death.
Most people are unaware they have an aneurysm until it ruptures. When that happens, the result is severe pain, massive internal bleeding, and, in most cases, sudden death.
"Our goal in sponsoring screenings is not only to save lives through early detection, but also to educate the medical community and the public about this highly treatable but underdiagnosed condition," says Dr. Tassiopoulos.
"In much of Europe, patients at risk are routinely checked for aneurysms. Here, we are still working to communicate the value and urgency of early detection."
Dr. Tassiopoulos points out that Medicare covers an ultrasound screening — a quick non-invasive test — for men age 60 and over with a family history of AAA, and for men aged 65 to 70 who have ever been smokers. "Unfortunately, even this minimal level of screening is underutilized," he says.
Although any adult can develop AAA, the risk is higher for:
Men

Adults age 60 and older

Smokers or ex-smokers

People who have a family history of AAA

Those with diabetes, heart disease, high blood pressure, or high cholesterol

Those with obesity (body mass index of 30 or greater)
"If you have any combination of these risk factors, we suggest you talk to your primary care physician, cardiologist, or vascular specialist about getting screened," Dr. Tassiopoulos stresses.
Stony Brook's free vascular screenings are open to anyone with risk factors who registers in advance. A referral is not required. Telephone pre-registration and a brief qualifying interview are necessary.
In addition to getting an ultrasound for AAA, participants are tested for two other serious, but often-silent vascular conditions for a total of three, painless 10-minute tests:
About 1,100 people have benefited from the Stony Brook vascular screening program over the past two years. Based on population studies, about 20,000 people in Suffolk County may have undiagnosed AAAs.
What Happened to Mr. Rouge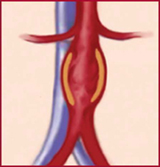 When Robert Rouge's aneurysm was discovered at our most recent public screening, vascular surgeon Morad Awadallah, MD, was the physician on volunteer duty.
"His aorta measured just over two and a half inches, nearly three times normal size. It was potentially life threatening," says Dr. Awadallah.
"We explained the situation to Mr. Rouge, and he agreed to return to the hospital for additional testing followed by a minimally invasive endovascular aneurysm repair (EVAR)."
Three days after his AAA was detected, Rouge received an endovascular stent graft, which means the aneurysm was bypassed with a fabric tube supported by metal scaffolding. Blood flows through the graft rather than through the aneurysm, minimizing the chance of rupture.
"It was incredible. I was able to walk my daughter down the aisle at her wedding the following week."
Dr. Awadallah notes that open aortic repair requires 48 hours in intensive care, an average of seven days of hospitalization, and six to 12 weeks of recovery.
In contrast, the minimally invasive EVAR procedure, which accesses the aneurysm through two tiny incisions in the groin rather than through a large, abdominal incision, enables most patients to go home in just 24 hours.
"It was incredible. I was able to walk my daughter down the aisle at her wedding the following week," says Rouge. "I even made it to the rehearsal dinner."
Rouge says he feels grateful to Stony Brook, and so do his fiancé and family. As Rouge puts it, "Not only do I appreciate the excellent care I received, but also the fact that Stony Brook offers these screenings so that others may be tested for a possible lifesaving outcome."
Should you be screened for AAA? Click here to find out and make an appointment for a free screening.