Assistant Professor of Surgery
Board Certifications
Education
Medical School
New York Medical College (2009)
Residency Training
General Surgery, Stony Brook University
Fellowship Training
Trauma/Critical Care, Stony Brook University
Affiliated Specialty Center
Clinical Interests/Expertise
Pre- and post-operative critical care of surgical patients

Surgical management of injured patients—all aspects of traumatology

Basic and advanced minimally invasive and laparoscopic surgery

Management of diseases involving the liver, spleen, upper/lower gastrointestinal systems

Hernia repairs

Surgical treatment of benign soft-tissue tumors

Tracheostomy and tracheotomy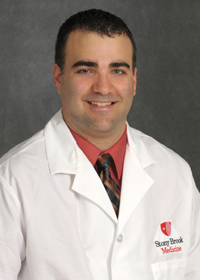 Contact Information
Division of Trauma, Emergency
Surgery, and Surgical Critical Care
Department of Surgery, Health Sciences Center T18-040
Stony Brook Medicine
Stony Brook, NY 11794-8191
Tel: 631-444-8329
Fax: 631-444-6176
For patient care information, including insurance participation and practice locations, click here.
Personal Statement
Honors
Publications
Additional
As a member of the Department of Surgery at Stony Brook Medicine, I am committed to our ideals of excellence, discovery, and innovation. I believe in providing a team-based approach to patient care, and believe in treating my patients and their families with compassion and expertise. My specific areas of interest involve elective general surgery, emergency general/acute care surgery, trauma, and critical care. In addition to my clinical responsibilities, my interests lie in education of residents and students as well as in clinical research. Specifically, my research interests involve trauma recidivism, intensive care unit utilization, unconventional mechanical ventilation, and patient outcomes.
Teacher of the Year Award, Department of Surgery (2018)
Senior Resident of the Year Award, Department of Surgery (2012)
Guy A. Cassara Memorial Award for Trauma Management (2012)
Above and Beyond Award [to Stony Brook University Hospital faculty/staff who "go above and beyond their job description for the betterment of patient care and support of colleagues"] (2011)
Intern-of-the-Year Award (2010)
Pyke OJ Jr, Rubano JA, Vosswinkel JA, McCormack JE, Huang EC, Jawa RS. Admission of elderly blunt thoracic trauma patients directly to the intensive care unit improves outcomes. J Surg Res 2017;219:334-40.
Rubano JA, Paccione MF, Rutigliano DN, Vosswinkel JA, McCormack JE, Huang EC, Yang J, Shapiro MJ, Jawa RS. Outcomes following prolonged mechanical ventilation: analysis of a countywide trauma registry. J Trauma Acute Care Surg 2015;78:289-94.
Rubano JA, Quarrier S, Demuro JP. Complete small bowel obstruction resulting from a mushroom bezoar. Am Surg 2013;79:E102-3.
Rubano JA, Shapiro MJ. Adipose tissue on CT scans in critical care and trauma are associated with acute kidney injury. Crit Care Med 2014;42:1728-9.
Fellow, American College of Surgeons (FACS)
Candidate member, Society of American Gastrointestinal and Endoscopic Surgeons (SAGES)
Provisional member, Eastern Association for the Surgery of Trauma (EAST)