Assistant Professor of Surgery
Education
Medical School
Sidney Kimmel College, Philadelphia, PA
Residency Training
Lankenau Medical Center, Wynnewood, PA
Fellowship Training
University of Minnesota, Minneapolis, MN
Affiliated Specialty Center
Hemodialysis Access Center
Limb Salvage Center
Clinical Interests/Expertise
All areas of arterial and venous surgery, using both conventional surgical techniques and minimally invasive endovascular techniques
Arterial conditions related to carotid, aortic, and lower extremity diseases
Venous conditions including varicose veins and venous insufficiency
Lower extremity limb salvage
Open and endovascular hemodialysis access procedures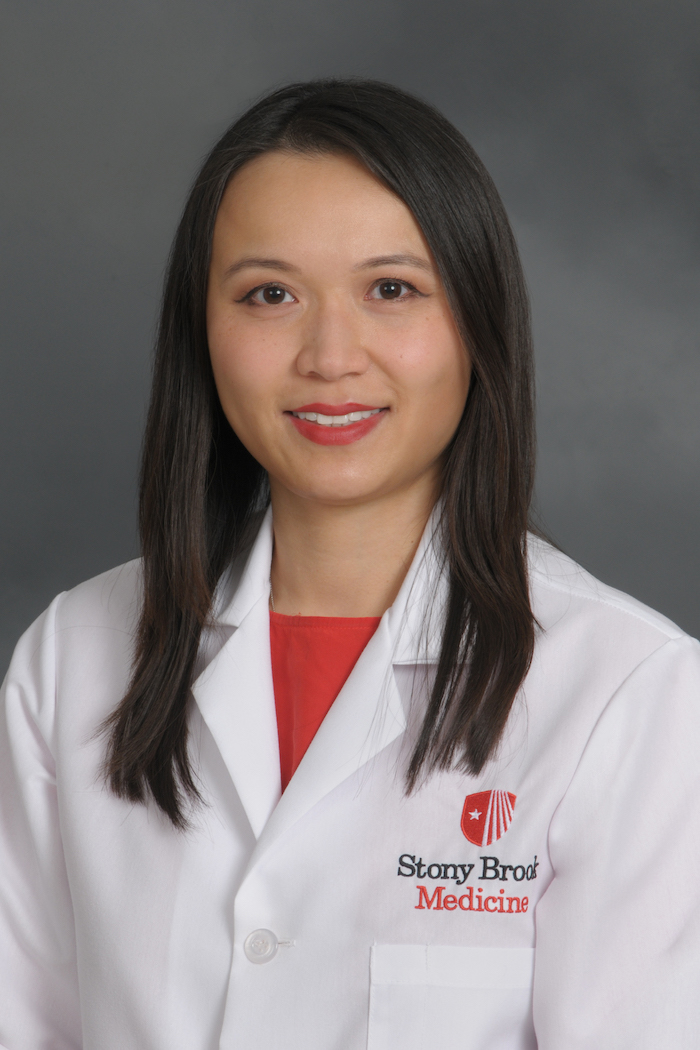 Contact Information
Division of Vascular and Endovascular Surgery
Department of Surgery, Health Sciences Center T19-090
Stony Brook Medicine
Stony Brook, NY 11794-8191
Patient appointments: 631-638-1670
Academic Office Tel: 631-444-8377
Academic Office Fax: 631-444-8988
For patient care information, including insurance participation and practice locations, click here.
Personal Statement
Honors
Publications
Additional
Dr. Li is dedicated to providing patient-centered care for underserved populations and has experience with varied communities. She believes that multidisciplinary cooperation creates the most suitable healthcare approach in optimizing patients with vascular disease with the goal to transition them home with their family.
Gibson Colby Engel Award,  Intern of the Year

Hobart Amory Hare Honors Society, Internal medicine honor society.

George McClellan Surgical Honor Society, Surgical honor society.

Lavine Dean's Grant for Summer Research

The Rena and Morton Grad Scholarship
Li J, Gerety PA, Johnston J, Taylor JA. Gelfoam Interposition Minimizes Risk of Fistula and Postoperative Bleeding in Modified-Furlow Palatoplasty. J Craniofac Surg.
2017;28(8):1993-1996.

Li J, Gerety PA, Xu W, Bartlett SP, Taylor JA. Cephalometric Improvement of Severe Microretrognathia With an Anterior Open Bite Using Curvilinear Mandibular Distraction Osteogenesis. J Craniofac Surg. 2017;28(5):1242-1247.

Xu W, Gerety PA, Li J, Taylor JA, Bartlett SP. Frontal Sinus Volume and Frontal Bar Position are Associated in Unicoronal Craniosynostosis. Plast Reconstr Surg.
2017;139(4):965e-974e.

Li J, Gerety P, Xu W, Bartlett S, Taylor J. A Perioperative Risk Comparison of Posterior Vault Distraction Osteogenesis in an Older Pediatric Population. J Craniofac Surg.
2016;27(5):1165-1169.

Xu W, Li J, Gerety PA, Taylor JA, Bartlett SP. Impact of Fronto-Orbital Advancement on Frontal Sinus Volume, Morphology, and Disease in Nonsyndromic Craniosynostosis. Plast Reconstr Surg. 2016;138(5):1051-1059.

Xu W, Fox JP, Gerety PA, Li J, Wes AM, Bartlett SP, Taylor JA. Assessing Risk Factors for Hospital Based, Acute Care within 30 Days of Craniosynostosis Surgery using the Healthcare Cost and Utilization Project (HCUP). J Craniofac Surg. 2016;27(6):1385- 1390.

Fang R, Chen F, Dong Z, Hu D, Barbera AJ, Clark EA, Fang J, Yang Y, Mei P, Rutenberg M, Li Z, Zhang Y, Xu Y, Yang H, Wang P, Simon MD, Zhou Q, Li J, Marynick MP, Li X, Lu H, Kaiser UB, Kingston RE, Xu Y, Shi YG. LSD2/KDM1B and its cofactor NPAC/GLYR1 endow a structural and molecular model for regulation of H3K4 demethylation. Mol Cell. 2013;49(3):558-570.

Li J, Cohn HE, Yeo CJ, Cowan SW. John Y. Templeton III: Pioneer of modern cardiothoracic surgery. The American Surgeon. 2012;78(11):1201-1203

Yang M, Wei X, Li J, Heine LA, Rosenwasser R, Iacovitti L. Changes in host blood factors and brain glia accompanying the functional recovery after systemic administration of bone marrow stem cells in ischemic stroke rats. Cell Transplant. 2010;19(9):1073- 1084.

Tahiliani M, Mei P, Fang R, Leonor T, Rutenberg M, Shimizu F, Li J, Rao A, Shi Y. The histone H3K4 demethylase SMCX links REST target genes to X-linked mental retardation. Nature. 2007;447(7144):601-605.

da-Silva WS, Harney JW, Kim BW, Li J, Bianco SD, Crescenzi A, Christoffolete MA, Huang SA, Bianco AC. The Small Polyphenolic Molecule Kaempferol Increases Cellular Energy Expenditure and Thyroid Hormone Activation. Diabetes. 2007;56(3):767-776.
RESEARCH EXPERIENCE
 

Division of Plastic & Reconstructive Surgery, The Children's Hospital of Philadelphia,

Philadelphia, PA, 7/2015 – 6/2016

Clinical Research Fellow

Under direction of Dr. Jesse Taylor, M.D.
Clinical and translational research of pediatric craniofacial surgery
Created craniometric database for single suture craniosynostosis
 

Fearing Laboratory, Brigham and Women's Hospital, Boston, MA, 6/2003 – 8/2003

Research Student

Under the direction of Dr. Daniel Schust, M.D.
Reproductive Immunology: Studied regulation of T-bet, an immunoregulatory transcription factor, by prolactin
 

Thyroid Division, Harvard Institute of Medicine, Boston, MA, 6/2005 – 8/2005

Research Student

Under the direction of Dr. Antonio Bianco, M.D., Ph.D. and Dr. P. Reed Larson, M.D.
Thyroid Endocrinology: Studied regulation of D2, type 2 iodothyronine deiodinase, an enzyme activator of thyroid hormone, by flavonols

Histone Modification: Identified the role of SMCX, a protein implicated in X-linked mental retardation, in histone demethylation and transcriptional repression
 

Thyroid Division, Harvard Institute of Medicine, Boston, MA, 6/2006 – 1/2007

Research Fellow

Under the direction of Dr. Antonio Bianco, M.D., Ph.D. and Dr. Yujiang Shi, Ph.D.
Thyroid Endocrinology: Studied protein interactions of D2 by tandem affinity purification and the degradation pathways involved
 

Division of Endocrinology, Hypertension and Diabetes, Harvard Medical School, Boston, MA, 6/2007 – 8/2007

Research Associate

Under the direction of Dr. Yujiang Shi, Ph.D.
Histone Modification: Characterized NP, a cofactor of LSD2 through in vivo and in vitro demethylase activity assays
 

Division of Neurology, Farber Institute for Neurosciences, Philadelphia, PA, 6/2009 – 8/2009

Research Associate

Under direction of Dr. Lorraine Iacovitti, Ph.D.
Human Induced Pluripotent Stem Cells in Stroke Model: Studied the effect of transplanting human IPS cells into an rat stroke model after an initial transplantation of rat bone marrow stem cells