Assistant Professor of Surgery
Board Certifications
Education
BS
Harvard University (1997)
MA
MD
Boston University (2009; cum laude)
Residency Training
General Surgery, Hospital of the University of Pennsylvania
Fellowship Training
Colon and Rectal Surgery, Stony Brook Medicine
Affiliated Specialty Center
Clinical Interests/Expertise
Laparoscopic — including robotic — and conventional surgery for colon and rectal cancer, familial polyposis, diverticulitis, and rectal prolapse

Inflammatory bowel disease, Crohn's disease, and ulcerative colitis

Transanal excision of rectal polyps

Treatment of anorectal abscess, fistula, fissure, anal condyloma, hemorrhoids, constipation, and fecal incontinence

Incisional/ventral hernia

Colonoscopy

Anorectal physiology/manometry studies

Anorectal ultrasound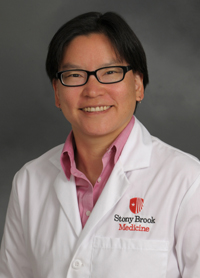 Contact Information
Division of Colon and Rectal Surgery
Department of Surgery, Health Sciences Center T18-046B
Renaissance School of Medicine at Stony Brook University
Stony Brook, NY 11794-8191
Tel: 631-444-3431
Fax: 631-444-7784
For patient care information, including insurance participation and practice locations, click here.
Personal Statement
Honors
Publications
Additional
Dora Savenor Memorial Prize for Excellence in Surgery, Boston University School of Medicine (2009)
Richard J. Elkort Memorial Award, Boston University School of Medicine (2009)
Induction into Gold Humanism Honor Society (2008)
Datta J, Rosemblit C, Berk E, Showalter L, Namjoshi P, Mick R, Lee KP, Brod AM, Yang RL, Kelz RR, Fitzpatrick E, Hoyt C, Feldman MD, Zhang PJ, Xu S, Koski GK, Czerniecki BJ. Progressive loss of anti-HER2 CD4(+) T-helper type 1 response in breast tumorigenesis and the potential for immune restoration. Oncoimmunology 2015;4:e1022301.
Lee KP, Aarons CB. The colon, rectum and anus. In: Porrett PM, Atluri P, Karakousis GC, Roses RE, Drebin JAeditors. The Surgical Review: An Integrated Basic and Clinical Science Study Guide. 4th ed. Philadelphia: Elsevier, 2015: 153-75.
Lee KP, Kelz RR, Dubé B, Morris JB. Attitude and perceptions of the other underrepresented minority in surgery. J Surg Educ 2014;71:e47-52.
Yang RL, Mick R, Lee K, Graves HL, Nathanson KL, Domchek SM, Kelz RR, Zhang PJ, Czerniecki BJ. DCIS in BRCA1 and BRCA2 mutation carriers: prevalence, phenotype, and expression of oncodrivers C-MET and HER3. J Transl Med 2015;13:335.
Yelika SB, Abbas SK, Lee KP, Tou S, Bergamaschi R. A detachable laparoscopic bulldog clamp in laparoscopic-assisted colonoscopic polypectomy — a video vignette. Colorectal Dis 2017;19:596-7.
Memberships
American Society of Colon and Rectal Surgeons (candidate member), 2016-present