Board Certifications
Education
Medical School
Texas A&M College of Medicine (2002)
Residency Training
General Surgery, New York University
Fellowship Training
Cardivascular Research, Stanford University
Vascular and Endovascular Surgery, New York University
Affiliated Specialty Centers
Clinical Interests/Expertise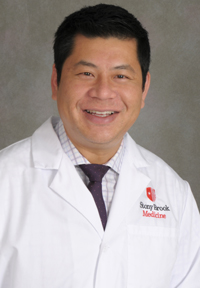 Contact Information
Division of Vascular and
Endovascular Surgery
Department of Surgery, Health Sciences Center T19-090
Stony Brook Medicine
Stony Brook, NY 11794-8191
Patient appointments: 631-638-1670
Tel: 631-444-8114
Fax: 631-444-8988
For patient care information, including insurance participation and practice locations, click here.
Personal Statement
Honors
Publications
Additional
My practice involves all aspects of vascular surgery, including aortic aneurysms, aortic dissections, carotid artery disease, lower extremity arterial disease, and limb salvage. My main interest involves endovascular treatment of complex thoracic and abdominal aortic aneurysms not amenable to standard stent-graft treatments. I have training in advanced fenestrated aortic stent-grafts which have holes built in to accommodate branching vessels in the aorta. An additional interest is in the use of endovascular stent-grafts to treat complications arising from aortic dissections. My current research interest is in future aortic stent-graft technologies and the use of aortic stent-grafts in complicated and uncomplicated aortic dissections.
Recipient of the Fabio Giron Teaching Award in Vascular Surgery (2018)
iCARE Award for Excellence ("for significantly improving quality of patient care"), Stony Brook University Hospital (2016)
Recipient of the Fabio Giron Teaching Award in Vascular Surgery (2015)
American Heart Association Postdoctoral Research Grant
Outstanding Research Award, Plastic Surgery Research Council
Invited Presentation, Division of Vascular and Endovascular Surgery, Changhai 2nd Military Hospital, Shanghai, China
Aarabi S, Bhatt KA, Shi Y, Paterno J, Chang EI, Loh SA, Holmes JW, Longaker MT, Yee H, Gurtner GC. Mechanical load initiates hypertrophic scar formation through decreased cellular apoptosis. FASEB J 2007;21:3250-61.
Garcia R, Gasparis AP, Loh SA, Labropoulos N. A rare case of idiopathic bilateral ovarian vein thrombosis. J Vasc Surg Venous Lymphat Disord 2017;5:567-70.
Jackson RJ, Loh SA, Gokaslan ZL. Metastatic renal cell carcinoma of the spine: surgical treatment results. J Neurosurg 2001;94(1 Suppl): 18-24.
Jain V, Gruberg L, Bilfinger TV, Tassiopoulos AK, Loh SA. Coil embolization of an aortic pseudo-aneurysm post open repair of type A aortic dissection. Ann Vasc Surg 2014;28:1312.
Loh SA, Carlson GA, Chang EI, Huang E, Palanker D, Gurtner GC. Comparative healing of surgical incisions created by the PEAK PlasmaBlade, conventional electrosurgery, and a scalpel. Plast Reconstr Surg 2009;124:1849-59.
Loh SA, Chang EI, Ceradini DJ, Chang EI, Aarabi S, Lin S, Bastides N, Chan DA, Freedman M, Giaccia AJ, Gurtner GC. Age decreases endothelial progenitor cell recruitment through decreases in HIF-1 alpha stabilization during ischemia. Circulation 2007;116:2818-29.
Loh SA, Chang EI, Galvez MJ, Thangarajah HT, Hamou C, Vial IN, Lin D, Gurtner GC. Aged related decreases in wound healing primarily result from changes in HIF-1 alpha stabilization. Plast Surg Res 2009;123(2 Suppl):65S-75S.
Loh SA, Howell BS, Rockman CB, Cayne NS, Adelman MA, Gulkarov I, Veith FJ, Maldonado TS. Mid- and long-term results of the treatment of infrainguinal arterial occlusive disease with precuffed expanded polytetrafluoroethylene grafts compared with vein grafts. Ann Vasc Surg 2013;27:208-17.
Loh SA, Maldonado TS, Rockman CB, Lamparello PJ, Adelman MA, Frempong-Boadu A, Veith FJ, Cayne NS. Endovascular solutions to arterial injury due to posterior spine surgery. J Vasc Surg 2012;55:1477-81.
Loh SA, Rockman CB, Chung C, Maldonado TS, Adelman MA, Cayne NS, Pachter HL, Mussa FF. Existing trauma and critical care scoring systems underestimate mortality among vascular trauma patients. J Vasc Surg 2011;53:359-66.
Maldonado TS, Loh S, Fonseco R, Poblete H, Adelman MA, Cayne NS, Mussa F, Rockman CB, Sadik M, Ellozy S, Faries P. Incidence and outcome of filter occlusion during carotid artery stent procedure. Ann Vasc Surg 2008; 22:756-61.
Parikh PB, Loh S, Gruberg L, Patel N, Weinstein J, Tannous H, Bilfinger T. Transcarotid transcatheter aortic valve replacement as preferred alternative access in a patient with bilateral carotid artery disease. J Invasive Cardiol 2018;30:E9-10.
Rockman C, Loh S. Carotid endarterectomy: still the standard of care for carotid bifurcation disease. Semin Vasc Surg 2011;24:10-20.
Skripochnik E, Loh SA. Fluoroscopy time is not accurate as a surrogate for radiation exposure. Vascular 2017;25:466-71.
Skripochnik E, Novikov D, Bilfinger TV, Loh SA. Short-term results of left subclavian artery salvage in blunt thoracic aortic injury with short proximal landing zones. J Vasc Surg 2018;68:985-90.
Ventarola DJ, Labropoulos N, Landau DS, Tassiopoulos AK, Loh SA. Tibioperoneal trunk aneurysm resulting in compartment syndrome with associated aneurysms of the popliteal and dorsalis pedis arteries. Ann Vasc Surg 2016;35:207.e11-6.
Fellow, American College of Surgeons (FACS)
Member, Eastern Vascular Society
Member, Peripheral Vascular Surgery Society
Member, Society for Clinical Vascular Surgery
Member, Society for Vascular Surgery