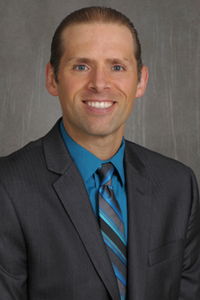 John M. Hutter, MBA, MS, FACHE, CMPE, joined our leadership team in April 2014 as the department administrator and also the business manager of Stony Brook Surgical Associates. He had previously been our interim administrator for more than three years, and knows well how to help us succeed.
Mr. Hutter has been a healthcare executive at Stony Brook Medicine since 2008, when he joined the Department of Pathology as its senior administrative director. In that position, among other accomplishments, he created a financial plan that is a model of success.
Commenting on Mr. Hutter's appointment, Mark A. Talamini, MD, professor and chairman of surgery, said:
"John has great familiarity with the surgery department, as he was our interim administrator along with his full-time position as pathology's administrator. This speaks to his incredible work ethic. It also gives John a huge head start in terms of familiarity with our department, and the great opportunities that lie ahead."
Prior to Stony Brook, Mr. Hutter was director of ambulatory care (2005-06), then director of operations (2006-08) at St. Luke's-Roosevelt Hospital in New York, NY. He had held other leadership and administrative positions at Memorial Sloan-Kettering Cancer Center, where he started his career in healthcare in 2002.
A native Longer Islander, Mr. Hutter received his MBA in finance and MS in healthcare management from St. Joseph's College in 2006. He subsequently earned board certification as a certified medical practice executive (CMPE) from the Medical Group Management Association, the nation's leading association for medical practice executives and leaders.
Mr. Hutter is a member of the American College of Healthcare Executives, American College of Medical Practice Executives, Healthcare Financial Management Association, Medical Group Management Association, and Association of Academic Surgical Administrators.
Prior to becoming a full-time healthcare executive, Mr. Hutter was a professional musician for nearly a decade (he plays guitar, bass, drums, piano, and sings), and earned a bachelor's degree in music education from Five Towns College.
Contact information: phone, 631-444-7801; fax, 631-444-8947; email, John.Hutter@stonybrookmedicine.edu.