LAB DIRECTOR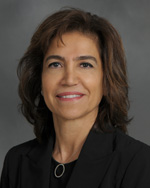 Anissa Abi-Dargham, MD
Professor and Chair, Department of Psychiatry and Behavioral Health
Lourie Endowed Chair in Psychiatry
SUNY Distinguished Professor
Director, Multi-Modal Translational Imaging Lab
Associate Dean and Associate Vice President,  Clinical and Translational Science
Principal Investigator, Long Island Network for Clinical and Translational Science (LINCATS)
 
Dr. Abi-Dargham was born in Beirut, Lebanon, where she went to Medical School in Saint Joseph's University. She moved to the US in 1985, did her residency at the University of Tennessee in Memphis, TN, followed by a research fellowship at the National Institute for Mental Health. She then joined the Faculty at Yale University and moved to Columbia University in 1996, where she spent most of her career. She moved to Stony Brook University in June 2016 to head the Multi Modal Imaging lab. She also took on the role of Vice Chair for Research for the Department of Psychiatry.
She is an expert in areas of molecular imaging, pharmacology, schizophrenia, addiction, and translational science, and is the Principal Investigator of the Long Island Network for Clinical and Translational Science. She uses Positron Emission Tomography imaging to study the neurobiology of these disorders. Her research has resulted in seminal findings describing the complex alterations of dopamine transmission in schizophrenia and their relationship to clinical symptoms, cognition and response to treatment. She is Associate Editor for Neuropsychopharmacology, Deputy Editor for Biological Psychiatry, Past President of the Brain Imaging Council for SNM, and Past President of the American College of Neuropsychopharmacology. She serves on the scientific boards of Schizophrenia International Research Society, the Brain and Behavior Research Foundation, and Research Forum, she is also a member of the NIMH Board of Scientific Counselors. Dr Abi-Dargham is a member of the National Academy of Medicine.
View Dr. Abi-Dargham's bio on the Brain & Behavior Research Foundation website here.
Anissa's Video Links:
---
FACULTY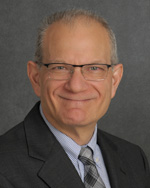 Mark Slifstein, PhD
Professor of Psychiatry and Director of the PET Imaging Center
Dr. Slifstein's expertise is in PET pharmacokinetics and quantitative methodology in brain imaging. He has collaborated with Dr. Abi-Dargham for 18 years, as director of PET data analysis in her lab. More recently, he has become involved in multimodal imaging efforts and served as Director of the MRI Research Unit at the New York State Psychiatric Institute. He has received research funding from various pharmaceutical companies and charitable foundations. He has published more than 100 research articles on PET imaging. Dr. Slifstein is an Editorial Board member of Neuropsychopharmacology and Journal of Cerebral Blood Flow and Metabolism and has served on the Scientific Advisory Committees for Neuroreceptor Mapping and BrainPET.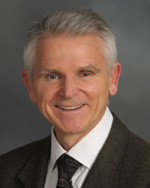 Roberto B. Gil, MD
Visiting Associate Professor of Psychiatry
Dr. Gil was born in Seville, Spain, and completed his medical school degree at the University of Seville Medical School, working as a general practitioner in Spain for a few years before coming to the US to specialize in psychiatry. He completed his residency at SUNY Downstate in Brooklyn, and fellowships in Consultation Liaison Psychiatry (SUNY Downstate) and Psychopharmacology (West Haven VAMC and Yale University.) Since then he has focused his work in clinical and brain imaging studies in schizophrenia, specialized in the diagnostic evaluation and clinical assessment, and treatment, of subjects participating in research protocols. He has been the director of clinical research units at the West Haven VAMC/Yale University and also New York State Psychiatry Institute/Columbia University. As a member of the MMTI lab at SUNY Stony Brook he is now organizing an outpatient schizophrenia research clinic for subjects participating in brain imaging studies.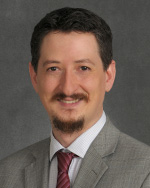 Jared X. Van Snellenberg, PhD
Assistant Professor of Psychiatry
Dr. Van Snellenberg was born in Vancouver, Canada, and completed his undergraduate work at Simon Fraser University. He obtained his PhD in Psychology from Columbia University and completed postdoctoral training at Columbia University Medical Center and the New York State Psychiatric Institute, specializing in functional Magnetic Resonance Imaging approaches to the cognitive neuroscience of working memory and psychotic symptoms of schizophrenia. His current research focuses on the development of cutting-edge data analytic approaches for high resolution multiband fMRI data, and applying these methods to translational neuroscience studies of patients with psychotic illnesses, and to furthering our understanding of how working memory and related cognitive processes are supported by the human brain.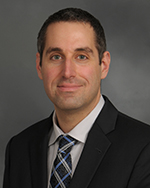 Scott J. Moeller, PhD
Assistant Professor of Psychiatry
Dr. Moeller received his undergraduate degree from Stony Brook University Honors College in 2005 and his PhD from the University of Michigan in 2010, both in Psychology. He then completed postdoctoral training in addiction neuroimaging at Brookhaven National Laboratory and the Icahn School of Medicine at Mount Sinai. In 2013, he was promoted to Assistant Professor at Mount Sinai. Dr. Moeller's research, funded by the National Institute on Drug Abuse (NIDA), uses behavioral and neuroimaging approaches to investigate cognitive and emotional impairments in human drug addiction. Current interests are in studying decision-making processes related to drug use and compromised self-awareness of addiction severity (insight). He has published more than 50 papers in peer-reviewed journals and is an Editorial Board member for Experimental and Clinical Psychopharmacology and American Journal of Drug and Alcohol Abuse. Dr. Moeller joined the MMTI Lab in 2017 to grow its work in substance use disorders.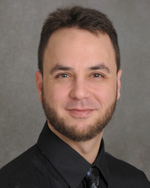 Greg Perlman, PhD
Research Assistant Professor of Psychiatry
Dr. Perlman obtained his PhD in Clinical Science and Psychopathology Research from the University of Minnesota-Twin Cities. He completed his Clinical Psychology Internship at the University of California, San Diego-Veteran's Administration and served as a Postdoctoral Research Associate on a T32 NIMH Training Grant at the University of Minnesota-Twin Cities. Dr. Perlman has published more than 20 papers in peer-reviewed journals. In the last few years, he has received research funding from the Brain and Behavior Research Foundation and the National Aeronautics and Space Administration. His role in the MMTI Lab is to oversee clinical assessment, including symptom ratings and diagnosis.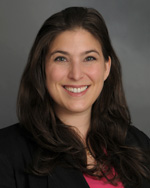 Jodi J. Weinstein, MD
Clinical Assistant Professor of Psychiatry
Dr. Weinstein studies the neural basis of psychiatric disorders and is particularly interested in the disease mechanisms of schizophrenia. Her research focuses on the application of PET and MRS modalities for clinical brain imaging studies. She has been invited to present her research as a 2015 Young Investigator for the Brain Imaging Council of the Society of Nuclear Medicine and Molecular Imaging, for Data Blitz at the 2015 Annual Meeting of the American College of Neuropsychopharmacology, and for Dopamine 2016 at the Medical University of Vienna. Dr. Weinstein completed her medical school degree and residency in psychiatry at Vanderbilt University in Nashville, TN. During her training, she developed expertise in psychopharmacologic and behavioral therapies for early episode psychosis and schizophrenia, and she facilitated a specialized outpatient clinic and co-led a support group for patients taking clozapine. She joined Dr. Abi-Dargham's Division of Translational Imaging in 2014 as a T32 fellow at Columbia University. She also provides long-term supervision for residents in clinical outpatient psychiatry at Columbia.
---
DOCTORAL STUDENTS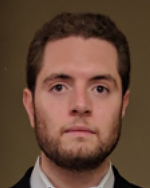 John C. Williams, MS
MD/PhD Student (Biomedical Engineering)
John graduated with his B.E. in Computer Engineering and Applied Mathematics and Statistics in 2013 and M.S. in Electrical Engineering in 2015, both from Stony Brook University. From 2010 through 2015, he worked with Dr. Emilia Entcheva using computational methods to quantify electrophysiological mechanisms underlying stimulation of excitable tissue with light-sensitive ion channels (optogenetics) and its potential application to treating cardiac disease. John began his MD/PhD at Stony Brook in 2015, completing the first two years of medical school while developing an interest in functional neuroimaging through summer research rotations with Dr. Lillianne Mujica-Parodi and Drs. Ramin Parsey and Christine DeLorenzo. In July 2017, John began his work in the Multi-Modal Translational Imaging Laboratory, working with Dr. Van Snellenberg and Dr. Abi-Dargham. He is interested in using novel computational approaches to analyzing fMRI and PET in order to elucidate the biological basis of cognitive deficits in schizophrenia, as well as identify functional predictors and benchmarks for the efficacy of pharmacotherapy.
---
RESEARCH STAFF
Natalka Fallon, BA
Laboratory Manager
Natalka graduated from Stony Brook University in 2016 with a Bachelor of Arts degree in Psychology. She is responsible for managing daily research operations, purchasing, as well as grants management for several projects at the MMTI lab. Natalka is currently interested in learning more about the neural circuits/pathways that are implicated in psychiatric illnesses and how these pathways develop and change behavior.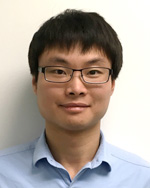 Jiayan (Gary) Meng, MS
Research Support Specialist
Jiayan graduated from Stony Brook University in 2015 with a Master of Science degree in Applied Health Informatics. His responsibilities include data analysis of PET and MRI images, including drawing of anatomical regions of interest and statistical analysis.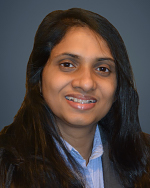 Sameera K. Abeykoon, PhD
Programmer/ Analyst
Dr. Abeykoon completed her M.Sc. and Ph.D. degrees in Physics at the University of Houston, pioneering a new computational seismic modeling approach to solve the Helmholtz equation in an efficient manner for the exploration of oil and gas. After completing her Ph.D., she continued her computational research with the Senior Scientist, Jean Logan at the Brookhaven National Laboratory (BNL) developing computational/mathematical techniques to study kinetics of the [N- methyl-11C] Vorozole binding in normal human liver using Positron Emission Tomograsphy (PET). Dr. Abeykoon worked as a Postdoctoral Research Associate at the BNL's Computer Science Initiative (CSI) from 2014-2017. During her appointment at the CSI, Dr. Abeykoon's research was focused on developing a suite of streaming data analysis tools and pipelines, and parallelizing them to extract scientifically relevant information from high-throughput multidimensional X-ray data collected at the beamlines of National Synchrotron Light Source-II at BNL. In October 2017, Dr. Abeykoon joined the MMTI lab as a Programmer/Analyst. She is currently responsible for managing and analysis of multidimensional functional Magnetic Resonance Imaging (fMRI) and other clinical research neuroimaging data (arterial spin labeling, structural MR, Magnetic Resonance Spectroscopy, etc.), and testing and developing new algorithms and pipelines in bash, Python, Matlab and command-line Linux packages for fMRI data analysis, and maintenance of hosted Linux servers.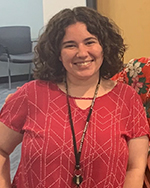 Kelly Bobchin, BA
Research Support Specialist
Kelly graduated from The College of New Jersey in 2018 with a Bachelor of Arts in Psychology. She is currently a research coordinator for multiple projects at the MMTI Lab, and primarily works on organizing MRI procedures for the lab. Kelly is interested in the neuroimaging, particularly MRI imaging, as well as LGBTQ Psychology. She plans to eventually go back to school for a PhD in Clinical Psychology.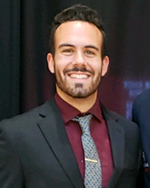 Eilon Silver-Frankel, BS
Research Support Specialist
Eilon is graduating from Stony Brook University in 2020 as a double major, earning a Bachelor of Science in Biology and Psychology. He has recently been hired as a research assistant in the MMTI lab, where he will assist in multiple projects which include functional magnetic resonance (fMR) and positron emission tomography (PET) imaging. He plans to continue his education by pursuing a medical degree in psychiatry.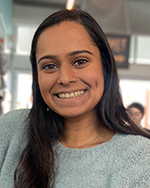 Pari Dhayagude, BS
Research Support Specialist
Pari graduated from The University of California, Davis in 2020 with a Bachelor of Science in Neurobiology, Physiology, and Behavior. She is currently working as a research coordinator in the MMTI lab, where she assists in several studies involving MR and PET imaging. Pari is interested in understanding cognitive impairments in human drug addiction. She plans to continue her education by pursuing a PhD in neuroscience.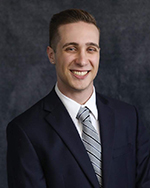 Thomas Jaworski, MA
Research Support Specialist
Thomas graduated from New York University with a Master of Arts in Clinical and Cognitive Neuroscience in 2021, with his research specializing in schedules of conditioning that impact one's ability to learn a new language. Previously, Thomas was an undergraduate research assistant at Stony Brook University where he was in charge of psychometric coding of peer-reviewed journal articles that measured pregnancy-specific stress and anxiety in expectant mothers and their partners. He also worked on projects involving prenatal administration of antidepressants in rats and subsequent behavioral effects in their offspring. Thomas is interested in psychosocial intervention to improve quality of life in clinical populations that suffer from mental illnesses and disorders. He plans to pursue a PhD in Clinical Psychology in the coming years.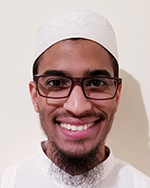 Shayne Thomas, BA
Research Support Specialist
Shayne graduated from The City College of New York in 2018 with a Bachelor of Arts degree in Psychology and Philosophy. Alongside his bachelor's degree, he earned his Credentialed Alcoholism and Substance Abuse Counselor Trainee (CASAC-T) certificate. For two years, he provided direct, clinical care services to individuals with substance use disorders. Currently, he assists with managing several brain-imaging, drug addiction research studies.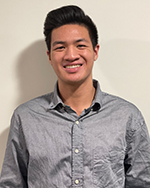 Justin Liu, BS
Research Support Specialist
Justin graduated from Stony Brook University in 2021 with a Bachelor of Science in Psychology and Bachelor of Art in Sociology. He has recently been hired as a research coordinator in the MMTI lab, where he assists in several studies involving MR and PET imaging in patients with schizophrenia. He hopes to continue his education by pursuing a PhD in clinical psychology.
Francesca Giammanco, LMSW
Clinical Research Associate
Francesca graduated from Adelphi University with a master's in social work and later obtained her licensure, making her an LMSW. Her primary responsibility within the lab entails recruiting interested and eligible patients to participate in our studies.  She is excited to be contributing to science that will help develop better understandings and treatments for Schizophrenia and addiction in the future. Francesca plans to continue doing meaningful work that will improve people's quality of life, while also traveling as much as possible to learn more about the many different people, places, and cultures within the world.
---
COLLABORATORS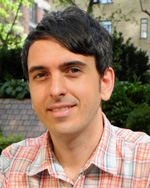 Guillermo Horga, MD, PhD
Assistant Professor of Clinical Psychiatry at Columbia University Medical Center
Dr. Horga's research is focused on the cognitive and neurobiological mechanisms underlying cognition and learning in health and neuropsychiatric illness. More specifically, he is interested in how the brain forms internal models of the external world by learning environmental regularities, and how a disruption in this process may result in aberrant perceptions and beliefs such as those that characterize psychotic symptoms in schizophrenia. To this end, his research uses functional magnetic resonance imaging (fMRI) while participants perform a particular cognitive task or are at rest, molecular and metabolic positron emission tomography (PET) imaging, and computational modeling tools. His research aims at integrating findings from these various imaging modalities with computational models of learning and cognition in order to inform the development of cognitive models of specific psychiatric symptoms, and interrogate their precise neurobiological implementation at the molecular and systems levels, with the ultimate aim to develop novel treatments for these symptoms.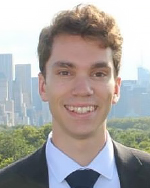 Kenneth Wengler, MS 
PhD Candidate (Biomedical Engineering)
Kenneth received his BS in Physics from St. John's University in 2014. He is currently a PhD candidate in Biomedical Engineering at Stony Brook University. His current research involves the development of novel magnetic resonance imaging (MRI) and magnetic resonance spectroscopy (MRS) techniques for imaging brain function and metabolism and the application of MRI and MRS to probe metabolic dysfunction in neuropsychiatric disorders.
---
UNDERGRADUATE STUDENTS
Areej Niaz - Biology
Stephanie Gellman