Dickman, Grollman, Rosenquist, Boffetta, Dorjee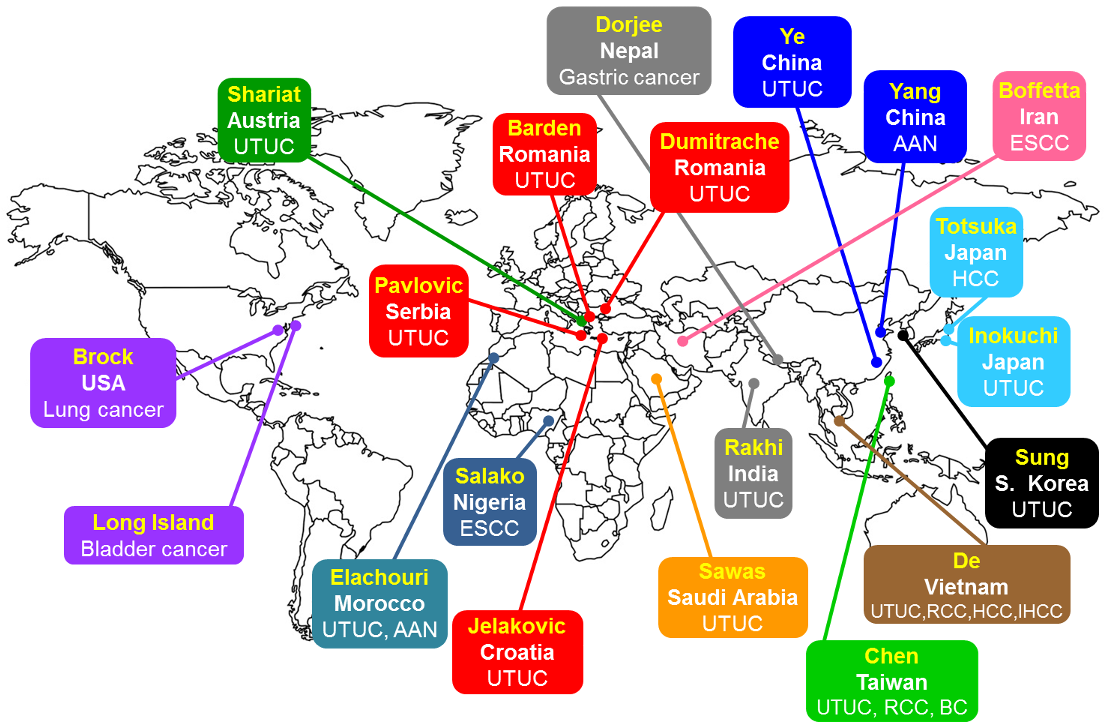 Although our initial studies were centered in Taiwan and the Balkans, the LCB has since pursued a comprehensive and global analysis of AA exposure. Critical to the success of this strategy is the participation of international physician collaborators who supply surgical resections of normal and tumor tissue samples (fresh-frozen, formalin-fixed, paraffin-embedded or purified DNA) for analysis, along with demographic and clinical data from their cancer patients. Of equal importance is the involvement of experts in genomics (Bert Vogelstein, Johns Hopkins; Jiri Zavadil, WHO); adduct chemistry (Robert Turesky, Univ. Minnesota); and molecular epidemiology (Paolo Boffetta, Stony Brook); Kunchok Dorjee, Johns Hopkins). AA exposure is assessed by detection of aristolactam-deoxyadenosine adducts in the renal cortex, using ultrasensitive mass spectrometry, while DNA sequencing of urothelial tumor tissue reveals its carcinogenic effect evident as a high frequency of A>T mutations, which is notably part of the AA mutational signature.
These molecular epidemiology studies provide compelling evidence for AA exposure in populations around the world including those in Taiwan, Croatia, Serbia, Bosnia, China, Japan, and S. Korea; and they have identified upper urinary tract, urinary bladder, kidney (renal cell), liver, and bile duct as AA targets. New studies are planned for Morocco, India, Saudi Arabia, Romania, and Vietnam over the coming year. Currently, we are expanding the scope of our investigations to include esophageal and gastric cancer patients from Nepal, Nigeria and Iran; lung cancer in the US; and urothelial cancer on Long Island. Using DNA adductomics, our goal is to detect novel DNA adducts and mutational signatures that can be used to identify endogenous and environmental carcinogens (other than AA) involved in cancer etiology in these populations.