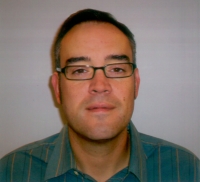 PhD, Univeristy of Illinois at Chicago
Phone: (631) 444-2536
Mark.Bowen@StonyBrook.edu

Department of Physiology & Biophysics
Research
My lab is interested in understanding the molecular underpinnings of synaptic transmission. The regulated communication between neurons underlies all that makes us human: learning, memory and emotion. When communication goes awry the result is mental illness, neurodegenerative disease and death. By understanding the molecular basis of synaptic function, pharmaceutical strategies for intervening become possible.
When a neuron receives a signal, in the form of neurotransmitters, it must make a binary decision: to propagate the signal of remain at rest. The probability of response is tuned by the history of activity at the synapse. This tuning occurs in the post synaptic density, a signal processing machine containing hundreds proteins including cytoskeletal elements, receptors, ion channels and their associated signaling proteins, held together by scaffold proteins.
My lab focuses on the MAGUK (Membrane Associated GUanlyate Kinase) family of scaffolds. Composed of a catalytically inactive guanylate kinase domain, an SH3 domain and three PDZ domains, MAGUK proteins localize and organize glutamate receptor signaling. Great progress has been made in identifying proteins at the synapse and in studying their binary interactions. The structure and binding affinities of the individual MAGUK domains is known. My lab seeks to extend this knowledge by studying the structure and dynamics of multiprotein complexes reconstituted from purified components. To sort out the heterogeneity in these complex mixtures, we use single molecule fluorescence microscopy to follow individual complexes.
We aim to understand how MAGUK proteins regulate the availability of binding sites through structural rearrangement, and determine how MAGUK binding partners interact with each other in higher order complexes. Scaffold proteins are hubs in the network of protein interactions. By learning the relative weights of interactions at the scaffold, we will come closer to predicting the output of this network.
Selected Publications
Pedersen S.W., Albertsen L, Moran G.E., Levesque B., Pedersen S.B., Bartels L., Wapenaar H., Yei F., Zhang M., Bowen M.E., Strømgaard K. "Site-specific phosphorylation of PSD-95 PDZ domains reveals fine-tuned regulation of protein-protein interactions." ACS Chem Biol. (2017) Jul 10. (PMID:28692247)
Amin J.B., Salussolia C.L., Chan K., Regan M.C., Dai J., Zhou H.X., Furukawa H., Bowen M.E., Wollmuth L.P. "Divergent roles of a peripheral transmembrane segment in AMPA and NMDA receptors" J Gen Physiol. (2017) Jun 5;149(6):661-680. (PMID:28507080)
McCann J.J., Choi U.B., Bowen M.E. ""Reconstitution of Multivalent PDZ Domain Binding to the Scaffold Protein PSD-95 Reveals Ternary-Complex Specificity of Combinatorial Inhibition."" Structure (2014) Oct 7; 22(10):1458–1466. (PMID: 25220472)
Choi U.B., Kazi R., Stenzoski N., Wollmuth L.P., Uversky V.N., Bowen M.E. "Modulating the Intrinsic Disorder in the Cytoplasmic Domain Alters the Biological Activity of the N-Methyl-D-aspartate-sensitive Glutamate Receptor." Journal of Biological Chemistry. (2013) Aug 2; 288(31):22506-15. (PMCID: PMC3829338).
McCann J., Zheng, L., Rohrbeck, D., Felekyan, S., Kühnemuth, R., Sutton, R.B., Seidel, C.A.M., Bowen, M.E. "Supertertiary Structure of the Synaptic MAGuK Scaffold Proteins is Conserved" Proceedings of the National Academy of Sciences (2012) Sep 25;109(39):15775-80. (PMCID: PMC3465453).
Choi, U.B., Xiao, S., Zheng, L., Bowen, M.E. "Effect of Src Phosphorylation on the Disordered C-Terminal Domain of the NMDA Receptor Subunit GluN2B." Journal of Biological Chemistry (2011) Aug. 26 286:29904-29912 (PMCID: PMC3191031).
McCann J., Zheng, L., Chiantia, S., Bowen, M.E. "Domain Orientation in the Tandem PDZ Supramodule from PSD-95 is Maintained in the Full-Length Protein" Structure (2011) 19, 810-820. (PMCID: PMC3116789).
Choi, U.B., McCann J., Weninger, K., Bowen, M.E. "Beyond the random coil: stochastic conformational switching in intrinsically disordered proteins." Structure (2011) Apr 13;19(4):566-76. (PMCID: PMC3075556).