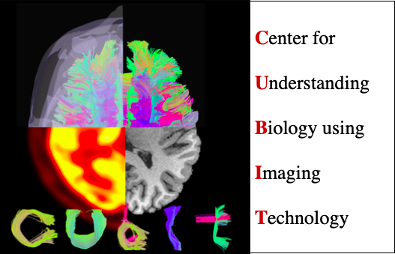 The Center for Understanding Biology using Imaging Technology (CUBIT) uses advanced imaging modalities to investigate neuropsychiatric disorders and their treatment. The group makes important discoveries related to psychiatric disorders as well as developing new radioligands and techniques for quantification and analysis.
 
 
 
PTSD
Personalized Treatment of Depression
 Opportunities at CUBIT

Stony Brook University School of Medicine aims to determine a pretreatment marker of the effectiveness of nasal continuous positive airway pressure (CPAP) treatment during sleep in post-traumatic stress disorder (PTSD) patients.  Nasal CPAP can alleviate sleep disordered breathing (SDB), which has been shown to contribute to PTSD.  Dr. Huang will test the hypothesis that nasal CPAP treatment decreases the secretion of molecules that cause inflammation, reducing brain inflammation and resulting in improved PTSD symptoms.

CUBIT has just completed data collection for a five-year clinical trial whose goal was to advance personalized antidepressant treatment using PET/MRI imaging.  Dataset to be posted.

 

NEW

Treating depression using an FDA-approved anti-inflammatory (nonsteroidal anti- inflammatory drug, NSAID)

NEW

Memory and Aging
Brain Imaging Study

NEW

Research Study on
Sleep and Mood

 

If you are suffering from depression and between the ages of 18 and 65, you may be eligible for a brain imaging research study at Stony Brook Medicine. The study involves Positron Emission Tomography (PET) and Magnetic Resonance Imaging (MRI) of the brain. PET and MRI brain imaging is performed before and after 8 weeks of NSAID treatment. This medication is FDA approved as an anti-inflammatory (not as an antidepressant), but may be effective to treat depression, especially if other treatments have failed. You will be screened for eligibility by phone, in-person and/or by video. You will be paid up to $480 if you are eligible and complete the study.

If you are interested in participating, please contact our study coordinator at

Call: 631-638-HELP (631-638-4357)

Text: 716-4BRIGHT (716-427-4448)

If you are 50 and older and have not smoked in the past year, we invite you to participate in a brain imaging study at Stony Brook Medicine. Volunteers with and without memory problems, including those with Alzheimer's disease are eligible. Participation includes up to three free Positron Emission Tomography (PET) scans and one free Magnetic Resonance Imaging (MRI) scan. Cognitive (thinking) tests will be given during the study and every six months following imaging for two years. You will be paid up to $680 if you are eligible and complete the study.

If you are interested in participating, please contact study coordinator at

Call: 631-638-HELP (631-638-4357)

Text: 716-4BRIGHT (716-427-4448)

We are looking for men and women 18 and over who suffer from depression or have no
psychiatric history to participate in a brain imaging research study at Stony Brook
Medicine. The study involves four overnight visits and three brain imaging scans.
Volunteers will be screened for eligibility by phone and an in-person or virtual visit.
Payment for your time and effort: up to $2,000 if you are eligible and choose to
participate.

Contact our study coordinator at 

Call or Text: 631-638-HELP (631-638-4357)

Email: imaging.study@stonybrookmedicine.edu

 

 

 
NEW
Treating depression post COVID-19 using a potential new type of antidepressant
If you have been diagnosed with/treated for COVID-19, did not experience depression prior to COVID-19 infection, and are currently suffering from depression and above 35 years old, you may be eligible for a brain imaging research study at Stony Brook Medicine.
The study involves Positron Emission Tomography (PET) and Magnetic Resonance Imaging (MRI) of the brain. PET and MRI brain imaging is performed before and after 8 weeks of NSAID treatment. This medication is FDA approved as an anti-inflammatory drug (NOT as an antidepressant), but may be effective to treat depression, especially if other treatments have failed. You will be screened for eligibility by phone, in-person and/or by video. You will be paid up to $450 if you are eligible and complete the study.
If you are interested in participating, please contact our study coordinator at
Call: 631-638-HELP (631-638-4357)
Text: 716-4BRIGHT (716-427-4448)
---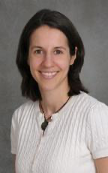 Director of CUBIT
Christine DeLorenzo, PhD, earned her doctoral degree in Biomedical Engineering at Yale University. After completing a Postdoctoral research fellowship in the Division of Molecular Imaging and Neuropathology at Columbia University, Dr. DeLorenzo was appointed Assistant Professor of Clinical Neurobiology at Columbia University. In 2012 she was appointed Assistant Professor of Psychiatry and Assistant Professor of Biomedical Engineering at Stony Brook University. In 2016 she was promoted to Associate Professor. Currently, Dr. DeLorenzo has three active R01 research grants.
---
Faculty/Staff
Faculty

Stephanie Brown, PhD

Kenneth Gadow, PhD

Chuan Huang, PhD

David Hsu, PhD

Ricardo Caceda, MD, PhD

Richard Rosenthal, PhD

Lab Manager

Psychiatric Nurse Practitioner

PhD Candidates

Kathryn Hill, MD-PhD Student

Study Coordinators

Nichole Hoehn, M.A.

Alexandra Checkers, M.B.A.
Yun-Hsin (Sandy) Liu, M.A.
Maggie Butscher, B.A.

Senior Programmer

Senior Scientific Advisor

Adjunct Faculty