SBMS Trainee: Farzana Ali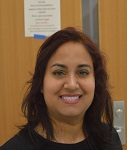 Graduate Advisor: Christine DeLorenzo, PhD
Clinical Advisor: Ramin Parsey, MD PhD
Graduate Program: Biomedical Engineering
Email: Farzana.Ali@stonybrook.edu

I am thrilled to enter my third year as a PhD candidate in the Department of Biomedical Engineering at Stony Brook University. My dissertation project involves prediction of antidepressant treatment response using machine learning techniques on neuroimaging data and actigraphy. I completed my medical degree from the University at Buffalo, and prior to that, I obtained my bachelor's with Honors, MS, and MPH degrees from the Stony Brook University. As an undergraduate student, I discovered my passion for research that provided me with a sense of community, where we are driven by constant curiosity and a yearning to create meaningful knowledge. As a future physician scientist and engineer, I look forward to continuing my efforts to effectively promote connection between scientists and physicians to advance current practices in clinical research. I also feel a sense of purpose by volunteering for nonprofit organizations dedicated to health equity and disability rights. I love to play piano and practice boxing at leisure.
Short project description:
My project is focused on assessing the effects of antidepressant treatment for eight weeks on the structure and function of brain using pre- and post-treatment imaging data from patients with unipolar major depression.