SBMS Trainee: Christine Wang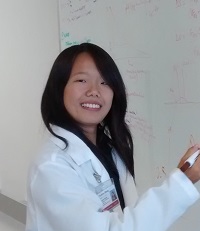 Graduate Advisor: Irene Solomon, PhD
Clinical Advisor: Dr. Steven Weissbart
Graduate Program: Physiology and Biophysics
Email: christine.wang.1@stonybrook.edu

Christine is now entering her second year of her PhD program, and has a lot of interest in clinical and translational research. She has a Bachelor's degree in Music Education from Mason Gross School of the Arts at Rutgers University, NJ, and a Master's degree in Physiology and Biophysics from Stony Brook University, NY. Research during her Master's degree included translating findings from the spinal cord-injured rodent model to the clinical model, specifically studying interlimb coordination and whether manipulating arm movements can drive coordination in the legs of healthy humans. Outside of academics, Christine was a concert pianist, has won many distinguished awards, and has performed in Carnegie Hall and multiple concert venues throughout Europe and Asia. She was also a volunteer firefighter, and loves outdoor sports like surfing, snowboarding, playing rugby, and kayaking.
Short project description:
Christine and her mentors are studying the therapeutic effects of acute intermittent hypoxia (AIH), which can induce neural plasticity, on respiratory and lower urinary tract function in rats after midthoracic spinal cord injury (SCI). They are currently designing a clinical project studying AIH as a therapy in humans with bladder dysfunction, including humans with SCI, as well as humans with overactive or underactive bladder symptoms.