Dickman, Vogelstein, Netto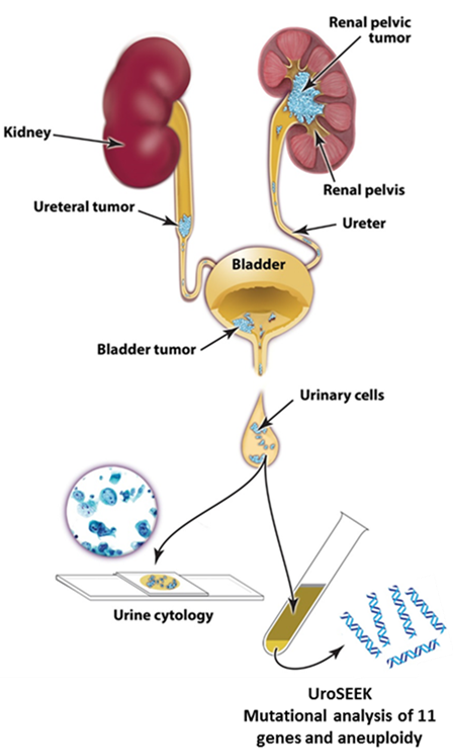 UroSEEK detects urothelial cancer through genetic analyses of DNA extracted from cells in the urine.
In collaboration with Bert Vogelstein (Johns Hopkins) and George Netto (Univ. Alabama), we recently developed and patented a non-invasive approach for the early detection of cancers affecting the bladder and upper urinary tract (ureter and renal pelvis). This test, a so-called "liquid biopsy" known as UroSEEK, uses genetic analyses to detect urothelial cancer cells shed into the urine. UroSEEK incorporates assays for mutations in 11 genes and copy number changes on 39 chromosome arms. Among 56 patients with upper tract urothelial cancer, 75% tested positive by UroSEEK, including 79% of those with non-invasive tumors that are particularly difficult to detect. In contrast, only 10% of all upper tract urothelial cancer cases were identified by urine cytology, the current standard of care. Of 570 urine samples obtained from patients at risk for bladder cancer, UroSEEK was positive in 83% of patients who subsequently developed this cancer. Combined with cytology, UroSEEK detected 95% of patients who later developed bladder cancer. The advantages of UroSEEK over cytology were particularly evident in low-grade bladder cancers; specifically UroSEEK detected 67% of these cases whereas cytology detected none. Importantly, UroSEEK detected DNA abnormalities in bladder cancer patients up to four years prior to clinical detection of recurrence.
These results establish a strong foundation for a novel, non-invasive test for urothelial cancer in urine. Early diagnosis provides the opportunity for early treatment, which may increase survival, and in some cases even cure the cancer, especially if found before the tumor has the opportunity to spread.