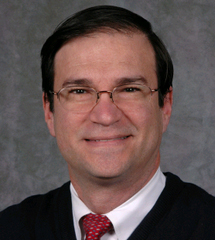 Stuart Fourman 1958 -2011
Dr. Fourman was a Clinical Professor and Director of the Glaucoma Center at Stony Brook. He joined the Department of Ophthalmology at Stony Brook in 1989. A summa cum laude graduate of Rensselaer Polytechnic Institute, he graduated from Albany Medical College in 1981 with AOA honors. He completed his post graduate training at the Pittsburgh Eye and Ear Infirmary.
Dr. Fourman was a founding member in the Department of Ophthalmology at Stony Brook and instrumental in the establishment of the Eye Service at University Hospital from its inception. He was a distinguished medical educator recognized by medical students, residents and allied health professionals as an extraordinary teacher. Dr. Fourman was a long-time member of the Medical School Admissions committee and part of the small group that recently established a new Ophthalmology Residency Training Program at Stony Brook. He was the Course Director for the Ophthalmology curriculum for medical students, served on the Admissions committee for more than 15 years, and was Medical Student Advisor and Director of medical student electives in Ophthalmology.
Dr. Fourman had a strong interest in and has published numerous papers on angle closure glaucoma and lectured frequently at hospitals throughout Long Island. He also served on the Three Village School Board of Education from 1998 to 2009. Including as Vice President in 2005-2006 and then as President in 2006-2008.
Dr. Fourman's mission was to care for, diagnose and treat patients with glaucoma, to educate the public, medical students, residents and community physicians about glaucoma as a public health issue and to conduct research and inquiry in the field of glaucoma.
If you would like to help continue his efforts and honor his memory, the Stony Brook Foundation is accepting donations to further the treatment and understanding of glaucoma, to provide support for the education of medical students and residents and support a lectureship in his honor.
Please make checks payable to:
The Stony Brook Foundation - Department of Ophthalmology.
c\o Julie Browne, Ophthalmology Department Administrator
33 Research Way, Suite 13
East Setauket, NY 11733