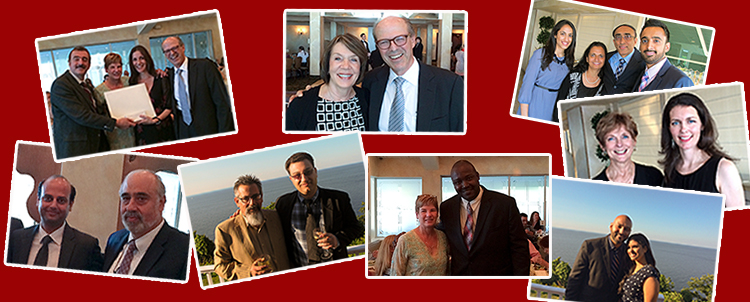 Six residents and one fellow were honored at a graduation ceremony at Lombardi's On the Sound on June 19, 2014. The event was hosted by Residency Director, Michael Schwartz MD; Associate Training Director, Andrew Francis, MD, PhD and department Chair Ramin Parsey, MD, PhD.
Six graduating residents completed four years of training in psychiatry:
Jesse Contovasilis, MD, will be an attending psychiatrist in the department's adult outpatient service and open a private practice in Huntington and Northport.
Patricia Fertig, DO, will begin a Fellowship in Child and Adolescent Psychiatry at the Hofstra North Shore – LIJ School of Medicine in Glen Oaks, NY.
Meghan Malhotra, MD will continue her training at Stony Brook as a Fellow in Child and Adolescent Psychiatry.
Chief Resident, Rachit Patel, MD, will join the staff of the Stamford Hospital in Stamford, CT as a staff psychiatrist.
Ashish Tambar, MD, has been awarded a Fellowship in Child and Adolescent Psychiatry at the State University of New York in Buffalo, NY.
Tatjana Maric, MD, has accepted a position as an attending physician in the Child and Adolescent Outpatient Clinic of Pine Rest Mental Health Services in Grand Rapids, MI.
Wil Germain, MD completed a two-year fellowship in Child and Adolescent Psychiatry. He has accepted a position as an outpatient psychiatrist in Chemical Dependency and Primary Care, Queens Hospital Center, Icahn School of Medicine at Mount Sinai.
Third year resident Sana Qureshi, MD, will complete her residency at the Jackson Memorial Hospital, Department of Psychiatry in Miami, FL.
Several departmental awards were presented at the ceremony:
Drs. Elizabeth Wolf, Karen Chen, Jeffrey Hall and Jesse Contovasilis received the Department's Academic Merit Award for their high scores on the American College of Psychiatrists' PRITE examination.
Dr. Walter Piddoubny was the recipient of the Resident Educator of the Year Award.
Drs. Michael Schwartz and Andrew Francis presented the Resident of the Year Award, named for former Professor of Psychiatry Dr. William Turner, to Chief Resident Dr. Rachit Patel.
Dr. Pass presented the Psychotherapy award to Dr. Jesse Contovasilis in recognition of his commitment to the practice of psychotherapy.
Dr. Shane Bush was honored as the Outstanding Outside Supervisor.
Harold Pass, PhD presented the Steven Samek Award to Dr. Ashish Tambar for his outstanding care of people with chronic mental illness.
The residents presented the Teacher of the Year Award to Residency Training Director Michael Schwartz, MD and a special Lifetime Teaching Award to Andrew Francis, MD, PhD in honor of his more than 25 years of teaching.
The residents presented a bouquet of flowers to Residency Training Coordinator Jane Pometti in appreciation of her assistance through the years.