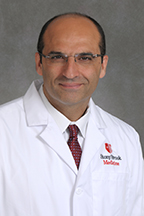 At the Department of Psychiatry and Behavioral Health, we serve our community by using the resources of a world-class university to advance our understanding of the brain and human behavior, to treat our patients and to educate the next generation of mental health professionals.

We are committed to working with our community partners to develop clinical services that address the vital needs of our region. We are leaders in the provision of emergency psychiatric services, evaluation and treatment of young people, and the care of people with complex or protracted psychiatric conditions, and we are fast developing our capabilities in the integration of psychiatric services with medical care.

Our residency training program has an outstanding track record of preparing students for board certification and equipping them to practice in a wide range of clinical arenas, and we are able to boast a 100% pass rate for the psychiatry certification boards. We pride ourselves in the personal interest our faculty take in the development of our trainees and the camaraderie our residents develop with one another. Our fellowship programs in Child and Adolescent Psychiatry and Geriatric Psychiatry — and most recently in Consultation-Liaison Psychiatry — offer opportunities for advanced study of psychiatric specialties. We are also a premier provider of services in our Mind/Body Clinical Research Center.

Our faculty are engaged in a broad program of scientific research from basic neuroscience to innovative treatment modalities. We work collaboratively with researchers throughout the university and beyond to address the complex questions posed by modern medicine. We are fortunate to have access to some of the most advanced imaging equipment in the world, including a new simultaneous PET/MRI imaging system, but more importantly we have access to some of the world's brightest minds in such areas as computational analysis, biomedical engineering and epidemiology.

I invite you to explore our website — to keep up with the latest news updates, to attend our grand rounds presentations, to learn more about our research studies and to keep abreast of our clinical services. Please let us know how we can be of service to you.