---

Stony Brook University now offers a Distance Dietetic Internship Program
in addition to its existing on-site Dietetic Internship Program!
Program Director:
Associate Director:

Josephine Connolly-Schoonen, PhD, RD, CDN

Lorraine Danowski, PhD, RD

Sponsored by:
Department of Family, Population and Preventive Medicine,
Renaissance School of Medicine at Stony Brook University
Stony Brook University Dietetic Internship Mission Statement
To prepare entry level dietitian nutritionists to have a positive impact on health care delivery, health promotion and the dietetics profession through the provision of high quality medical nutrition therapy, the management of high quality food service systems and/or the implementation of high quality health promotion programs.
ACCREDITATION STATUS
The Dietetic Internship Program at Stony Brook Medicine, at State University of New York,
is accredited by the Accreditation Council for Education in Nutrition and Dietetics (ACEND) of the Academy of Nutrition and Dietetics,
120 South Riverside Plaza, Suite 2190, Chicago, IL 60606-6995, (800) 877-1600 or (312) 889-0040 (phone);
The Dietetic Internship Program is fully accredited. The program will be up for reaccreditation in June 2025.
For current Stony Brook University MS Nutriton students who are applying to the Stony Brook University Dietetic Internship: After submitting their application to DICAS and selecting Stony Brook University Dietetic Internship, interested students should notify Sharon Schmidt at sharon.schmidt@stonybrookmedicine.edu of their intent. After initial screening, top candidates will be scheduled for an admissions interview. Those students with a DPD verification statement and an undergraduate GPA of greater than 3.2, can secure an interview if they complete 6 credits in the Stony Brook University MS in Nutrition program. The guarantee is for the interview only and is NOT a guarantee of a seat in the internship. This guarantee of interview is for one interview only.
If you are interested in pursuing a Master's degree, please check out our website for the Graduate Program in Nutrition. We offer a fully-online 36 credit MS in Nutrition program. The on-line M.S. program in Nutrition provides a comprehensive course of study in advanced nutrition topics to prevent and manage disease, as well as optimize health through food and nutrition strategies. Expert faculty members, currently working in the field, provide instruction on evidence-based, timely nutrition therapies and facilitate development of a strong knowledge base and counseling skill set. This 36-credit, Master of Science program is offered exclusively online, using multimedia tools and fully engaging students in interactive discussion boards, class wikis and blogs, and videoconferencing with nutrition practitioners. Courses cover advanced medical nutrition therapy, critical care, and nutrition strategies to reduce inflammation and modulate immune function, nutragenomics, nutrition issues through the lifecycle, including pediatrics, neonatology and geriatrics, and biomedical statistics. The link for the the website is Graduate Program in Nutrition.
Stony Brook University Hospital is among the 100 Best Hospitals nationwide for cardiac care, coronary intervention, and stroke care.
Our clinical outcomes are in the top 2 percent in the nation, and that's why we've been named one of America's 100 Best Hospitals™ for 2019 by Healthgrades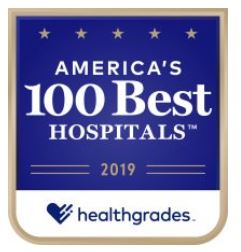 Interns at a Health Fair

Visiting a Community Garden






Even Wolfie is into nutrition!
Food Service rotation





Interns at work on the

Stony Brook Medicine

rooftop farm.