Research
My research interests include investigating chronic nonbacterial osteomyelitis (CNO), or better known by its most severe form, chronic recurrent multifocal osteomyelitis (CRMO). CNO is an autoinflammatory bone disease with unknown etiology, which causes bone pain and damage in children.  As an active member of Childhood Arthritis and Rheumatology Research Alliance (CARRA), a national collaborative research organization with the goal to prevent, treat and cure pediatric rheumatic disease, I have collaborated with other institutions to define evidence-based best treatment practices for children with CNO. Our team is also involved in Stony Brook's Center for Autoinflammatory Disease within the Department of Medicine as well as an international collective project to create a CNO classification criteria. Additionally, within the CRMO Outcome Measures in Rheumatology (OMERACT) Special Interest Group, we aim to create outcome measures in CRMO with participation of international stakeholders in order to optimize further clinical research in CNO. 
Representative Imaging Findings in CNO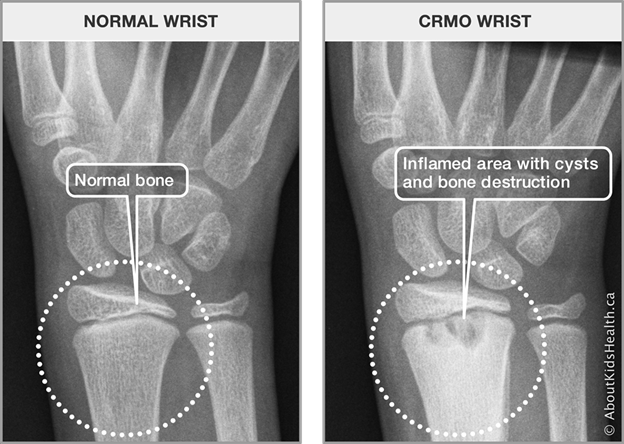 Photo credit: https://www.aboutkidshealth.ca/article?contentid=919&language=english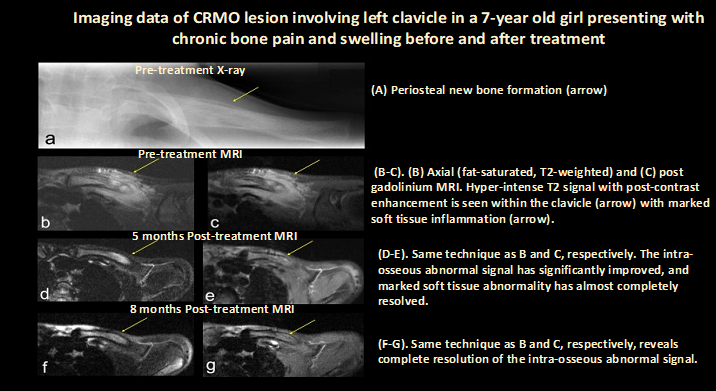 Photo adapted from figure from: Miettunen, Paivi & Wei, Xingchang & Kaura, Deepak & Reslan, Walid & Nettel Aguirre, Alberto & Kellner, James. (2009). Dramatic pain relief and resolution of bone inflammation following pamidronate in 9 pediatric patiens with persistent chronic recurrent multifocal osteomyelitis (CRMO). Pediatric rheumatology online journal. 7. 2. 10.1186/1546-0096-7-2.
---
Faculty and Staff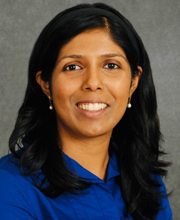 Farzana Nuruzzaman, MD (PI)
Dr. Farzana Nuruzzaman received her Doctorate of Medicine in 2010 from New York Medical College in Valhalla, NY. She then completed a general pediatrics residency at Cohen Children's Medical Center/North-Shore LIJ. She pursued further training in subspecialty fellowship in pediatric rheumatology at Hospital for Special Surgery/ Weill-Cornell New York-Presbyterian Hospital.  She is board-certified in both general pediatrics and pediatric rheumatology by the American Board of Pediatrics. Dr. Nuruzzaman joined Stony Brook Children's Hospital division of pediatric rheumatology in 2016 as a clinical assistant professor in the Renaissance School of Medicine at Stony Brook University and has been active in patient care, medical education, and collaborative clinical research. She has authored several publications on various topics in rheumatology including CNO, systemic lupus erythematosus, and juvenile idiopathic arthritis. 
Julie Cherian, MD (Co-investigator; division chief of pediatric rheumatology)
Research coordinator (TBD)
Collaborations:
Yongdong Zhao, MD, PhD (Seattle Children's Hospital)
Polly Ferguson, MD and T. Shawn Sato, MD (University of Iowa)
CARE Arthritis LTD
---
Funding
Ongoing and recently completed funded projects:
 
CARRA/Arthritis Foundation Small Grant
Nuruzzaman (PI)
07/2021-present
Web-based scoring tool of MR imaging in CNO
CARRA/ Arthritis Foundation Grant
Trachtman (PI)
Nuruzzaman (site-investigator)
12/2020 - present
Differentiation between flare and infection in patients with systemic juvenile idiopathic arthritis
Stony Brook Department of Pediatrics Intramural Grant
Beneri (PI)
Nuruzzaman (co-investigator)
9/2017-9/2019
Assessment of the immunogenicity, safety, and clinical efficacy of an influenza vaccine booster dose strategy in patients with autoimmune diseases who are receiving immunosuppressive therapies.
---
Selected Publications
Nuruzzaman F, Ferguson P, Zhao, Y. "Chronic Nonbacterial Osteomyelitis: Insights into Pathogenesis, Assessment, and Treatment." Rheumatic Disease Clinics North America, accepted for publication. 
Zhao Y, Wu EY, Oliver MS, Cooper AM, Basiaga ML, Vora SS,  Lee TC, Fox E, Amariyo G, Stern SM, Dvergsten JA, Haines KA, Rouster-Stevens KA, Onel KB, Cherian J, Hausmann JS, Miettunen P, Celluci T, Nuruzzaman F, Taneja A, Barrons KS, Hollander MC, Lapidus SK,  Li SC, Ozen S, Girschick H, Laxer RM, Dedeoglu F, Hedrich CM, Ferguson PF. "Consensus Treatment Plans for Chronic Nonbacterial Osteomyelitis Refractory to Nonsteroidal Anti-Inflammatory Drugs and/or with Active Spinal Lesions." Arthritis Care & Research. 70 (8): 1228-12337. 2018. (PMID: 29112802)
Nuruzzaman F, Sherman Y, Ostfeld BM, Adams AB, Pan N, Barinstein LV, Lehman T, Moorthy LN. "Simple Screening Tool for Assessing Attention Deficit in Pediatric Lupus [Letter to the Editor]." Lupus. 25(4):447-8; 2016. (PMID:26637289)
Abstracts
Nuruzzaman F, Huang M, Hedrich C, Girschick H, Cherian J, Onel K, Sato T, Ferguson P, Xing, W. Zhao Y. "Perspectives of Radiologist Physicians in the Imaging of Chronic Nonbacterial Osteomyelitis." American College of Rheumatology Annual Meeting. Virtual. November 2020.
Zhao Y, Naden R, Oliver MS, Wang Z, Wu EY,  Aguiar CY, Akikusa JC, Basaran O, Cain K, Capponi M, Donaldson NJ, Fox EJ, Insalaco A, Jansson AF, Kaya Aka U, Lee T, Marrani E, Mahmood K, Murray E, Nuruzzaman F, Onel K, Pardeo M, Potts L, Rogers ND, Schnabel A, Simonin G, Soep JB, Stern S, Theos AC, Zhang Y, Ferguson PF, Hedrich CM, Dedeoglu F, Girschick H, Laxer RM, Ozen S. "Comparison of Clinical and Imaging Features Between Chronic Nonbacterial Osteomyelitis and Its Mimickers: A Multinational 450 Case-Control Study."  Lightning Talk.  European Pediatric Rheumatology Congress. E-congress. September 2020. 
Complete List of Published Work in MyBibliography
---
Contact Information
Farzana.nuruzzaman@stonybrook.edu
---
Helpful Links
Stony Brook Center of Autoinflammatory Diseases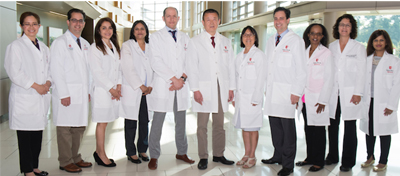 CRMO Foundation


CRMO Awareness


CARRA


OMERACT