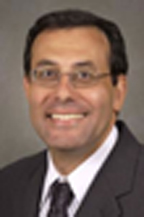 Assistant Professor of Psychiatry Adeeb Yacoub, MD has been selected to receive an Award for Outstanding Teaching by the School of Medicine Class of 2013. This is the second straight year Dr. Yacoub has been honored with the award. It will be presented at the graduation reception on May 22 at Flowerfield in St. James, where Dr. Yacoub will given a special place of honor. The selection was the result of a vote by the entire class.

Dr. Yacoub is the department's Director of Medical Student Education and the course director for the third-year clerkship in psychiatry. Medical students spend four weeks under Dr. Yacoub's tutelage, learning the basic techniques of psychiatric evaluation and treatment. The course consistently receives high marks from the students.

Mary Jean Allen, Assistant Dean for Student Affairs in the School of Medicine, said that the students select recipients based on how much they learn from the course. "They tend to select teachers who are accessible, encouraging and willing to spend time with them," Ms. Allen said, noting that even a year after taking Dr. Yacoub's 4-week course they felt strongly enough to select him.