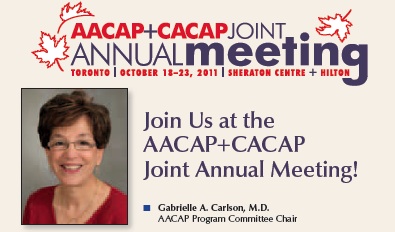 As Chair of the Program Committee of the American Academy of Child and Adolescent Psychiatry (AACAP), Stony Brook Professor of Psychiatry Gabrielle Carlson, MD, was a principal organizer of the national academy's annual meeting, conducted jointly with the Canadian Academy of Child and Adolescent Psychiatry on October 18 – 23, 2011. More than 3,700 people registered for the meeting in Toronto, a third of them from outside the United States. Several members of the Department of Psychiatry and Behavioral Science faculty joined Dr. Carlson in presenting at the conference.

Dr. Carlson, who is the Director of Child and Adolescent Psychiatry, made a presentation on ADHD and Bipolar Disorder as part of a day-long institute on ADHD in 2011, an update on research, medication, treatment, and diagnostic controversies. She chaired a roundtable discussion titled The Bipolar Controversy: What Those in the Know Know, which focused on video presentations of two children with mania or possible mania. She participated with members of the Stony Brook Department of Psychology faculty in a new research poster titled Preschool Psychopathology: Rates, Comorbidity, and Stability of DSM-IV Disorders. She was a co-presenter in a media program titled Getting Sirius: Psychiatry on the Airwaves, a discussion of a weekly radio program aired nationally on the Sirius/XM Radio Network which provides advice on child, teen, and family mental health. And she was the discussant in an international symposium on The Early Natural History of Bipolar Disorder: Complementary Findings From Longitudinal High-Risk Studies.
Deborah Weisbrot, MD, Director of the Child and Adolescent Outpatient Psychiatry Service, and Richard Mattison, MD, Director of School Consultation, co-chaired a clinical consultation breakfast titled Beyond Diagnosis: Clinical Dilemmas in Complex School Consultation Cases, a session designed to illustrate the critical role played by the child and adolescent psychiatrist as a mediator between school officials and parents.
Dr. Weisbrot was also a co-presenter of a new research poster on Psychopathology in Children with Non-Epileptic Seizures.
Dr. Mattison was co-chair of an Institute on Language and Learning Disorders and also presented on the topic Clinical Presentation and Diagnostic Challenges of Language Disorders.

Judith Ann Crowell, MD, Professor of Psychiatry and Psychology and Director of the Child and Adolescent Fellowship program, co-presented a new research poster on Predicting Partners' Physical Aggression: Childhood Experiences of Adversity and the Moderating Role of Narrative Coherence.