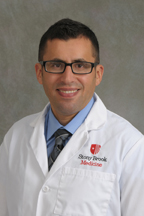 September 26, 2013 - Dr. Ramin Parsey appointed Abdulkader (Al) Alam, MD Director of the Comprehensive Psychiatric Emergency Program (CPEP) effective September 16, 2013. He is board certified in Psychiatry and Internal Medicine, and will have appointments as Assistant Professor in both departments.

Dr. Alam is a graduate of the Damascus University School of Medicine in Syria. He completed his residencies in Internal Medicine and Psychiatry at the Nassau University Medical Center. He comes to Stony Brook from the University of Pittsburgh School of Medicine, where he had served since 2008, including his role as Associate Medical Director for Consultation and Liaison Psychiatry since 2012.

"Dr. Alam is a progressive clinical leader who is uniquely qualified to help patients deal with the complex medical and psychiatric problems we see at Stony Brook," Dr. Parsey said. "He loves to teach and has published important articles in leading medical journals. He is already making strides to improve the safety, quality and efficiency of our psychiatric emergency service."

Dr. Alam describes himself as a "clinical educator" who looks forward to combining teaching with the clinical care of patients. Among his first priorities, he said, is improving clinical workflow in the CPEP to manage the high volume of patients seen in the department.

"I am happy to return to Long Island," said Dr. Alam. "I look forward to working in emergency psychiatry because it allows me to apply my skills in medicine as well as psychiatry."

Dr. Alam said his background in medicine will help improve collaborations with other departments in the hospital. His publications include several articles dealing with medical issues experienced by people with psychiatric disorders.