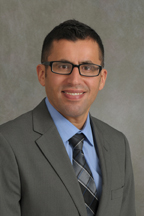 April 22, 2015 – A case study by Assistant Professor, Al Alam, MD; former chief resident Rachit Patel, MD; and two medical students, Briana Locicero and Nicole Rivera, was published in General Hospital Psychiatry.

The case involved a young woman with a history of neuromyelitis optica who presented in the emergency department with symptoms of psychosis and catatonia. This is only the second such case reported in the medical literature, and the first to report on a presentation with catatonia. Neuromyelitis is an uncommon central nervous system disorder that affects the eyes and spinal cord. Catatonia is a more common psychiatric syndrome that can occur in patients with underlying psychiatric or medical disorders.

The case report details the extensive testing conducted by the psychiatric team and the pharmacological treatment they prescribed. The patient was discharged after several weeks of hospitalization with a few mild impairments and most of her symptoms under control. The authors concluded that the patient's psychiatric symptoms were precipitated by her neuromyelitis optica and that the treatment of catatonia in the context of neurological illness can be challenging.

Dr. Alam, who is board certified in Psychiatry and Internal Medicine, recently helped to create an innovative Consultation and Liaison program that integrates psychiatry and medicine on 12 South.
The case report was the subject of a blog by Stony Brook University Hospital CEO Reuven Pasternak, MD.