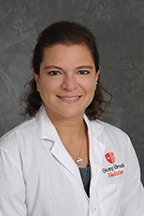 Assistant Professor Lama Bazzi, MD was elected to a three year term on the Board of Trustees of the American Psychiatric Association (APA). The 20-member board is responsible for making policy and managing the affairs of the Association, which represents more than 36,000 members. Dr. Bazzi will also be a member of the Association's Executive Committee.

Dr. Bazzi was elected as the APA's Early Career Psychiatrist Trustee-at-Large after a national election. During her residency training, she served as a non-voting member of the Board in 2012 and 2013 while serving as President of the APA Leadership Fellowship program. She also served on the APA Council on Psychiatry and the Law and was a Forensic Advisor to the DSM-5 Development process.

Dr. Bazzi will be installed as a Trustee on May 17 at the Association's 168th Annual Meeting, but she is already gearing up for the position. "Now is when the work begins," Dr. Bazzi said. The APA develops action papers on a variety of topics from gun control to mental health parity. As a representative of early career psychiatrists, Dr. Bazzi plans to focus on issues that affect psychiatrists during their first years in practice: how to negotiate employment contracts, requirements for maintenance of board certification and the establishment of mentorship programs, among others. "I have lots of ideas," she said.

Dr. Bazzi, who grew up in Saudi Arabia and graduated from medical school in Beirut, Lebanon, has been the director of the department's Assisted Outpatient Treatment (AOT) program since July 2014. She received her training in forensic psychiatry from Phillip Resnick, MD at Case Western University. She splits her time between the AOT program and supervising residents in the outpatient department, while carving out time in her busy schedule for research and her new duties as a Trustee-Elect.