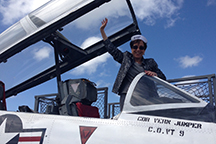 Gabrielle Carlson, MD
Aboard the USS Midway
July 14, 2014 - The members of the American Academy of Child and Adolescent Psychiatry (AACAP) have elected Gabrielle Carlson, MD, Professor of Psychiatry at Stony Brook University, to serve for three years as a member of the Academy's governing Council beginning in October 2014. The AACAP is a professional organization composed of more than 8,600 child and adolescent psychiatrists. The 18-member Council is the Academy's board of directors.

Dr. Carlson is highly respected throughout the professional community for her scholarly activities and advocacy on behalf of children and families. The author of more than 200 papers and book chapters and co-author of two books, Dr. Carlson has been honored by the American Psychiatric Association, the New York Academy of Child and Adolescent Psychiatry and the American Psychopathology Association. She has served as President of the International Society for Research in Child and Adolescent Psychopathology and for the past four years has been the chair of the AACAP Program Committee. As program chair, Dr. Carlson is responsible for the scientific content of AACAP annual meetings, which typically draw 3,600 to 4,500 participants. She has consistently been ranked as the Academy's most requested speaker.

Heidi Buttner Fordi, CAE, Executive Director of AACAP, described Dr. Carlson as "an amazing person and outstanding leader." "She has the ability to critically evaluate complicated issues and clearly recommend a path forward. Her understanding of science and clinical practice enables her to turn recent research into clinical applications. Because of her national prominence and frequent requests to speak and consult in other child and adolescent psychiatry divisions, she has a clear vision about the current and future state of our specialty. She is a tireless advocate for child and adolescent psychiatry. She is a star in our organization."

Dr. Carlson is the founder of the Division of Child and Adolescent Psychiatry at Stony Brook University. She established the 10-bed inpatient child psychiatry unit on 12 North, an outpatient child and adolescent psychiatry service in Putnam Hall and initiated a fellowship in Child and Adolescent Psychiatry.