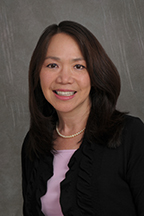 Laura Chan, NPP, BC, LCSW-R
June 3, 2014 - Nurse Practitioner Laura Chan, NPP, BC, LCSW-R, joined the full-time staff of the department's outpatient adult clinic on May 20, 2014. She will evaluate and treat adults with psychiatric illnesses as part of a multi-disciplinary team.

Kristie Golden, PhD, Associate Director for the Neurosciences, explained that Ms. Chan's appointment will improve access to care and enhance the patient experience. "By including a nurse practitioner who is certified in psychiatry the department is expanding its capacity to deliver the highest level of care to the community," Dr. Golden said. "The clinic's services were made more robust by the addition of Ms. Chan's diverse skill set."

Ms. Chan comes to Stony Brook from the Brookhaven Memorial Hospital Outpatient Behavioral Health service, where she served as the Outpatient Clinical Coordinator with an active clinical practice. She has practiced as a nurse practitioner at the J.T. Mather Hospital Mental Health Clinic and at Clubhouse of Suffolk and she has maintained a private practice for the past ten years. She was a staff nurse on Stony Brook's Adult Inpatient Psychiatry unit from 2007 to 2010 and, earlier in her career, worked as a psychiatric social worker at Brookhaven Memorial Hospital, the Brentwood Mental Health Clinic and the YMCA.

Ms. Chan is a graduate of the Interdisciplinary Social Sciences program at Stony Brook University. She earned a Master of Social Work degree from Adelphi University, an Associate's degree in Nursing from Farmingdale State University and a Master of Science degree in Mental Health/Psychiatric Nursing from the School of Nursing at Stony Brook.

Explaining her transition from psychiatric social worker to certified nurse practitioner, Ms. Chan said that while seeing patients as a social worker, she became so intrigued by the medical aspects of treatment that she went back to school to learn about them. "As a clinical social worker at the time, I was fascinated by how medical treatment in addition to therapy could make such a difference with improving the quality of people's lives who have psychiatric illnesses," Ms. Chan said. "After I got my nursing degree, I spent three year on the staff of 10 North, which was a most stimulating and rewarding experience. While there, I completed my studies as a nurse practitioner."

Ms. Chan anticipates that her knowledge of inpatient services and community agencies will enable her to contribute to the new, more integrated behavioral health system of the future. "I look forward to collaborating with the staff in all the department's adult services to help our patients in the community live good quality lives." she said.