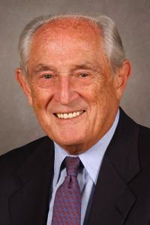 In an invited guest editorial in the Journal of Clinical Psychopharmacology, Professor Emeritus Max Fink, MD offered a guide to the recognition and proper treatment of catatonia in light of the newly released DSM-5.

Although catatonia was originally recognized as an independent syndrome in the late nineteenth century, Emil Kraepelin's association of it with dementia praecox and Eugen Bleuler's treatment of it as a form of schizophrenia dominated the clinical landscape. When the American Psychiatric Association issued its first diagnostic manual in 1952 it included catatonia only as a subtype of schizophrenia. In 1994, the DSM-IV added a listing for catatonia secondary to a medical disorder but this had little influence on clinical practice. In the DSM-5, published on May 20, 2013, catatonia is no longer listed as a subtype of schizophrenia, but as a separate category under the title "catatonia not elsewhere classified." The association with medical disorders is retained and catatonia is listed as a specifier for 10 psychiatric diagnoses. These changes were largely the result of sustained advocacy by Dr. Fink, Dr. Andrew Francis and more than 30 catatonia scholars around the world.

Despite flaws in the new diagnostic scheme, Dr. Fink concluded that the severance of the link between catatonia and schizophrenia should increase recognition of catatonia, prevent the reflex prescription of neuroleptics for catatonia and lead clinicians to use treatments that have proven to be effective in resolving all its signs. A more detailed essay "Rediscovering Catatonia" appeared as a Supplement to the Acta Psychiatrica Scandinavica in January.

The editorial, which is titled "Clinical Practice to Change with Divorce of Catatonia and Schizophrenia," was published in the June 2013 issue of the Journal of Clinical Psychopharmacology.