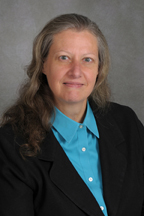 January 17, 2014 - Professor Laura Fochtmann, MD, MBI is among an elite class of fewer than 500 physicians certified in Clinical Informatics by the American Board of Preventive Medicine. The field of clinical informatics integrates knowledge about clinical medicine, information technology, and the health care system to improve clinical practice.

Dr. Fochtmann received notice in early December that she had passed the first-ever examination in the newest subspecialty approved by the American Board of Medical Specialties. Although it is administered by the American Board of Preventive Medicine and the American Board of Pathology, certification in Clinical Informatics is open to board-certified medical practitioners in all specialties. Dr. Fochtmann has been certified in Psychiatry since 1987.

Dr. Fochtmann has been involved in the application of computer technology to healthcare during much of her career. She has been a member of the hospital's electronic records committees for more than a dozen years, including service as a member of the executive steering committees responsible for the implementation of the electronic record. She has served on the American Psychiatric Association's Committee on Electronic Health Records since 2004, including a term as chair.

In 2012, Dr. Fochtmann earned her master's degree in Biomedical Informatics from the Oregon Health and Science University in Portland, OR through its distance-learning program. Her final capstone project focused on the effects, both positive and negative, of electronic health records on patient safety. "Electronic records are intended to improve patient safety," Dr. Fochtmann said, "but they may not always do so. In fact, electronic records can at times introduce new errors that detract from patient safety. My final project was devoted to a systematic review of the scientific literature to identify which features have demonstrated a positive effect when added to existing electronic record systems."

A search uncovered more than 1,400 relevant studies. Of these, a few well-designed studies showed that use of alerts in an electronic health record can improve safety for patients at risk for venous thromboembolism. For geriatric patients and patients with impaired renal function, alerts related to medication prescribing also appeared to improve safety. On the other hand, she found little evidence that other aspects of electronic records have the positive safety effects they are assumed to have. Although no randomized trials have been conducted on the unintended negative effects of electronic health records, much hands-on work by clinical informaticists focuses on enhancing the quality and safety of care.