July 13, 2014 - Forty-five years after he arrived at Stony Brook University as a 17 year-old undergraduate, Professor Andrew Francis, MD, PhD is retiring to take a position as Professor of Psychiatry at Penn State Hershey College of Medicine, where he will be Director of ECT and Associate Director of Residency Training.

Dr. Francis joined the Department of Psychiatry as an Assistant Professor in July 1988 and spent the next 26 years as a clinical educator in the department's inpatient service. "The staff of 10 North are a marvelously friendly and supportive group," Dr. Francis said. "We grew up together."

After earning a PhD in Psychology at Stony Brook under the mentorship of Nisson Schechter, PhD and Michael Gazzaniga, PhD, Dr. Francis completed a post-doctoral fellowship in Neurobiology at Cornell Medical College. He earned his degree in Medicine from SUNY Buffalo before completing a residency at Johns Hopkins, where Laura Fochtmann, MD, MBI was his chief resident. "Thirty-six years after finishing graduate school, my thesis advisor is still down the hall and twenty-five years after my residency, my chief resident is next door," Dr. Francis said.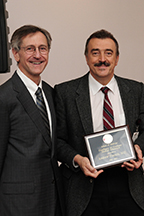 Andrew Francis, MD, PhD Receives Excellence in Teaching Award from Dean Kenneth Kaushansky, MD
Although he has authored scores of important publications and is well known among his colleagues as the co-author of the Bush-Francis Catatonia Rating Scale and even though he has helped hundreds if not thousands of patients gain relief from their psychiatric symptoms, Dr. Francis considers his greatest professional achievement to be his education and training of residents. "More than anything else I am a clinical educator," Dr. Francis said. "I value nothing more than mentoring residents." He is especially proud of the academic achievements of the students he has mentored. Eight physicians currently on the faculty of the department were mentored by Dr. Francis. At least two of his trainees have received Teacher of the Year Awards: Adeeb Yacoub, MD at Stony Brook (twice) and William Jangro, DO at Jefferson University Medical College. In May 2013 Dr. Francis himself earned the first award for excellence in teaching residents presented by the Stony Brook University School of Medicine.

"Dr. Francis has been an inspirational role model for me," said Rachit Patel, MD, who graduated from the residency program in June. "He helped me develop my identity as a psychiatrist, both personally and professionally. He taught me about my role in the world and the impact I can have on patients."

Among those who have served as mentors to him, Dr. Francis lists Drs. Nisson Schechter, Laura Fochtmann, Max Fink, Mark Sedler and Michael Schwartz. "I learned the practicalities of being a scientist from Nisson Schechter and not enough from Laura Fochtmann," Dr. Francis quipped. "Max Fink taught me ECT and inspired me with his clinical wisdom. Mark Sedler and Michael Schwartz were major influences. They fostered my activities and shared my love of teaching."

"Andrew Francis is a Renaissance man with broad interests," Dr. Schechter said. "He has a vast knowledge of history, especially military history. And he has a huge vocabulary. Even though he has been educated in excellent academic institutions, much of his knowledge is self-taught."

Dr. Max Fink found Dr. Francis to be a productive collaborator. "Dr. Francis joined in my interest in finding patients with Catatonia," Dr. Fink said. "He accepted the challenge to develop a rating scale and led the residents in surveys. We published two reports in 1996 that are now widely used to identify catatonic patients."

Dr. Francis prides himself on being the one person in the department who can tease Dr. Fink. "Dr. Francis was intrigued that I graduated a program in psychoanalysis and often laughingly challenged me to explain to the residents what I had learned in psychoanalytic school." Dr. Fink explained.

Dr. Francis will start his new position in September. He will spend the summer completing projects he is working on with the residents. "My time here has been rewarding," Dr. Francis said. "But for now, it is onward and upward."