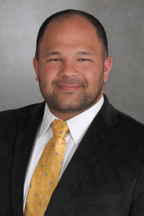 Assistant Professor
Adam Gonzalez, PhD
July 10, 2014 – Adam Gonzalez, PhD was promoted to the rank of Assistant Professor in the Department of Psychiatry at Stony Brook University effective July 3, 2014. His position, which is a tenure track appointment, is supported in part by a Faculty Diversity Program Grant.

Dr. Gonzalez came to Stony Brook in May 2012 as a Research Assistant Professor to work with Drs. Roman Kotov, Evelyn Bromet and Benjamin Luft on a study of a clinical intervention designed to help World Trade Center responders with PTSD quit smoking. He is now the Principal Investigator on two major grants – one on mind-body treatment for World Trade Center responders with comorbid PTSD and respiratory illness, and the other on the effects of Hurricane Sandy on the respiratory and mental health of World Trade Center responders. He continues to serve as Project Director of the evaluation of the smoking cessation intervention.

Dr. Gonzalez received his bachelor's degree in Psychology from St. Francis College and his PhD in Clinical Psychology from the University of Vermont, where he received several honors and awards. He completed a Clinical Psychology internship and post-doctoral fellowship in the Department of Psychiatry at Massachusetts General Hospital/Harvard Medical School. He is the author of more than 29 published journal articles and has presented talks and posters at dozens of professional meetings, conferences and workshops.