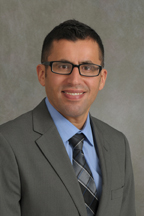 March 12, 2015 - Driven by a desire to improve medical and psychiatric outcomes on the medical services, Brian Bronson, MD, head of the department's Consultation and Liaison (C&L) service, collaborated with Internal Medicine to integrate a full-time psychiatrist into two medical teams. Al Alam, MD was selected to pilot the program on 12 South. "Dr. Alam was the ideal person for this project," Dr. Bronson said. "He is board certified in internal medicine as well as psychiatry, has extensive clinical experience and commands the respect of the medical and nursing staff."

Dr. Alam rounds with two medical teams, fully participating in their clinical and educational activities, but with a special focus on psychiatric issues. Instead of waiting to be called for a consultation, Dr. Alam identifies patients with signs of dementia, drug addition or withdrawal, and the like and intervenes early. "I thought it would be simple," Dr. Alam said, "but it is very intense — and fun.

The program will be evaluated to see if it helps reduce length of stay and the use of restraints and one-to-one nursing assignments. "Forty-eight percent of admitted patients have co-morbid psychiatric problems," Dr. Alam explained, "and patients with co-morbid psychiatric problems stay in the hospital an average of three days longer than those without." Improvements in patient and staff satisfaction will also be evaluated. "The staff on 12 South now feels that they have their own psychiatrist," Dr. Alam said. "They feel more comfortable dealing with psychiatric issues."

The program, which was modeled after a successful program at Yale-New Haven Hospital, is part of a growing movement to integrate psychiatry into medical services. Dr. Bronson hopes that the success of the pilot program will enable the program to expand to other units. "It might even change the way C&L services function," he said.