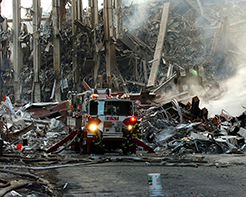 November 19, 2014 - Roman Kotov, PhD and colleagues received a two-year $1 million grant from the World Trade Center Health Program to study the interplay between post-traumatic stress disorder (PTSD) and lower respiratory symptoms in World Trade Center (WTC) responders using ecological momentary assessments, a relatively new method for collecting data about research participants in real time.

PTSD and lower respiratory symptoms are the signature health outcomes of the 9/11 attack. Previous studies including work of Stony Brook researchers, have demonstrated—based on information provided by responders during clinic visits—that the presence of PTSD significantly increases the risk of respiratory symptoms among WTC responders. However, the biological mechanisms that link them are not fully understood, in part because the data collection methods did not allow researchers to observe causal sequences in real time. The participants in this study will use smart phones to report on PTSD and respiratory symptoms three times a day for a week. Mobile devices will measure their heart rate, cortisol levels and levels of respiratory inflammation as they go about their daily business.

The study is designed to accomplish several aims. For the first time, researchers will be able to accurately assess the daily prevalence of symptoms and degree of impairment, to examine the shorter-term temporal dynamics between PTSD and lower respiratory symptoms and to test potential biological mediators of the links between PTSD and respiratory disease. By comparing the data obtained in the field with data obtained from retrospective self-reports, the researchers will be able to recalibrate standard measures of prevalence and symptom severity. They anticipate that their findings will improve the diagnosis and treatment of WTC health-related conditions and advance science by shedding new light on the biological pathways that link PTSD to lower respiratory symptoms.

The study will be conducted by a multi-disciplinary team that includes Dr. Kotov as Principal Investigator and Evelyn Bromet, PhD; Benjamin Luft, MD; Adam Gonzalez, PhD; Joseph Schwartz, PhD of Stony Brook University, and Camilo Ruggero, PhD of the University of North Texas as Co-Investigators. The World Trade Center Health Program is administered by the National Institute of Occupational Safety and Health.